Barbecue: how to cook meat on fire, recipes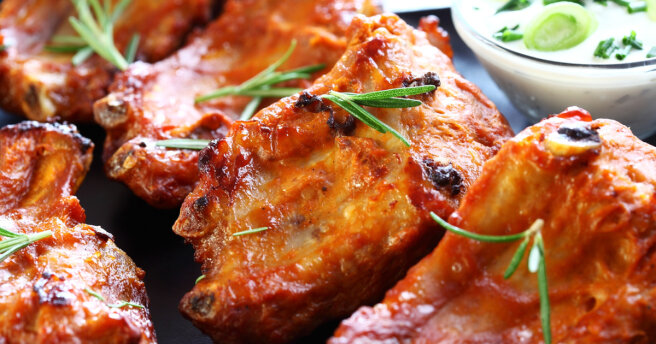 What kind of picnic in nature can do without dishes cooked on a campfire, a good healthy appetite, barbecue and barbecue?
How to cook meat on the fire, some young housewives probably already know. And although, according to many men, shish kebab does not tolerate female hands, a few basic rules on how to cook a barbecue will not hurt you.
Today MustHub will tell you all about barbecue. How to cook this dish correctly and always delicious-read on our website.
Dishes on the fire: what is a barbecue and how to cook it
Barbecue is a common name for dishes cooked on coals or other heating element. Moreover, it can be not only traditional meat, but also fish, seafood, a variety of vegetables, mushrooms, baked on the grill, grill, skewer or skewers. Of course, nothing compares to a dish cooked on the embers of a real fire, with smoke and in the fresh air. However, you can risk cooking a barbecue at home - electric grill, gas stove, etc.
Bonfire dishes: what kind of meat should you choose for a barbecue 
Many types of meat are great for barbecue. This can be pork, beef, lamb, offal, as well as poultry. Tougher meat should be marinated in advance, but, for example, chicken or turkey do not require additional processing at all - the bird can simply be cut up and sent to the coals. Also, for greater softness, the meat can be pre-beaten.
Dishes on the fire: how to cook meat properly
It is important to properly cut the barbecue meat. The pieces of meat should be flat, so that they can easily fry and not remain raw inside. However, do not cut too thinly, otherwise the meat will remain coals. If you cut the meat into small portions, then they can be strung on wooden skewers - this is practical when cooking and beautiful when serving.
Bonfire dishes: barbecue marinade
The meat chosen for the barbecue should be marinated in advance. In this case, the meat is more tender, soft and delicious, and is cooked on coals faster. Marinate meat from 2-3 hours (poultry, pork), up to a day (beef, veal, lamb, game).
For the preparation of marinade, honey, soy sauce, mayonnaise, yogurt, kefir, wine and balsamic vinegar, lemon, pomegranate juice, olive oil, dry white or red wine or other alcohol are most often used.
From vegetables and seasonings, onions, garlic, dry herbs and spices - hops-suneli, coriander, freshly ground pepper, oregano, thyme, paprika, cumin, mustard, etc. are mandatory.
Dishes on the fire: how to properly fry a barbecue
A simple rule that experts usually use is not to fry meat on an open fire. First, you should burn a sufficient amount of wood, and then put out the fire (without filling it completely) and cook the meat already on hot coals, making sure that no new flames appear.
The meat is laid out on the grill in pieces or strung on skewers, periodically turned over and sprinkled with the marinade in which it was, wine or just water to form a golden crust. Barbecue is prepared depending on the type of meat and the size of the pieces, on average from 15-30 minutes to 1-2 hours. The readiness of the meat is checked by piercing the piece in the thickest place - if the clear juice is released, and not blood, then the barbecue is ready.
Outdoor menu: what dishes go best with a barbecue 
Serve barbecue meat best hot with fresh vegetables, salads, herbs and various sauces. As a side dish, potatoes, rice, as well as vegetables baked on coals - tomatoes, peppers, eggplants, zucchini, potatoes, mushrooms, etc. are perfect.
Pork skewer in soy sauce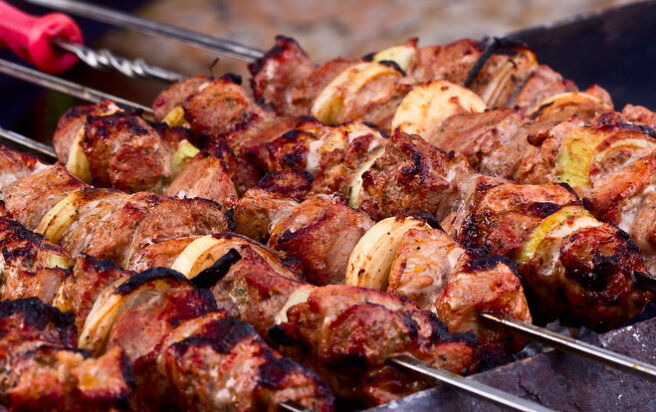 Ingredients:
Pork — 2 kg
Onion — 450 g
Soy sauce
Black pepper-1 tsp
Seasonings for shish kebab — 1 tsp.
Salt to taste
Parsley — a large bunch.
Cooking method
Wash and dry the meat. Cut into medium-sized pieces.
Cut the onion into rings 3-5 mm thick. Cut the parsley as large as possible.
.Put the chopped meat in a large saucepan, add salt, add seasonings for shish kebab and pepper. 
Put a layer of onion on top of the meat, lightly pressing down. 
Salt the parsley and remember well to let the juice flow, then also send it to the pan and mix all the ingredients.
Pour in the soy sauce and mix thoroughly. Cover the pan with a lid and send it to the refrigerator for a few hours, or even better for the night.
Light the grill, wait until the wood burns through.
The meat is strung on skewers not too tightly to each other. Remove the onion and herbs from the pieces of meat.
Send the meat to fry when there are still burning embers.Periodically turning each skewer. If a fire breaks out under the meat, then you need to sprinkle water to extinguish the flame.Fry the meat for 15 to 20 minutes (depending on the amount of coals, heat and the size of the pieces).
Dark Beer barbecue sauce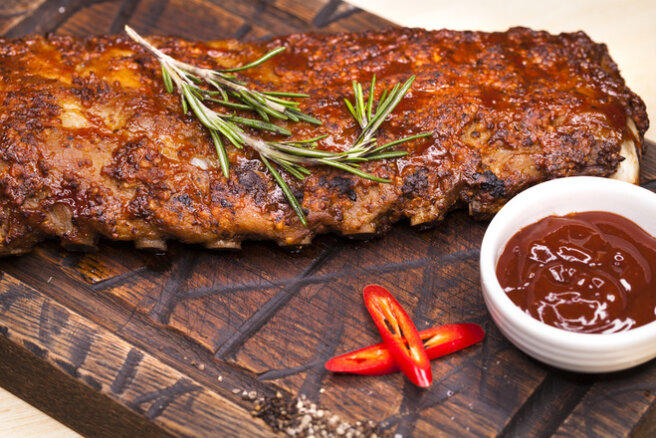 Ingredients:
Dark beer — 300 ml
Tomato sauce-250 ml
Apple cider vinegar-125 ml
Sugar - 1 tsp.
Salt to taste
Ground black pepper-1/2 tsp
Red pepper — 1/2 tsp.
Dry garlic — 1/2 tsp.
Onion powder — 1/2 tsp.
,Cooking method
Mix all the ingredients in a small saucepan and put it on the fire.
Bring to a boil, turn up the heat and cook, stirring constantly, for 30-40 minutes. The sauce should darken and thicken. 
Chill and serve with the barbecue meat. You can store the sauce in the refrigerator for a month in an airtight container.