Dumplings with cherries: a very simple recipe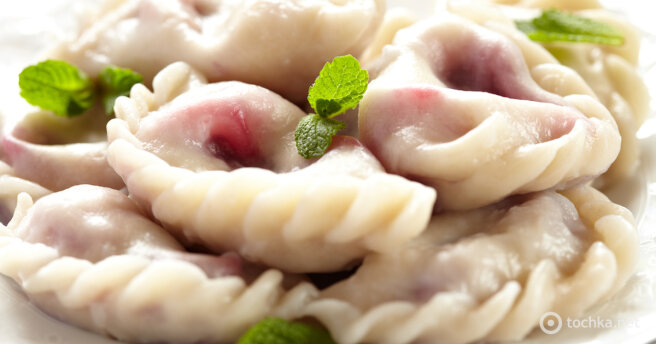 Continuing the publication of successful examples of "friendship" of dough with berries, MustHub offers you a simple and very tasty way to cook dumplings with cherries.
Your family will be delighted with this real summer taste, especially since dumplings with cherries are prepared quickly and simply from quite affordable products.
Dumplings with cherries-ingredients:
for the test:
100 g of flour,
100 ml of water,
1 teaspoon of sugar,
a pinch of salt,
for the filling:
500 g of cherries,
200 g of sugar,
0.5 teaspoons of starch.
Dumplings with cherries-cooking:
Pick the cherries, wash them and peel them from the seeds.
Fill the cherries with sugar and leave for 2 hours to make the juice appear. Drain the resulting juice separately.
Prepare the dough for dumplings with cherries. Pour the sifted flour into a bowl with a slide, make a recess and add salt and sugar. Pour slightly warmed (not hot) water into the flour and knead the dough. The consistency of the dough should be quite steep.
Cover the dough with a napkin and leave for 30 minutes. Then roll out thinly and cut out round dumplings with a glass or a cup with a sharp edge.
Now you can start modeling dumplings with cherries. In the middle of each dumpling, put a few berries, sprinkle with sugar mixed with starch. This is done so that the dumplings do not get wet from the cherry juice.
Carefully blind the edges of the dough with ordinary pinches or a pigtail at your discretion. It is important that during the cooking process the dough does not disperse, and the filling does not fall out.
Put the molded dumplings with cherries on a board sprinkled with flour.
Throw a portion of dumplings into boiling salted water and cook until ready, until they float to the surface.
Serve dumplings with cherries hot, watering them with sour cream and cherry juice.
Bon Appetit!
READ ALSO:
Dumplings with strawberries: a recipe for Ukrainian treats
Cherry sauce: recipe with photos for meat dishes
All the brightest and most interesting news can be found on the main page of the women's portal MustHub