Miracle daikon: the benefits of a vegetable and 3 delicious dishes with it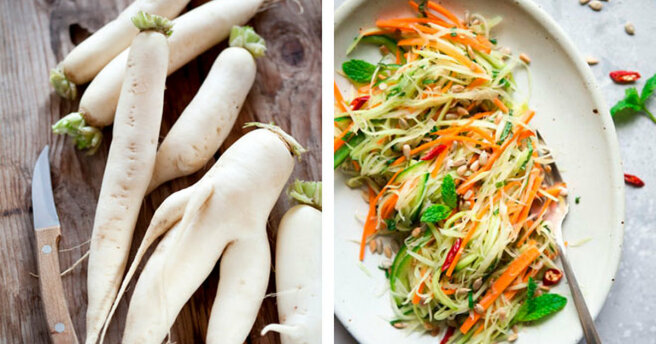 MustHub continues to talk about seasonal vegetables and fruits, from which you can prepare many interesting dishes. And, following the mantra "seasonal is healthier", accumulate as many useful vitamins in the body as possible. This time, Daikon is at gunpoint. We understand the useful properties of the vegetable and prepare three dishes with it!
Daikon, which is also known as muli, white / winter/Chinese / Japanese radish, is a long, creamy-white cruciferous vegetable with a sharp pepper flavor. It is really a relative of the radish, but it differs from it in size — the daikon resembles a pale carrot in shape. Both the root and the leaves of the vegetable can be eaten. The roots taste like boiled turnips.
The health benefits of daikon
Daikon is one of the most necessary vegetables for those who want to keep fit or follow a diet. It is nutritious and low-calorie. The high level of vitamin C and the active enzyme myrosinase help it compete with ordinary radish.
Improves digestion. Raw daikon contains digestive enzymes that facilitate the digestion of proteins and carbohydrates. And its antioxidants cause the outflow of bile. It is believed that you need to cut daikon right before a meal, because 50% of its enzymes are lost in just 30 minutes.
It is useful for immunity. 100 g of daikon contains 22 mg of vitamin C, which is 33% of the daily norm. The vitamin is mainly concentrated in the leaves of the plant.
Helps to reduce weight. A low-calorie product with a high fiber content is the best friend of losing weight. Daikon is considered a non-starchy vegetable, that is, it is low in carbohydrates. For example, a study conducted among 1,197 people showed that those who ate more non-starchy vegetables had less body fat and lower levels of insulin, a hormone involved in fat accumulation.
Helps detoxification. Daikon is a diuretic vegetable, so it also works for kidney health.
Nutrients and percentage daily allowance per 100g:
Calories: 18 kcal (1%)
Fiber: 1.6 g (6%)
Carbohydrates: 4.1 g (1%)
Protein: 0.6 g (1%)
Fat: 0.1 g (0%)
Omega 3: 29 mg
Omega 6: 16 mg
Vitamin C: 22 mg (37%)
Folic acid: 28 mcg (7%)
Potassium: 227 mg (6%)
Copper: 0.1 mg (6%)
Magnesium: 16 mg (4%)
Calcium: 27 mg (3%)
Iron: 0.4 mg (2%)
Phosphorus: 23 mg (2%)
Selenium: 0.7 mcg (1%)
Zinc: 0.2 mg (1%)
Glycemic index: 1 = low
Top 3 recipes with daikon
Daikon is not called Chinese or Japanese radish for nothing — it is very popular in Asian cuisine. It is often served pickled or fried, but it is also eaten raw. Sliced daikon is a great way to give a unique island taste and texture to noodles, salads and vegetable side dishes.
Spicy salad with daikon
A little spicy, a little tart-this salad according to the recipe of the Taiwanese-American chef Lisa Cheng Smith refreshes and invigorates. The thinner you slice the daikon, the better it will absorb the flavor of the dressing.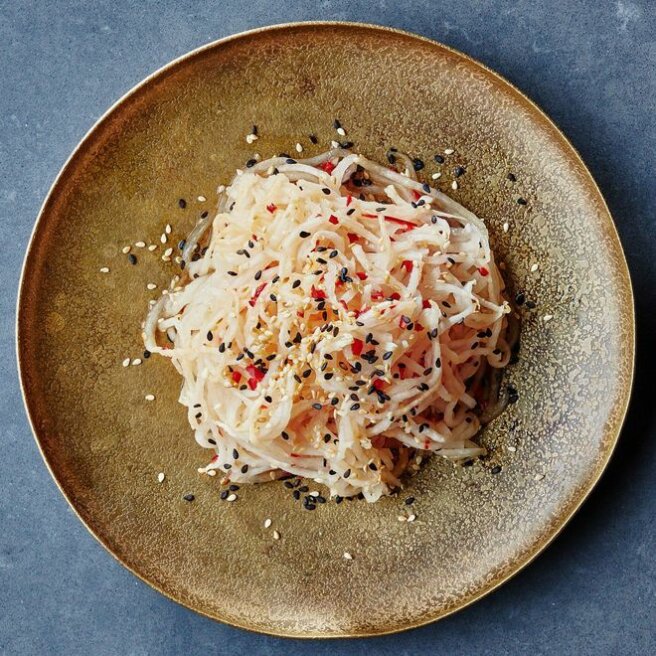 Ingredients:
1 large daikon,
3/4 teaspoon salt,
1 red chili pepper,
2 garlic cloves,
2 tablespoons sesame oil,
1 tablespoon rice vinegar,
1 tablespoon of sugar,
sesame seeds for serving.
Preparation:
Cut the daikon into thin strips, put it in a bowl and sprinkle 1/2 teaspoon of salt. Let it stand for 30 minutes, transfer it to a kitchen towel and squeeze out excess moisture.
Meanwhile, mix the chopped chili, garlic, vinegar, sugar and the remaining 1/4 teaspoon of salt in another large bowl and leave for 30 minutes.
Add the daikon to the bowl with the dressing, mix well and leave for a time from 30 minutes to 6 hours. Cover with a lid and cool if you keep it for more than an hour.
Before serving, sprinkle with sesame seeds.
Cabbage pad thai with daikon
All the favorite textures and flavors of pad thai are preserved in this dish, but as a bonus, herbs and fresh herbs are added. Soft rice noodles are perfectly combined with crispy strips of daikon.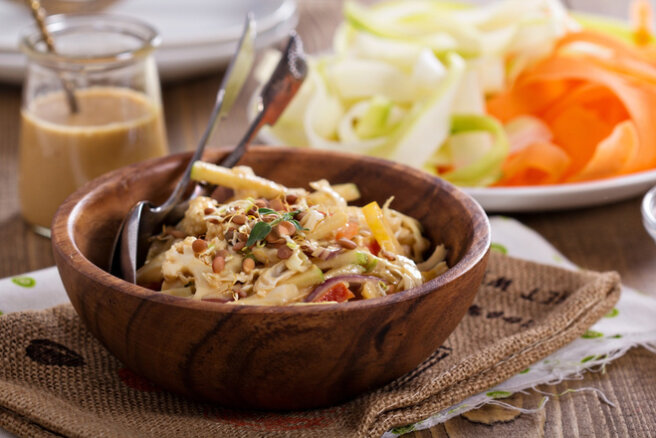 Ingredients for dressing:
1 tablespoon almond oil,
1 tablespoon of tamarind paste (can be replaced with wine vinegar with honey or cranberry sauce),
juice of 2 limes,
1 tablespoon of tamari (or soy sauce).
Ingredients for pad thai:
200 g pad thai rice noodles,
1 small daikon,
1 cup mung bean sprouts (optional),
1/2 cup toasted cashew nuts
1 cup basil leaves,
1 cup coriander leaves,
1 tablespoon olive oil,
1/2 red onion,
2 garlic cloves,
2-centimeter piece of ginger (or powder),
2-3 large leaves of kale cabbage,
salt to taste.
Preparation:
Heat the olive oil in a large frying pan over medium heat. Add finely chopped onion, garlic and ginger and fry for 2 minutes.
Add the cabbage and salt, continue to fry for another 5 minutes, stirring. Cover it with a lid and set it aside.
Prepare the pad thai noodles, following the instructions on the package.
Peel and cut the daikon into thin strips using a vegetable peeler, spiral slicing or manually with a sharp knife.
In a large bowl, mix the daikon noodles, bean sprouts, a mixture of fried cabbage, cashews, herbs and dressing. Mix it gently.
Serve immediately on the table with lime juice, which can be poured separately on the dish.
Beef and Daikon soup
This simple soup is considered traditional in Asian cuisine. There are few ingredients in it, and the taste is excellent. But to make it perfect and really Asian, you can add dry scallops.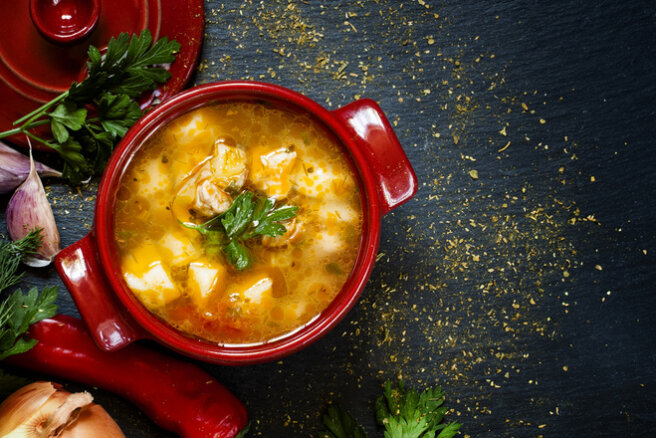 Ingredients:
500 g of beef,
2.5-3 liters of water
1 large daikon,
half a bunch of leeks,
fresh parsley or coriander,
salt, spices to taste.
Preparation:
Boil the beef until it is half cooked in a saucepan with water.
Wash and clean the daikon, cut into large pieces.
Wash and chop the leeks and herbs.
Add daikon and spices to the meat broth, add salt. Bring it to readiness, like a regular soup.
Sprinkle with coriander or parsley, serve hot.
Bon Appetit!
Recently, we wrote about the favorite smoothies of the stars from kalecabbage .