Mulberry: the benefits of berries and 3 recipes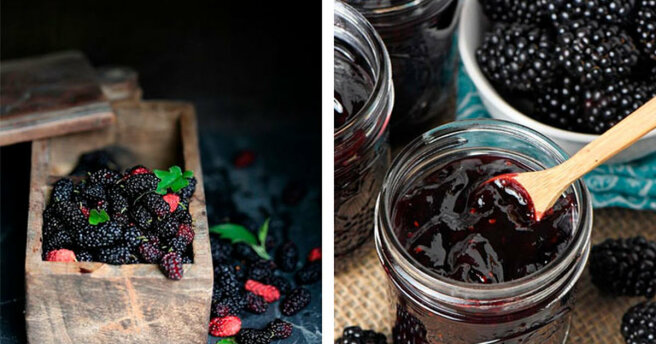 Mulberry trees produce fragrant and delicious berries that are eaten all over the world. They are often referred to even as fashionable superfoods because of the high concentration of vitamins and minerals. MustHub tells you all about the benefits of mulberry and what you can cook from it.
Mulberry: what is useful for a berry
Fresh mulberry consists of 88% water and contains only 60 calories per glass (140 g). The main nutrients in a portion of fresh mulberry at the rate of 100 g:
Calorie content: 43
Water: 88%
Protein: 1.4 grams
Carbohydrates: 9.8 grams
Sugar: 8.1 grams
Fiber: 1.7 grams
Fat: 0.4 grams
The carbohydrates in mulberry are mainly simple sugars (glucose and fructose), but also contain a little starch and fiber.
The fibers are both soluble (25%) in the form of pectin, and insoluble (75%) in the form of lignin. Fiber helps maintain a healthy digestive system, reduces cholesterol levels and reduces the risk of many diseases.
As for vitamins and minerals, mulberry can boast of a decent set. It is especially rich in vitamin C and iron:
Vitamin C. An essential vitamin that is important for many body functions.
Iron. An important mineral that, among other things, transports oxygen throughout the body.
Vitamin K1. Can lower blood pressure and reduce the risk of heart disease.
Vitamin E. An antioxidant that is important for the skin.
By the way, they eat not only mulberry fruits, but also its leaves. They are also very nutritious, contain polyphenolic antioxidants, as well as vitamin C, zinc, calcium, iron and other trace elements.
If this is still not enough for you, we will add that there are such plant compounds as anthocyanins in mulberry. They give it color, and they are also important for our health. For example, anthocyanins work with bad cholesterol, and rutin protects against chronic diseases.
3 recipes with mulberry
What to cook with mulberry? Yes, there are a lot of delicious things — compote, wine, jam, pastille, filling for pies. We have selected several recipes that you will like.
Mulberry Jam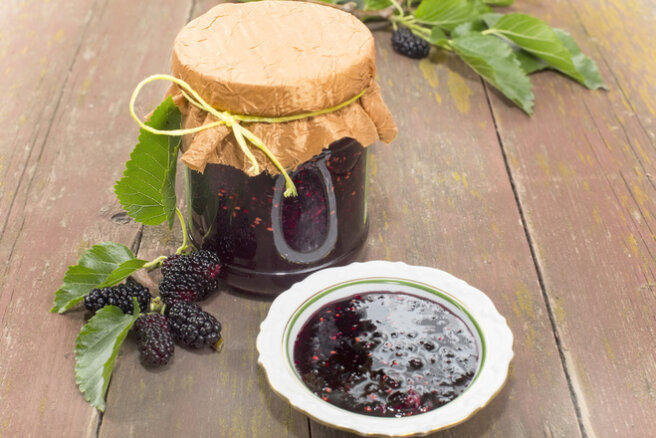 Ingredients:
500 g of black mulberry,
500 g of sugar,
15 ml of lemon juice,
5 g of lemon zest.
Preparation:
Tear off the tails of the mulberry. Put it in a colander, wash it under cold water and leave it for 5 minutes.
Wash the lemon and pour boiling water over it. Rub the yellow part of the zest on a fine grater.
Put the mulberry in a saucepan and grind it with a blender. Add sugar and zest to the puree.
Put the pan on medium heat. When the jam boils, reduce the heat to a minimum and cook for 5 minutes.
Rub the jam through a sieve and squeeze the lemon juice into it. Put it back on the fire and bring it to a boil. Cook on low heat for another 20 minutes.
Pour the jam into a sterilized 200 ml jar. Close the lid and store in a cool place.
Mulberry Pie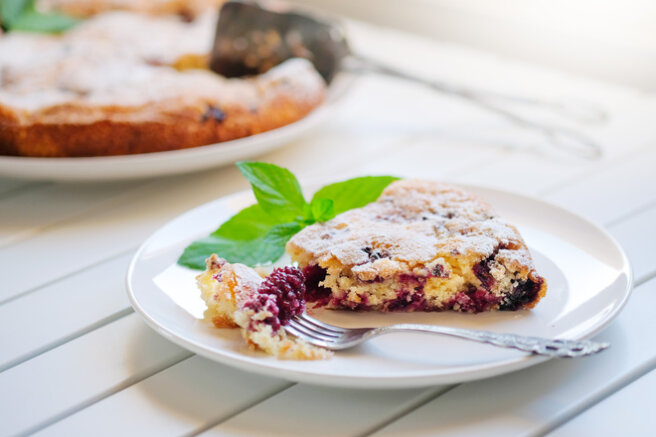 Ingredients for the cake:
1/2 cup milk,
1/2 cup white sugar,
1 egg,
2 tablespoons vegetable oil,
1 cup flour,
2 teaspoons baking powder,
1/2 teaspoon salt,
2 cups of mulberry.
Ingredients for sprinkling:
3/4 cup flour,
1/2 cup brown sugar,
1/4 cup white sugar,
3 tablespoons of butter.
Preparation:
Preheat the oven to 190 degrees, grease a baking sheet 20x20 cm with oil.
Whisk the milk, 1/2 cup of white sugar, egg and butter in a bowl. Add 1 cup of flour, baking powder and salt, mix until smooth and pour into a baking dish. Sprinkle with mulberry.
Mix 3/4 cup of flour, brown sugar and 1/4 cup of white sugar in a bowl, cut the butter and mix with your hands for about 2 minutes until the mixture looks like crumbs. Sprinkle the crumbs on the pie.
Bake in a preheated oven until a toothpick inserted in the center is clean. This is about 30 minutes.
Mulberry compote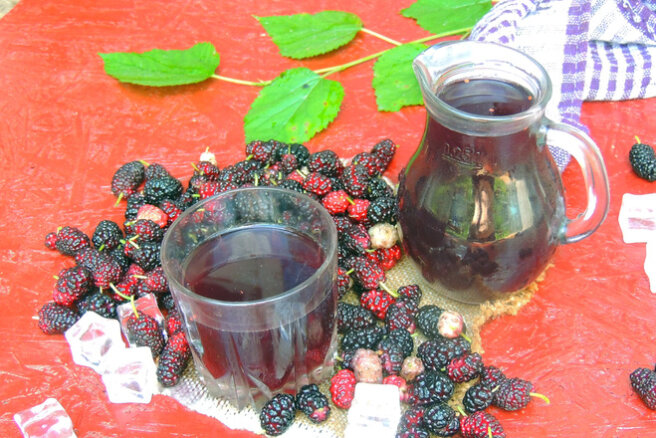 Ingredients:
750 g of mulberry,
1.3 cups of sugar,
juice and zest of 1 orange,
2 tablespoons of honey.
Preparation:
Tear off the mulberry tails, put them in a colander and wash them. Let the water drain.
Put it in a stainless steel bowl and mash the berries with your hands.
Sprinkle with sugar and let stand for 1 to 12 hours.
Put the berries in a saucepan with orange juice, zest and honey. Put it on a low heat and stir until the honey and sugar crystals dissolve.
Cook over low heat for 20 minutes or until the berries disintegrate.
Bon Appetit!
Recently, we wrote about the benefits of daikon and gave 3 recipes with this vegetable.