Cherry sauce: recipe with photos for meat dishes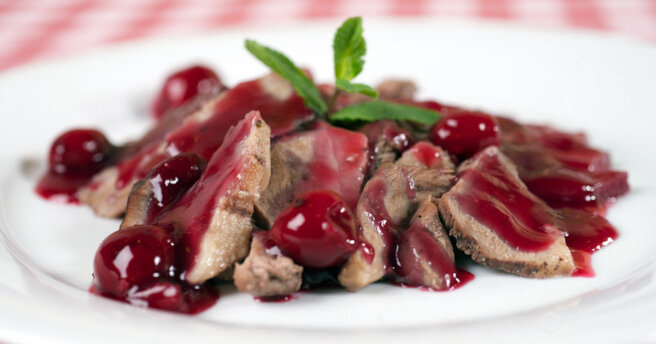 Most often, cherries are associated with desserts, compote or jam, but try to serve meat with cherry sauce – and your doubts about its appropriateness will completely dissipate. Due to its aroma and natural sourness, cherry sauce perfectly harmonizes with meat dishes, fish and poultry. Especially delicious under such a sweet and sour sauce is fatty meat, grilled or over a fire.
The recipe for making cherry sauce from MustHub is quite simple, and will not cause you any difficulties. In addition, cherry sauce according to the recipe can be prepared from both fresh and frozen berries, so you can enjoy its excellent taste in any season.
Cherry sauce-ingredients:
300 g of cherries,
200 ml of dry red wine,
1.5 tablespoons of flour,
2 tablespoons of sugar,
10 g vanilla sugar,
1 clove bud,
1 pea of allspice,
ground black pepper to taste.
Cherry sauce-preparation:
Wash the cherries, dry them, peel them from the seeds and divide them into halves. Frozen cherries should be thawed in advance.
Pour the wine into a container, put it on a slow fire, bring it to a boil, add allspice, cloves, sugar, vanilla sugar, and warm it up for about 5 minutes.
Add the cherries to the wine and, stirring occasionally, continue to cook for another 5 minutes.
Heat the flour in a dry frying pan to a creamy shade, dilute with two tablespoons of hot wine, and cook over low heat, stirring, until thickened, and then pour into a bowl with the sauce, mix again and cook for another 2-3 minutes. At the end, pepper to taste.
Pour the warm cherry sauce into a saucepan and serve with meat dishes separately.
READ ALSO:
Homemade Italian ice cream from the MasterChef-11 judge Vladimir Yaroslavsky
Indonesian jamu juice: what it is made from and why it is so popular