Sponge cake with berries and sour cream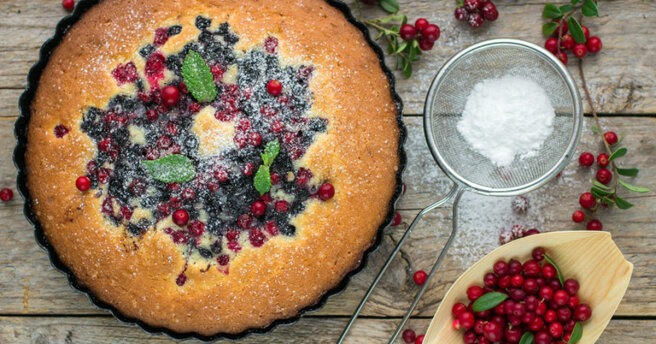 A cake with berries in summer can and should be prepared. Firstly, it is delicious, and, secondly, it is a sin not to use a large number of fresh berries (and not very expensive). For all lovers of homemade baking (and who does not like it!) MustHub has prepared an interesting recipe. We are preparing a sponge cake with seasonal berries.
Fresh berries are baked right in the biscuit, giving it a truly summer vitamin taste. And a gentle sour cream cream will make your sponge cake very tasty, and you will definitely want additives!
Sponge cake-ingredients:
for the test:
4 eggs,
1 cup flour,
1 cup sugar,
1 cup of berries (strawberries, currants, raspberries, cranberries, etc.),
1 tablespoon of starch,
1 teaspoon of oil,
for the cream:
1 cup sour cream,
2 tablespoons powdered sugar,
10 g of vanilla sugar.
Sponge cake-cooking:
Separate the whites from the yolks and whisk the whites at the lowest speed of the mixer. Pour in the sugar one spoonful at a time and continue to beat until you get a stable foam.
Gradually introduce the yolks into the mass and mix gently. Then also gradually add the sifted flour and mix with movements from the bottom up.
Cut the large berries into several parts, leave the small ones entirely. Sprinkle the berries with starch.
In a greased form, pour some of the berries and distribute them all over the bottom. Pour out the sponge dough, pour the rest of the berries on top.
Send the form with the dough to the preheated to 200°Remove from the oven and bake until golden brown for about 20 minutes. You can check the readiness of the biscuit with a wooden stick – it should be dry.
While the biscuit is baking, prepare the sour cream. To do this, beat the cooled sour cream, gradually adding powdered sugar mixed with vanilla sugar.
Cool the finished biscuit, then cut it in half lengthwise, soak it with berry juice or syrup and smear it with cream.
Assemble a sponge cake, decorate the top with berries and sprinkle with powdered sugar.
Bon Appetit!
By the way, you can also make a delicious homemade lemonadeto refresh yourself in the heat.