Broken cucumbers in Chinese: a recipe for a delicious salad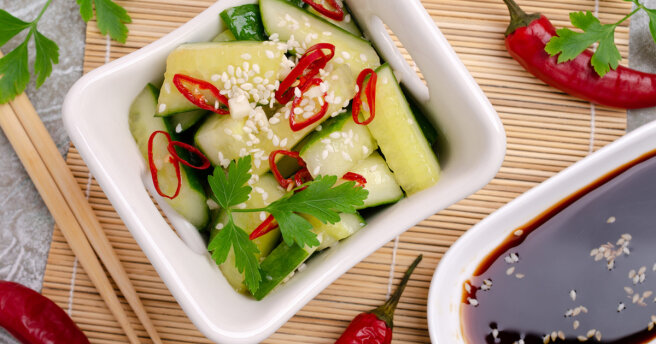 If you are thinking about what an original and light salad to complement dishes of meat, poultry or fish, broken cucumbers in Chinese are a great option. This dish is easy to prepare, does not take much time, and the light taste will refresh any meal. So, how to cook broken cucumbers in Chinese-read in the material MustHub.
Ingredients:
Fresh cucumbers – 6 pieces,
Chili pepper – 1 piece,
Sesame oil - 2 tbsp. l,
Soy sauce - 2 tablespoons,
Sugar - 1 tbsp. l,
Salt - ½ tsp,
Rice vinegar - 2 tbsp. l,
Fresh coriander - 3 sprigs,
Sesame seeds-1 tsp,
Young garlic – 2 cloves.
The number of ingredients is named for making 4 servings of salad. You can increase or decrease the amount of food, depending on how many servings you want to cook.
Preparation:
Before you start cooking the salad, you need to prepare all the products, wash the cucumbers well and dry them. First remove all the seeds from the pepper. Wash and dry the coriander sprigs.
Cover the cucumbers with cling film and walk over them with a rolling pin or a hammer for beating off the meat. It is important not to overdo it at this stage, so that the cucumbers do not turn into porridge.
Cut the cucumbers into small pieces, about 2*4 cm, cut off the tails. Add finely chopped garlic and finely chopped chili pepper.
Add the chopped coriander sprigs.
In a separate bowl, mix the sesame oil, soy sauce, salt, sugar and rice vinegar. All this is thoroughly mixed until the sugar is completely dissolved.
Add the dressing to the cucumbers, mix everything and let it stand for at least 30 minutes.
Ready-made broken cucumbers spread out in bowls, you can sprinkle a little sesame seeds. The dish is ready. You can store broken cucumbers in a closed jar for up to three days in the refrigerator.