Jerusalem artichoke: the benefits and harms of ground pears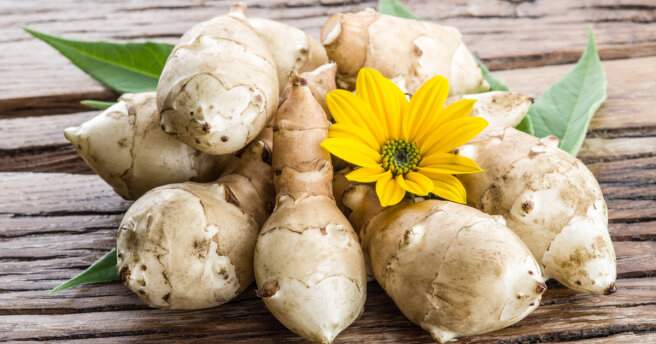 Surely, you have seen on the shelves in the store a vegetable that looks like ginger, and the price tag says jerusalem artichoke. If you avoided it, it was completely in vain.
Ground pear is a vitamin-rich and very healthy vegetable that should be added to your diet. Read about the benefits and harms of jerusalem artichoke in the material MustHub.
Jerusalem artichoke: the benefits of ground pears
As we mentioned earlier, jerusalem artichoke looks similar to ginger, although its taste resembles potatoes. Nevertheless, this root vegetable has a lot of useful properties.
The ground pear contains a lot of B vitamins, vitamin C, as well as magnesium, calcium, potassium, iron, phosphorus, chlorine, sulfur, sodium, aluminum, zinc, manganese, copper, boron, fluorine, molybdenum, iodine and fiber.
Jerusalem artichoke is a low-calorie vegetable and promotes smooth weight loss with regular use. 100 grams of ground pears contain: 61 kcal, 79% water, 12.8% carbohydrates, 2.1% protein and 0.1% fat.
Jerusalem artichoke has a positive effect on:
The digestive tract. And all due to the large amount of dietary fiber in its composition. The correct balance of acids reduces the acidity of gastric secretion. Jerusalem artichoke also has a beneficial effect on the pancreas, stabilizes its work, and softens the load on this organ and on the liver.
The endocrine system. Ground pear is recommended for use with type 2 diabetes. Its intake in food has a slight hypoglycemic effect, which slows down the absorption of carbohydrates into the blood. The natural inulin contained in jerusalem artichoke helps to saturate the cells with energy, without overloading them with glucose. 
Joints and tissues. Jerusalem artichoke restores the health of these organs due to the high content of silicon. Eating this root helps protect joints, muscle tissue, and increase the elasticity of the skin.
The immune system. The content of vitamin C and useful acids in the ground pear causes a lighter course of viral infections. 
The female reproductive system. Jerusalem artichoke has a sufficient amount of folic acid and vitamin E, which has a beneficial effect on women's health. Especially the fruit is recommended for women who are planning to conceive a child. 
Male genitourinary system. Jerusalem artichoke is useful for restoring and preserving potency. Also, the ground pear is a preventive remedy against the development of prostate adenoma and other diseases of the male reproductive system.
Rejuvenation. Jerusalem artichoke has a pronounced antioxidant property, prevents the rapid aging of cells, improves the quality of skin, nails, and hair.
Jerusalem artichoke: harm and contraindications
Despite all its useful properties, jerusalem artichoke can harm the human body if there are contraindications. Who should not use jerusalem artichoke:
Allergysufferers who are intolerant of certain components in the composition of ground pears,
Hypotonics (people with low blood pressure), because jerusalem artichoke has a pronounced hypotensive ability,
Diabetics (type 1) without proper glucose correction with insulin. They are not recommended to use jerusalem artichoke, because it contains starch and sucrose.