Greek salad: recipes with citrus and avocado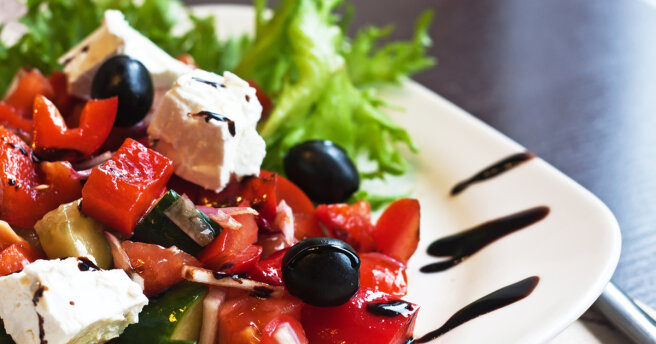 How to prepare a Greek salad in a new, refined and original way? After all, the classic version of the recipe for this dish has long been known and is unlikely to surprise anyone. Today, MustHub offers you a little variety of this familiar recipe. Try the Greek salad with lemon and orange dressing, as well as the avocado version — it's delicious! 
Greek salad with citrus fruits
Ingredients:
50 g feta cheese,
2 tomatoes,
2 cucumbers,
1 bell pepper,
1 small blue onion,
1 bunch of lettuce,
30 g of olives,
1 orange.
For refueling:
0.5 lemon,
1 teaspoon of honey,
2 tablespoons olive oil,
pepper mixture to taste,
salt to taste.
Preparation:
Wash and dry all the vegetables.
Cut the onion into thin quarter rings, sprinkle a little sugar, sprinkle with lemon juice and let it brew while the rest of the vegetables are cooked.
Cut tomatoes, cucumbers and bell peppers into large cubes.
Lettuce leaves are coarsely torn with your hands.
Peel half of the orange from the white films and cut into small cubes. Squeeze the juice out of the other half.
Greek salad dressing recipe: combine all the ingredients for the dressing, add the orange and lemon juice and mix well until smooth.
In a bowl, combine all the vegetables, olives, herbs, cheese, and orange. Fill with the dressing and mix gently.
Serve the Greek salad immediately, so that it does not drain with juice.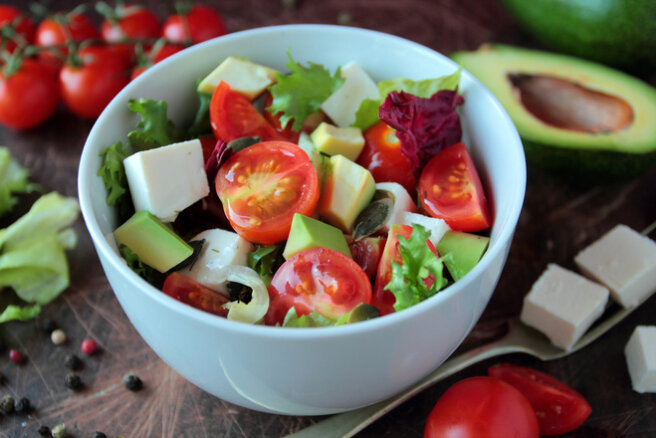 Greek salad with avocado
Ingredients: 
2 cucumbers,
2 tomatoes,
1 red onion,
1 bunch iceberg lettuce,
1 sweet pepper,
1 avocado,
100 g pitted olives,
200 g of fetax cheese (brynza),
2 tablespoons lemon juice,
olive oil to taste,
salt and ground black pepper to taste.
Preparation: 
Wash and dry all the vegetables.
Cut the cucumber into small cubes, and the tomato into small slices. Onion — thin half-rings. 
Tear the lettuce leaves with your hands, cut the red pepper into cubes or strips. 
Peel the avocado and also cut into cubes, sprinkle with lemon juice.
Cut the fetax or cheese (cut it).
Mix the vegetables and add the chopped halves of olives to them. Sprinkle the salad with cheese.
Season the salad with olive oil, salt and pepper to taste.
Bon Appetit!