What to cook from young cabbage: spring recipes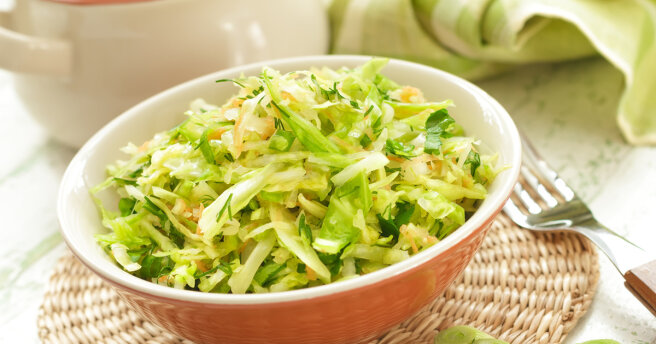 In the season of young green cabbage, do not miss the opportunity to prepare delicious, delicious vitamin dishes from it. The first thing that comes to mind is, of course, a salad. But you can use not only lean recipes, there are also many delicious treats with young cabbage.
Choose recipes on MustHub and cook with pleasure.
Salad of young cabbage with cucumbers and herbs
While the young cabbage is the freshest and most tender, have time to enjoy it in its raw form and prepare a spring vitamin salad. In combination with the aromatic vegetable oil, its taste will be revealed even more brightly.
Ingredients:
1 head of young cabbage,
2 cucumbers,
1 bunch of green onions,
1 bunch of dill,
3 tablespoons vegetable oil,
1-2 tablespoons apple cider vinegar,
sugar to taste,
salt to taste.
Preparation:
Chop the fresh cabbage thinly, add salt, lightly press it with your hands and squeeze out the juice.
Finely chop the green onion, sprinkle with sugar, sprinkle with vinegar, mix and leave for a few minutes to marinate the onion.
Cut the cucumbers into strips.
Chop the dill.
Combine the vegetables with the herbs, add salt to taste and add sugar.
Carefully mix the salad of young cabbage, season with vegetable oil and serve.
Cabbage in batter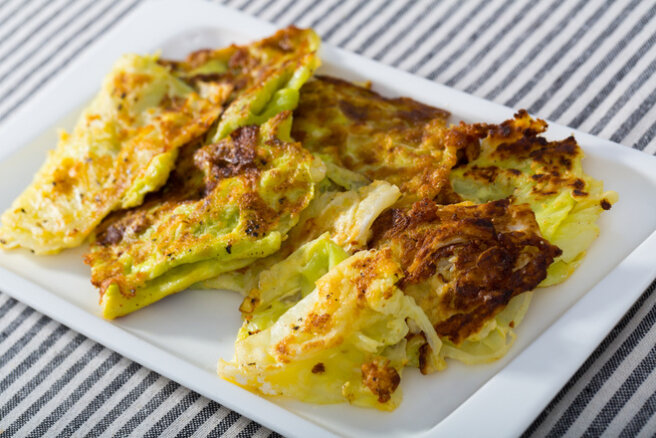 The tender leaves of young cabbage are perfectly combined with the egg, it turns out very tasty!
Ingredients:
500 g of young cabbage,
2 eggs,
2 tablespoons flour,
dill,
50 ml vegetable oil,
ground black pepper to taste,
salt to taste.
Preparation:
Separate the cabbage leaves and blanch in boiling water. Young cabbage is so tender that 1-2 minutes is enough.
Take the cabbage out of the boiling water and let it drain and cool.
Beat the eggs with salt, pepper and chopped dill.
Dip the cabbage leaves in flour, then in an egg and fry in preheated vegetable oil on both sides until browned.
Cabbage in batter is delicious both hot and cold.
Cabbage casserole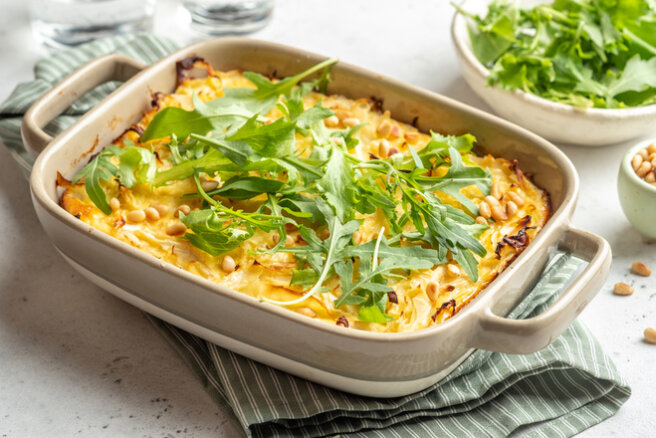 Try this version of the vegetable casserole. It can easily become one of your favorite spring dishes.
Ingredients:
1 head of young cabbage,
1 onion,
1 carrot,
1 bunch of greens,
4 eggs,
100 g butter,
50 g of cheese,
1 cup of milk,
ground black pepper to taste,
salt to taste.
Preparation:
Cut the onion into cubes, grate the carrots on a coarse grater, chop the cabbage.
In the melted butter, fry the onion and carrot until golden brown for about 5 minutes.
Add a little salt to the cabbage, rub it with your hands, squeeze it out and send it to the frying pan to fry until the excess moisture evaporates.
Transfer the vegetables to a baking dish and let them cool.
Beat the eggs with milk, pepper and salt until smooth.
Pour the mixture over the vegetables, mix and send them to the oven preheated to 200 degrees.
Cook the cabbage casserole for about half an hour.
Bon Appetit!