Exotic Quinoa: TOP 3 best Inca Golden Grain Recipes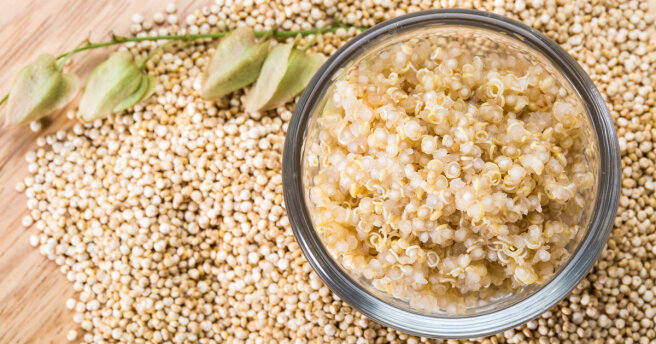 Quinoa is a plant native to South America that grows on the slopes of the Andes. The Incas called the seeds of this crop "golden grain", and it was one of the most popular in the diet of the Indians, along with corn and potatoes. Exotic cereals took root in many countries of the world and began to appear more and more often on the tables of Ukrainians. 
Quinoa contains a huge amount of protein, but is gluten-free. This culture can be perfectly suitable for vegans, those who observe fasts, as well as anyone who adheres to a dietary diet. 
In addition to quinoa porridge, salads, meat dishes and even pies are prepared from the seeds of this plant. The editors of MustHub decided to offer you recipes for the most delicious and healthy quinoa dishes.
Quinoa salad with vegetables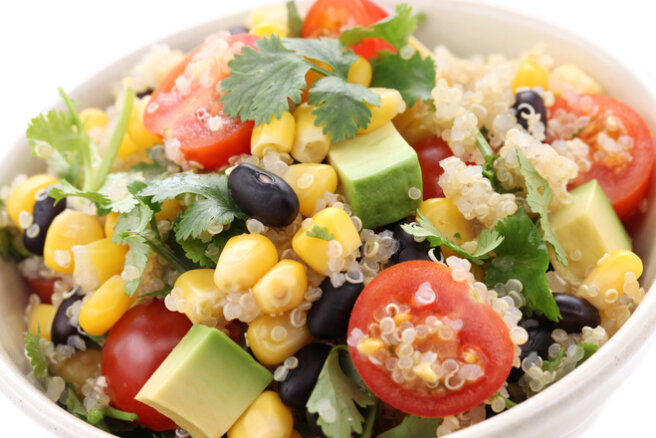 Ingredients:
Quinoa — 1 cup
Avocado — 1 pc.
Cherry tomatoes-3-5 pcs.
Corn — 100-150 g
Greens — a couple of twigs
Olive oil — 1 tbsp.
Wine vinegar — 1 tbsp.
Mustard — 1 tbsp.
Honey — 1 tbsp.
Garlic - 1 clove
Salt, pepper — to taste.
Cooking method
Thoroughly wash the quinoa groats under running water so that they do not taste bitter. For a special taste, you can fry it in a dry pan or in the microwave. For cooking quinoa, water is required in the proportion of 1\2, so that one glass of cereals will need two glasses of water. When cooking, the quinoa increases three times, so choose a bigger pot.
Fill the grits with water, salt, bring to a boil and leave to cook under the lid for 15 minutes. Cool it down.
Cut the cherry tomatoes into halves, the avocado into cubes, and cover the greens. Pour it into the porridge.
Make a salad dressing: in a bowl, mix honey, olive oil, wine vinegar, mustard, finely chopped or ground garlic, salt and pepper. Pour into the salad and mix all the ingredients. 
Quinoa with meat and mushrooms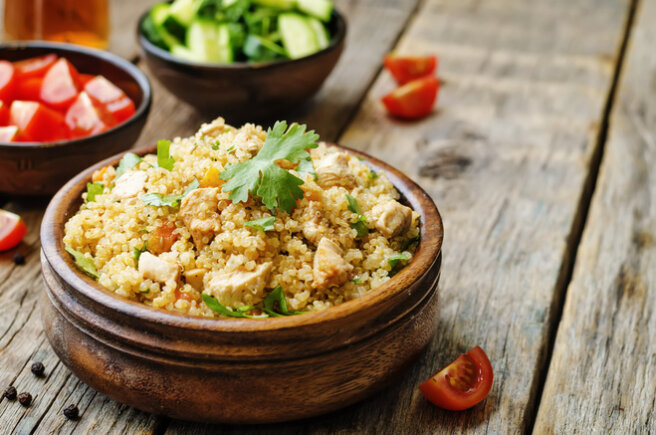 Ingredients:
Quinoa — 1 cup
Beef — 500 g
Mushrooms-250 g
Onion — 1 pc.
Vegetable oil — for frying
Salt, pepper — to taste.
Cooking method
Cut the meat into cubes, add salt and lightly fry in a frying pan for 7-10 minutes.
Boil a glass of water, add the meat and carcass over low heat until tender.
Thoroughly wash the quinoa, pour 2 tablespoons of water and put it on the fire. Bring to a boil, add salt, and cook for 15 minutes over low heat.
Peel and chop the mushrooms, cover the onions and fry in a frying pan in vegetable oil.
Mix the meat with quinoa and fried mushrooms, add pepper and cook for another 10 minutes.
Quinoa pie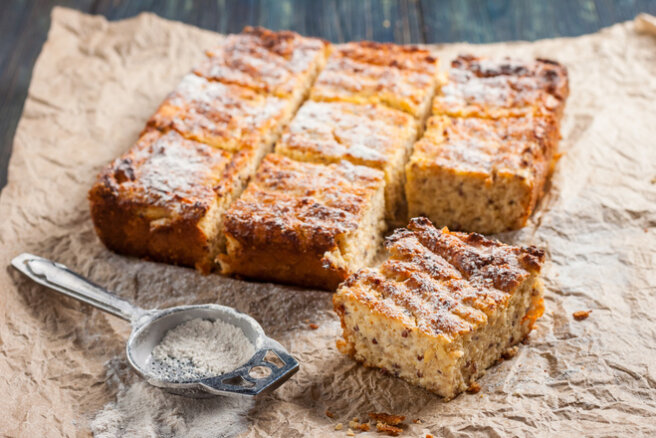 Ingredients
Dough:
Wheat flour-320 g
Butter — 200 g
Salt-a pinch
Egg — 1 pc.
Filling:
Quinoa — 100 g
Adyghe cheese — 300 g
Broccoli — 450 g
Onion - 1 pc.
Chicken egg — 2 pcs.
Cream — 220 ml
Oregano (dried) - 1 tsp.
Salt, ground black pepper — to taste.
Cooking method
Mix the sifted flour and butter in a bowl, add the egg and salt and beat the dough. Put it in a bag and put it in the refrigerator for 30 minutes. 
Cook the quinoa in a 1:2 ratio and cool it.
Chop the Adyghe cheese, finely chop the broccoli, onion, and eggs. Add the boiled and cooled quinoa, cream, salt, oregano and pepper. Mix thoroughly. The filling is ready.
Put the dough on a greased form with vegetable oil, spread the filling on top. Brush the cake with the egg yolk.
Preheat the oven to 180 degrees and bake for 45 minutes until golden brown.
See also what you can make from spinach: TOP 5 vitamin dishes.