Braised cabbage in the Bavarian style: an unpostable recipe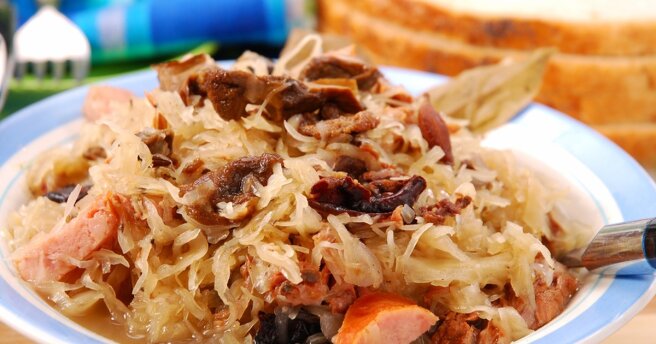 Orthodox Christians continue the Great Lent, which will end beforeEaster, May 1, 2021. Many people's diet consists of lean dishes, but today we offer a delicious recipe for stewed cabbage in Bavarian style for those who do not adhere to Easter traditions.
One of the most popular German side dishes is braised cabbage in the Bavarian style. The trick of this dish is that sauerkraut is used for cooking, not fresh, but sauerkraut.
Traditionally, stewed cabbage in the Bavarian style is prepared on duck fat, but it can also be replaced with lard, and, in extreme cases, even with vegetable oil.
Stewed cabbage in Bavarian style is a wonderful side dish with a rich sweet and sour taste, which goes well with meat dishes, in particular-with Bavarian sausages, sausages, duck or knuckle.
Bavarian cabbage stew-ingredients:
700 g sauerkraut,
1 onion,
1 apple,
50 g of ham,
50-100 ml of white wine (or apple juice),
1 tablespoon flour,
1 tablespoon sugar,
vinegar to taste,
2 bay leaves,
cumin to taste,
salt to taste.
Stewed cabbage in Bavarian style-preparation:
Finely chop the onion.
Peel the apples from the skin and seeds and cut them into small pieces.
Melt the ham in a frying pan.
Mash the onion in the lard, then add the apples and fry over medium heat for 3-5 minutes.
Add the flour to the roast and fry for 3 minutes.
Add sauerkraut, salt, sugar, cumin and white wine.
Stir and simmer for 30-40 minutes under a lid over medium heat until tender.
Stewed cabbage in the Bavarian style is delicious both hot and chilled.
Bon Appetit!
 Earlier, we shared recipes for simple lean salads