Pickled onions for salads and snacks: 3 delicious recipes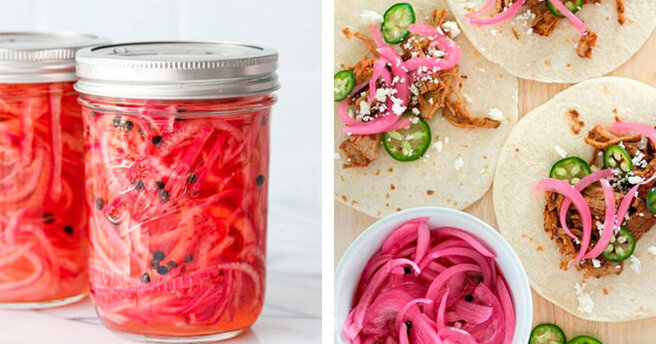 Marinating can work wonders not only with meat or fish, but also with vegetables. The marinade turns raw red or white onions into a great accompaniment to salads and appetizers. It can also be added to hamburgers, tacos, or just sprinkle them on meat and herring. We've compiled the best onion pickling tips and recipes that are easy to repeat.
How to quickly cook pickled onions
Slice the onion thinly
The trick is to quickly prepare the pickled onion — you need to cut it very thin (up to 3 mm). So it will soften faster and absorb the marinade. You can do this with a sharp chef's knife or a chopper. If you prefer a larger cut, keep in mind that the onion will take longer — from a couple of hours to a whole night.
Choose the right vinegar
Using a combination of table vinegar and apple cider vinegar is the best thing you can think of for onions. If you only have a canteen at home, don't skimp on the spices.
Use natural sweeteners
Instead of sugar, you can use maple syrup or honey — they add a special shade to the marinade.
Pickled onion: recipe with a bite and red pepper
With this recipe, the onion turns out crispy and sharp, and it is prepared literally 30 minutes. Perfect seasoning for burgers, salads, tacos, burritos and nachos. The result is 2 cups of onions.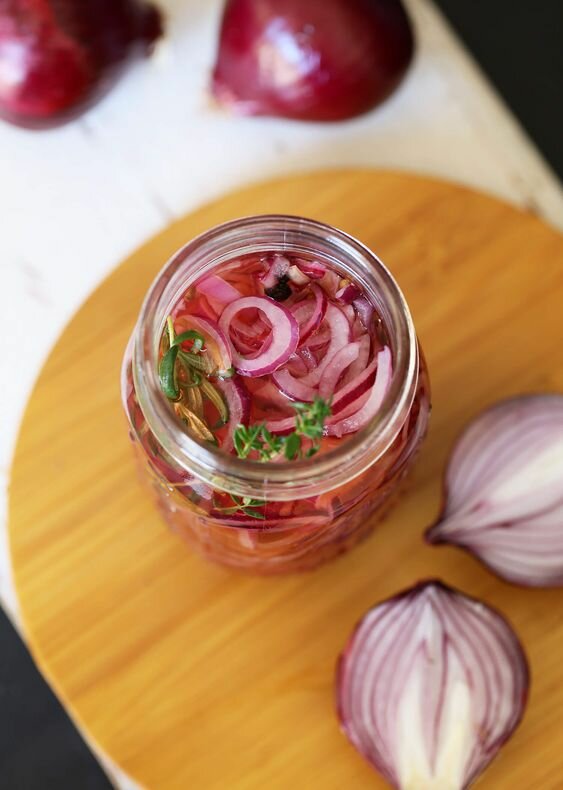 Ingredients:
1 medium red onion,
1/2 cup water,
1/4 cup table vinegar,
1/4 cup apple cider vinegar,
1.5 tablespoons maple syrup or honey,
1.5 tsp salt,
1/4 teaspoon red pepper flakes (optional).
Preparation:
Cut the onion into very thin rings and put it in a heat-resistant container. It is best to put it in the sink, so as not to pour hot vinegar over it. It is also better to turn on the hood.
In a small saucepan, mix water, two types of vinegar, maple syrup or honey, salt and pepper. Bring the mixture to a low boil and carefully pour it into a container with onions.
Allow the pickled onion to cool to room temperature (about 20-30 minutes). Now you can add onions to food, and cover the leftovers with a lid and put them in the refrigerator. Quick pickled onions are best consumed within three days, although they can be stored in the refrigerator for up to 2 weeks.
Pickled onion: recipe with vinegar and lemon juice
In this recipe, you will spend only 10 minutes and it is perfect for salads, sandwiches or pizza. The longer the onion is marinated, the tastier and more beautiful it will look. If you don't have 24 hours to pickle, you can leave it for just an hour.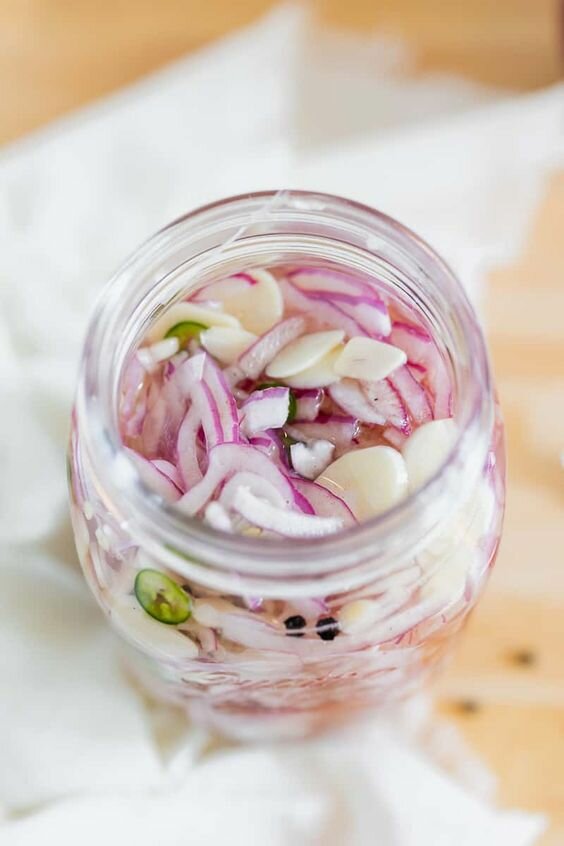 Ingredients:
2 medium red onions,
1/4 cup white wine bite,
2 tablespoons sugar (or other sweetener),
1/2 teaspoon salt,
1/4 cup lemon juice,
2-3 thin slices of lemon,
1/4 cup water.
Preparation:
Cut the onion into cubes up to 6 mm.
Put a fine-mesh colander in the sink. Heat 4 cups of water to a boil and gently add the onion to the hot water. After 15 minutes, fold into a colander.
Transfer the onion and lemon slices to a jar (or several), which will contain the onion.
Mix the vinegar, salt, and sugar in a bowl that is suitable for the microwave. Mix and send to the microwave for three minutes. Add the lemon juice and stir.
Pour the hot marinade over the onion. Add hot water so that it covers the onion completely.
Cover the jar and let it cool for 30 minutes, then refrigerate for at least 2-3 hours before eating. Onions will be well stored in the refrigerator for 5-7 days.
 Pickled onion: recipe with garlic and ginger
A delicious recipe, quite spicy, so it is not quite suitable for already spicy salads. Add snacks, pizza, hamburgers and herring to make them even tastier.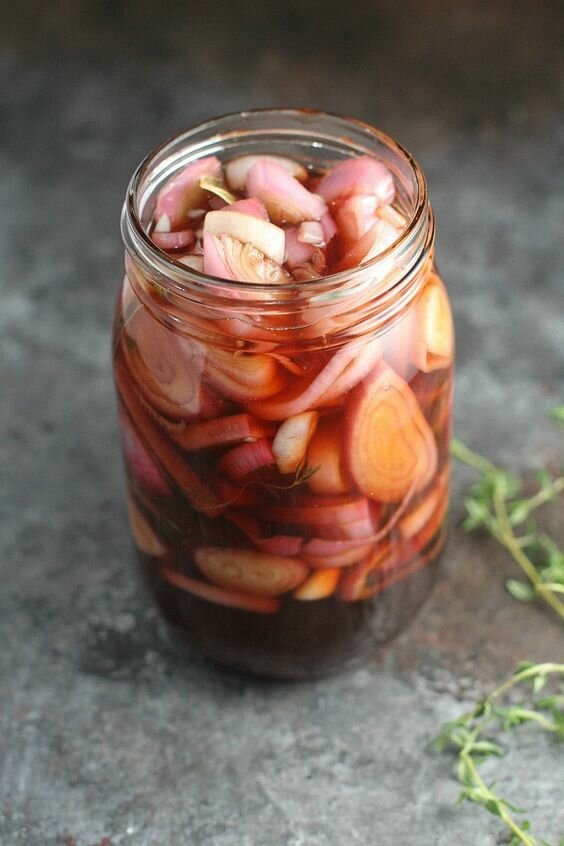 Ingredients:
a piece of ginger (about 3 cm),
600 ml of water,
300ml white wine vinegar,
2 medium onions,
6 garlic cloves,
1 tablespoon sugar,
1 bay leaf,
2-3 pieces of dried cloves,
pinch of hot red pepper,
pinch of salt,
black pepper peas to taste.
Preparation:
Cut the ginger into small pieces. Boil half a liter of water in a saucepan, add the finely chopped onion and leave on the fire for 5 minutes.
Take out the vegetables, wash them under running water, and cool them down.
Mix ginger, 100 ml of water, garlic, vinegar, sugar, pepper, cloves, bay leaf, salt and bring to a boil. Then leave the medium heat and cook for 5 minutes.
Put the onion in a jar, pour the marinade and cool for 30 minutes. Then you can add it to the dish or close the lid and leave it in the refrigerator for 4-5 days.
Bon Appetit!
Recently, we wrote about how to make homemade baklava.