Zucchini caviar for winter: the most delicious recipe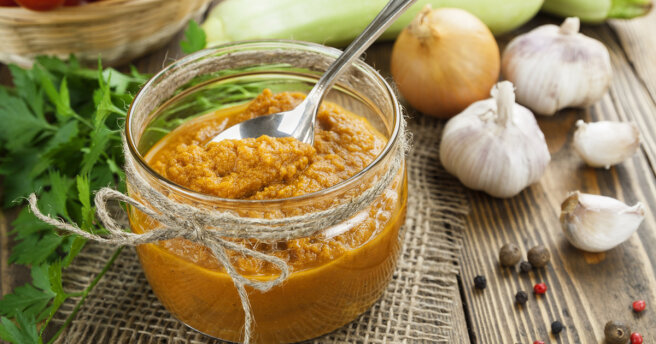 The summer season has begun, which means that it is time for conservation. Try one of the most delicious recipes for zucchini caviar with mayonnaise. Caviar turns out fragrant and moderately spicy.
To reduce the cooking time, all the vegetables can be chopped in a meat grinder. In the process of cooking, you can also not grind the caviar, but cover it with pieces — it will be no less delicious.
For this recipe, it is better to use young vegetables with unripe seeds. And if your zucchini is large enough, first you need to remove the core with the seeds. From the specified amount of ingredients, you will get 2.5 liters of preservation.
Ingredients:
2 kg of zucchini or zucchini
750 g carrots
500 g onion
250 g tomato paste
200 g of mayonnaise
175 ml vegetable oil
75 ml vinegar 9%
100 g of sugar
1 tablespoon of salt
5 g black pepper
5 g paprika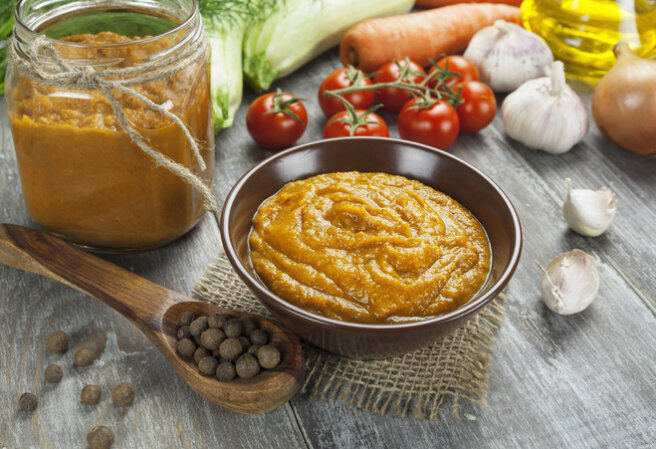 Preparation:
Wash the zucchini, cut off the tails, peel them. Cut into small pieces.
Peel the onion, wash it and cut it into small cubes. Carrots are also washed, peeled and grated on a coarse grater.
Mix the prepared vegetables in a deep frying pan with a thick bottom or a saucepan.
In the vegetable mixture, pour vegetable oil, add sugar, salt, black pepper. Mix well again.
Cover the pan with a lid, put it on the fire and bring the vegetable mixture to a boil. Carcasses on low heat for 1 hour — during this time, the vegetables will give off juice and decrease in size.
Using an immersion blender, grind the stewed vegetables until smooth. Add tomato paste and mayonnaise (the latter can not be added, but it gives tenderness and piquancy to the caviar).
Mix everything again, return the pan to the heat and continue to cook for another hour. While the zucchini caviar is languishing, sterilize the glass jars and metal lids for preservation.
5 minutes before the end of cooking, add vinegar to the caviar, so that the workpiece is well preserved.
Transfer the caviar to the prepared jars and roll it up.
Turn the cans upside down, cover with a blanket and leave for 1-2 days. Then put it in a dry, dark place and store it until winter.
Bon Appetit!
We recently wrote about how to make cold soups: TOP 5 refreshing recipes.