Dumplings with strawberries: how to cook in a saucepan, steamed and in a slow cooker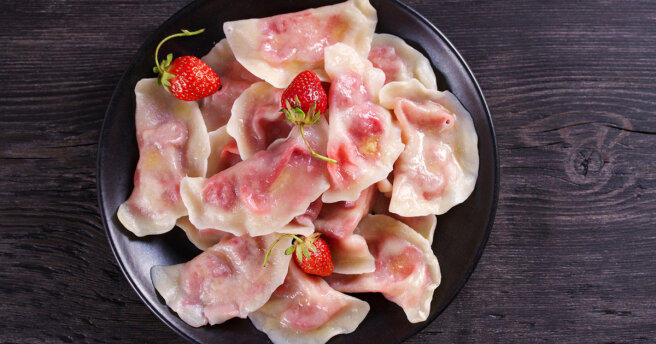 The strawberry season has started and, accordingly, it's time to remember what goodies can be prepared from this fragrant and insanely useful berry. We will not delve into the recipes of overseas delights, but we offer you to prepare a simple Ukrainian dish-dumplings with strawberries. You can cook dumplings in several ways: in a saucepan, in water or steamed, as well as in a slow cooker.
Dumplings with strawberries: recipe 
Ingredients:
Flour — 5 cups
Kefir — 0.5 l
Egg — 1 pc.
Strawberries — 0, 5 kg
Sugar — 2 tbsp. l for the dough and powder to taste
Salt-a pinch
Soda - 1 tsp. 
Cooking method
In kefir at room temperature, pour soda, salt and 2 tablespoons of sugar, mix well. The soda should sizzle.
Place 4 cups of sifted flour in a deep bowl, make a small notch in the flour and break an egg into it. Then pour the kefir, carefully beating the dough with a spoon. Add 1 more cup of flour and knead the dough with your hands. 
Cover the dough with a towel and let it stand for 20 minutes.
Meanwhile, prepare the strawberries. Wash, clean the tails, dry them. 
Roll the dough evenly into a wide, thin cake (up to 1 cm thick) on a flat surface. Cut out the circles for the dumplings with a glass. 
In each circle, pour a pinch of sarar and put 2-3 strawberries, depending on the size of the berry. You can not cut the berries, so that the juice is not allowed.
Make dumplings. To do this, you need to connect the circle, taking the edges in the center, and then seal the sides.
Boil water in a saucepan, lightly add salt, put the dumplings in it, let it boil and then cook for another 7-10 minutes. Ready, they should swell twice. Serve hot, sprinkled with sugar or add melted butter, so as not to stick together. 
Cooking dumplings with strawberries for a couple
Boil water in a saucepan, cover it with gauze or a metal sieve.  Lay out some of the dumplings so that they do not touch each other. 
Cover and cook for 5-7 minutes. The cooking time may vary depending on the size. 
After cooking one batch, immediately cook the next one. 
Cooking dumplings with strawberries in a slow cooker
Pour 0.5-1 liters of boiling water into the multicooker container.
Brush the steaming basket with vegetable oil and put the dumplings in it so that they do not touch each other and that the holes for the steam exit remain open. Cover it with the lid. 
Turn on the "Steaming" function.
Cook for 5-7 minutes.
Carefully remove the finished dumplings with a spatula.