Young zucchini dishes: TOP 3 spring recipes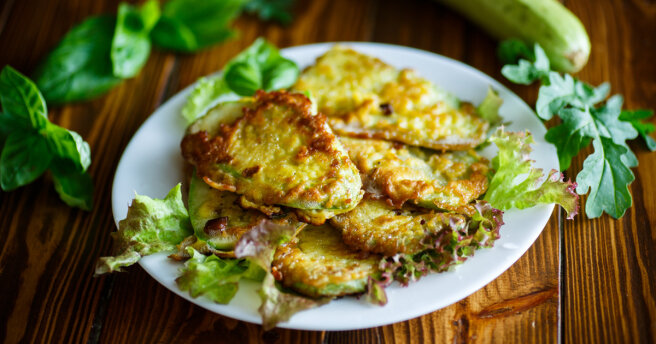 When young zucchini appear on the shelves, you will already be fully armed, because you will stock up on interesting options for what to cook from them. MustHub offers you three simple zucchini recipes for every taste.
Zucchini fritters
Prepare for breakfast vitamin green pancakes from zucchini. They are delicious to eat both cold and hot. They are very easy to prepare and can be a great snack.
Ingredients:
1 young zucchini,
1 garlic clove,
dill or parsley greens,
3 eggs,
2 tablespoons flour,
1 tablespoon vegetable oil,
ground black pepper to taste,
salt to taste.
Preparation:
Finely chop the greens.
Chop the garlic.
Shake eggs with salt and pepper with a whisk. Add dill, chopped garlic and once again lightly beat the egg mass.
Zucchini grate on a coarse grater, add to the egg mass and mix.
Pour the sifted flour into the dough and mix well again.
In a preheated frying pan with vegetable oil, spread the zucchini mass with a spoon, forming pancakes.
Fry the pancakes on medium heat for 1-2 minutes until golden brown.
Turn over, reduce the heat, cover and cook for another 3-4 minutes, until the underside is browned.
Place the finished pancakes on a paper towel to remove the fat.
Nut zucchini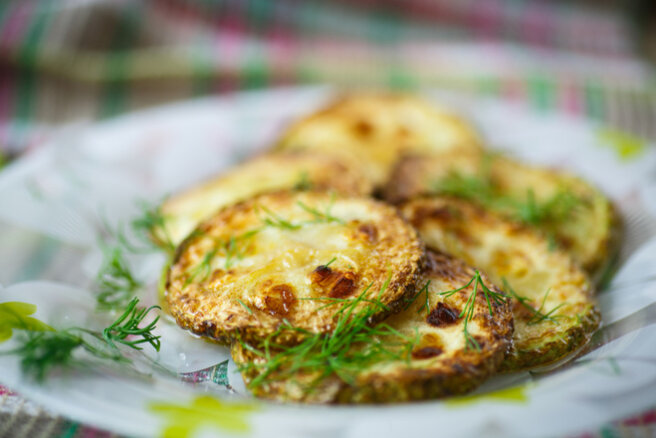 One of the most popular favorite and simple zucchini dishes is simply to fry them with mayonnaise. But we have improved the recipe.
Ingredients:
3 zucchini,
3 garlic cloves,
1 bunch of dill,
70 g walnuts,
100 ml sour cream,
3 tablespoons vegetable oil,
salt to taste.
Preparation:
Zucchini cut into circles, about 5-7 mm thick.
Add salt, mix and leave for 10-15 minutes, so that they let the juice flow.
Dry the nuts and grind them.
Finely chop the dill.
Chop the garlic and mix it with dill and sour cream.
Drain the liquid from the zucchini and fry in several portions in vegetable oil over medium heat on both sides until golden brown for 5 minutes.
Place the fried zucchini on a wide platter. Smear them with sour cream, sprinkle with nuts and herbs.
Let the fried zucchini brew for 10 minutes and serve as a separate dish or with a side dish.
Pickled zucchini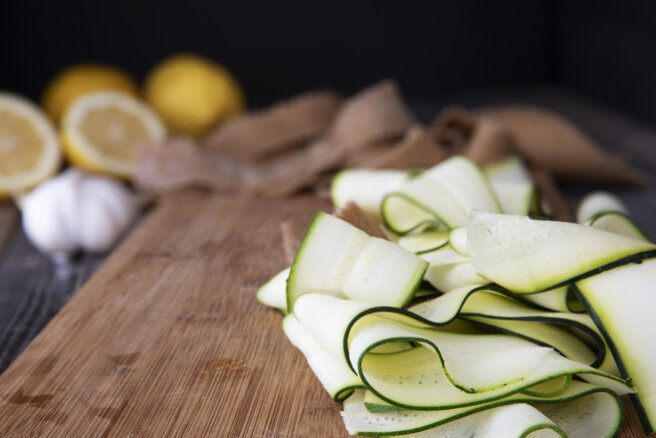 A moderately spicy, savory snack that is simply prepared and is perfect for a picnic.
Ingredients:
500 g zucchini,
1 lemon,
4 garlic cloves,
1 tablespoon of honey,
3 tablespoons olive oil,
pinch of ground coriander,
ground allspice,
ground black pepper,
salt to taste.
Preparation:
Cut the zucchini lengthwise into thin slices.
Chop the garlic.
Remove the zest from the lemon and squeeze out the juice.
Fry the zucchini strips in a grill pan on both sides until golden brown.
Prepare the marinade: combine olive oil, honey, lemon juice, a little zest, garlic, spices and mix until smooth.
Put the zucchini in layers in a container, liberally greasing each layer with marinade.
Put the zucchini to marinate in the refrigerator for 2-3 hours or overnight.
Bon Appetit!