Dietary desserts for breakfast: recipes with photos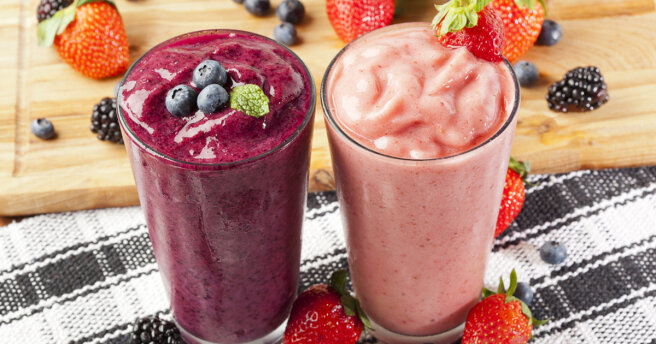 MustHub invites you to try to prepare delicious and healthy dietary desserts. They will give you energy for the whole day, and also help you lose weight harmlessly for your body.
How often do we hear from friends that their day can not be complete until they eat a few cubes of chocolate. This is partly true, but all diets prohibit the favorite delicacy of girls-sweets. Meanwhile, scientists have proven that some desserts eaten for breakfast can be a useful alternative to the usual porridge, speed up the metabolism and even contribute to weight loss.
It is a proven fact that people who eat sweets for breakfast, intensively produce the hormone ghrelin, which responds to the feeling of hunger. That is, at the moment when the hormone transmits a signal to the nervous system about saturation, the mood significantly improves.
After a hearty sweet breakfast, low-calorie food at lunch and dinner is absorbed and tolerated much easier. In addition, the calories obtained from the dessert will be wasted during the day.
But not all sweets are equally useful – we do not recommend eating chocolate bars instead of breakfast, for example,because they contain a lot of harmful components. What can I make for breakfast, then?
Diet desserts: banana ice cream recipe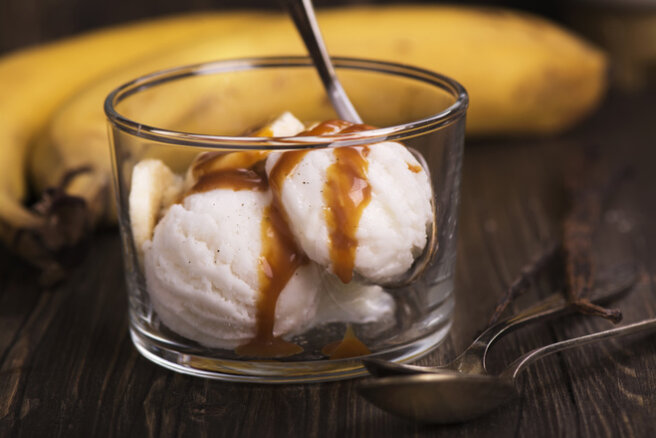 Ingredients:
1 banana,
100 ml of yogurt,
berries to taste.
Preparation:
Cut a large ripe banana into small pieces, put it in a bowl and send it to the freezer overnight.
In the morning, take it out of the freezer and use a blender to whisk the banana into a homogeneous mass – you will get an excellent natural ice cream, which is not inferior in taste to real ice cream.
You can even eat 2 of these bananas for breakfast, or even better, add natural yogurt and other frozen or fresh fruits and berries to it.
 Diet desserts without baking: fruit cocktail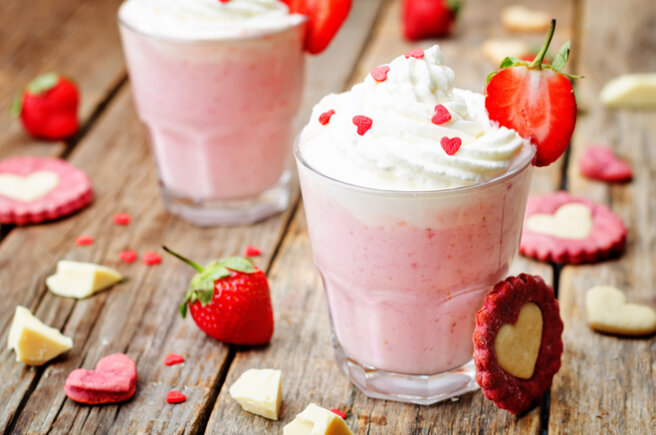 Ingredients:
1 banana,
150 ml of milk,
a handful of berries,
30 g spinach,
coconut chips and cinnamon to taste.
Preparation:
Freeze the banana, cut into small pieces.
In a blender, mix a banana with 70 ml of milk.
Put the banana mixture in half: pour one half into glasses or cremans and send it to the freezer, and add spinach or kiwi to the second.
Whisk and place the green layer on top of the banana layer.
Mix the berries in a blender with the remaining milk, pour the resulting mixture on top of the spinach layer. Put it in the freezer for another 5 minutes.
Take out the resulting dessert, sprinkle with cinnamon or coconut chips to taste and enjoy.
Dietary cottage cheese desserts: fruit salad with granola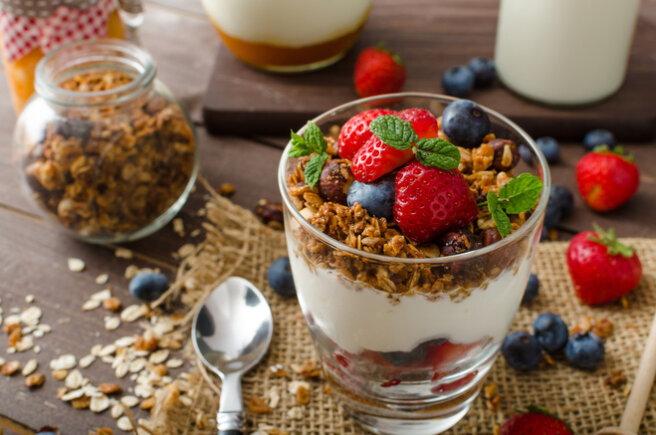 Ingredients:
100 g of cottage cheese,
berries, dried fruits or candied fruits to taste,
for granola:
2 tablespoons oatmeal,
a handful of nuts,
1 tablespoon vegetable oil,
0.5 cup apple juice,
honey, cinnamon, ground black pepper to taste. 
Preparation:
For granola, mix oat flakes with finely chopped nuts, pour them with a mixture of warmed vegetable oil with apple juice, honey, cinnamon and ground black pepper, mix well and send them to the oven.
Granola should be cooked for 40-50 minutes at a temperature of 160-170 C. Stir every 10 minutes. At the end, add dried fruits or candied fruits.
Granola can be not only filled with milk, yogurt or kefir, but also eaten together with cottage cheese and fruit.
Bon Appetit!