Pasta casserole: recipe with zucchini and herbs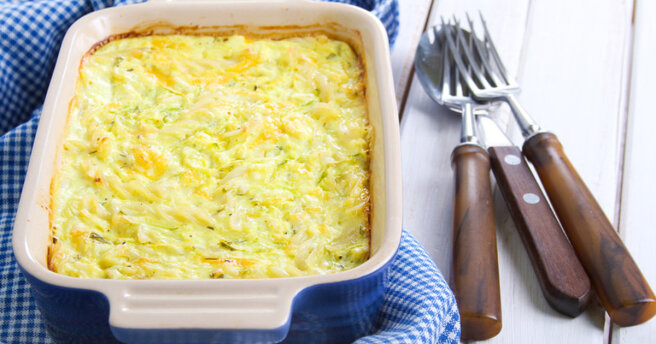 Having prepared a casserole of pasta with zucchini and herbs under a cheese-sour cream sauce according to the recipe from MustHub, you will get a rather unusual combination of flour products and vegetables. But very, very tasty! Despite the fact that this is a pasta casserole, it turns out to be easy for the stomach, with a delicate consistency and an unexpectedly interesting taste. And even the meat in it is not necessary, the casserole comes out moderately satisfying.
Try to cook a pasta casserole with vegetables for dinner, and your family will definitely ask for more.
Pasta and zucchini casserole-ingredients:
200 g of pasta,
2 eggs,
150 g of hard cheese,
100 ml of sour cream,
100 ml of mayonnaise,
20 g of butter,
500 g of zucchini,
1 carrot,
1 onion,
2 garlic cloves,
1 bunch of greens (dill, green onions),
2 tablespoons vegetable oil,
1 bay leaf,
a pinch of hops-suneli,
ground black pepper to taste,
salt to taste.
Casserole of pasta and zucchini-preparation:
Boil the pasta in boiling salted water until tender. Put it in a colander, wash it with cold water so that it does not stick together, add butter, mix and cool.
If the zucchini has a hard skin, it is desirable to peel it off. Rub the zucchini on a coarse grater. Also rub the carrots on a large grater. Finely chop the onion. Chop the greens. Pass the garlic through the garlic press. Rub the cheese on a medium grater.
Fry the onion in vegetable oil, add the carrots and fry, stirring, for 3-5 minutes. Then add the zucchini, bay leaf, hops-suneli, ground black pepper, mix and fry for another 5-7 minutes. At the end, add the garlic, salt, mix and remove from the heat.
Beat the eggs with sour cream and mayonnaise, add some greens, salt and mix.
Mix the pasta with fried vegetables, put it in a baking dish, pour sour cream sauce, sprinkle with grated cheese and send it to a preheated oven to 200°With the oven.
The casserole of pasta and zucchini will be ready in 20-30 minutes.
Sprinkle the finished hot casserole of pasta and zucchini with the remaining herbs and serve.