TOP 3 dishes for vegans: an alternative to barbecue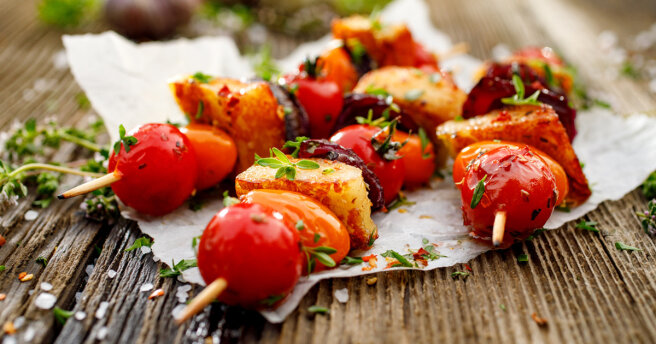 The picnic season is in full swing. The fragrant smells of shish kebab excite the system of smell and digestion. But what if you don't eat meat? It doesn't matter. On the grill, you can cook a lot of other dishes, no less tasty and healthy. Including from the meat substitute-seitan. How to cook seitan at home and what dishes can become an alternative to kebabs, the editors of MustHub will tell you.
Seitan kebab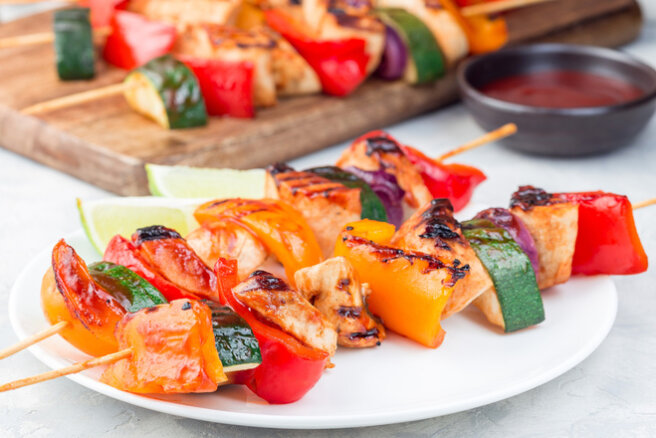 Ingredients
Seitan:
Flour — 1 kg 
Water — 650-700 g for dough and 1 liter for cooking broth
Spices: bay leaf, pepper, curry, asafoetida, coriander, cumin, etc.
Salt — 1 tsp.
Soy sauce — 3 tbsp.
Marinade for kebabs:
Vegetable oil-40 ml
Asafoetida, paprika-1 tsp.
Nutmeg, turmeric, ground black pepper, garam masala-1.2 tsp. 
Soy sauce-1-2 tbsp.
Vinegar 9%-3/4 tbsp. l.
Cooking method
Knead an elastic dough from flour and water, cover it with a lid and put it on for 30 minutes. 
Fill a saucepan with water and rinse the dough in it, squeezing it with your hands from all sides. When the water turns white, drain the water and pour it clean. Repeat this procedure until the water from rinsing becomes transparent and there are no white spots left. The lump of dough should look like chewing gum and will be 4 times smaller than the original bun of dough. Squeeze the finished dough for seitan from the water. 
Boil water, add salt, add the necessary spices, add nori leaves and soy sauce.
 Cut the seitan dough into several parts and cook in the broth for 40 minutes. 
Drain the water from the seitan with a colander, cool it and cut it into pieces, as for a barbecue. Squeeze out the water again. 
Make a marinade: mix the oil, soy sauce, vinegar and spices. You can add onions. Pour the marinade over the seitan and put it in the refrigerator overnight.
Let the coals burn well. Thread the seitan on the skewers. You can alternate it with any vegetables. 
Fry the seitan kebabs for 5 minutes on both sides. Seitan should be covered with a brown crispy crust. 
Kebabs made of tofu cheese and vegetables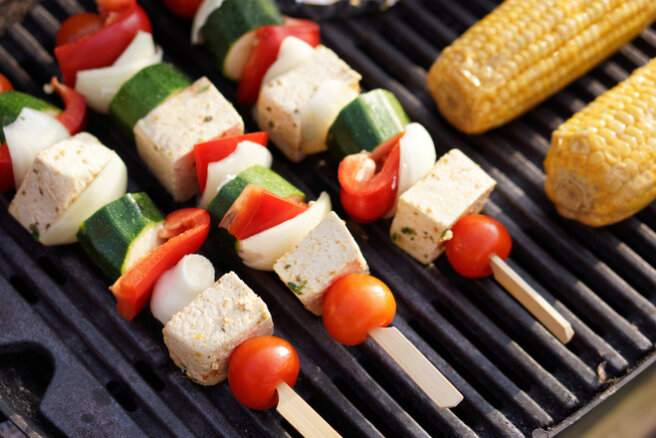 Ingredients
Soy tofu cheese-300 g
Cherry tomatoes — 12 pcs.
Bulgarian pepper — 1 pc.
Zucchini — 1-2 pcs.
Onion-1 pc.
Curry— 2 tsp.
Bay leaf — 1 pc.
Cinnamon — 1 stick
Champignons — 12 pcs.
Garlic — 5 cloves
Soy sauce-80 ml
Olive oil-50 ml
Apple vinegar 5% - 50 ml
Balsamic vinegar-50 ml
Brown sugar-20 g
Cooking method
Peel the onion and cut it into 8 parts, Bulgarian pepper, soy cheese tofu, zucchini — into 12 parts.
Put the tofu and mushrooms in one bowl, and the vegetables in another.
Prepare a marinade of soy sauce, finely grated garlic, curry, vegetable oil and apple cider vinegar.
Pour one-third of the marinade into the cheese and mushrooms, the remaining two-thirds into the vegetables. Mix well and refrigerate for 12-20 hours, stirring occasionally. 
 Put the vegetables and mushrooms on the skewers. It is better to put soy cheese tofu or tomatoes on the ends, since they do not fall off when frying. Bake on coals until tender (until the vegetables are soft).
Prepare the sauce for the kebabs: pour balsamic vinegar, put sugar, bay leaf and cinnamon. Heat over low heat, stirring constantly, until the sugar dissolves.
Serve the kebabs with sauce. 
Grilled peaches with chocolate mascrapone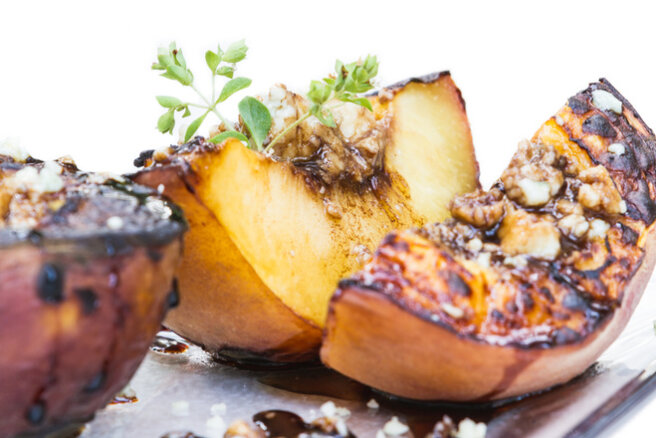 Ingredients
Peaches (large and dense) - 4-6 pcs.
Mascarpone — 300 g
Cream 20% - 100 ml
Dark chocolate-150 g 
Honey — 2 tsp.
Dark sesame oil-0.5 tsp.
Sesame seeds for serving. 
Cooking method
Bring the cream to a boil, add the honey and stir until it dissolves.
Break the chocolate into pieces and melt it in the microwave or in a water bath. Pour hot honey cream into the chocolate, mix.
Cool slightly and mix with mascarpone and sesame oil.
Cut the peaches in half and remove the seeds. Brush the peaches with sesame oil and fry on a grill on cooling coals until brown strips. Serve hot with chocolate mascarpone, sprinkled with sesame seeds for dessert.