Garlic Arrow Pesto: hot sauce recipe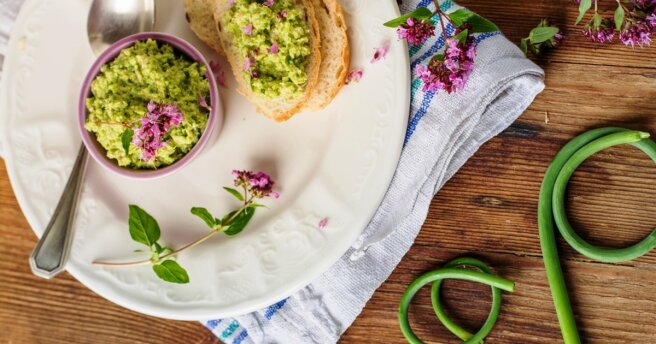 Try to make an unusual sauce. The recipe that MustHub offers you isdifferent from the classics, but don't be afraid to experiment. In a special way, the bright and rich taste of pesto sauce is given not just by garlic, but by its young shoots.
At the same time, it is not necessary to add garlic cloves to the sauce, because it already turns out to be quite sharp. But you can combine greens and your favorite nuts at your own discretion.
Ingredients:
1 bunch of garlic arrows,
1 bunch basil,
1 bunch of parsley,
100 g hard cheese,
50 g walnuts,
150ml extra virgin olive oil,
0.5 lemon,
ground black pepper to taste,
salt to taste.
Preparation:
Remove the buds from the garlic arrows, and cut the stems into small pieces.
Dry the nuts in the oven or in a frying pan.
Garlic arrows, nuts, salt and pepper are crushed with a blender.
Grate the cheese and add it to the blender.
Pour in the lemon juice, olive oil and continue to beat the mixture until it becomes smooth.
At the end, try the sauce and adjust the taste if necessary.
The finished sauce can be stored in a glass jar in the refrigerator.
Serve pesto sauce as a seasoning along with risotto, pasta, vegetables, soups, pizza, or just bread.
Bon Appetit!