How to make kvass: TOP 3 refreshing recipes in the heat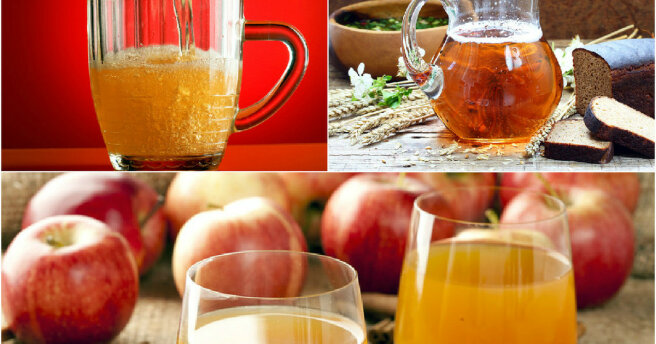 Summer has finally come to Ukraine. In hot weather, first of all, you want to cool down, preferably with something delicious, such as lemonade, compote, mojito, kvass.  Do you know how to prepare the same kvass at home? MustHub will tell you the recipe for this healthy cooling drink.
Classic recipe for kvass on wheat bread
Ingredients:
Water - 8 l.
Wheat crackers - 1 kg.
Crumbs of rye bread-150 g.
Sugar - 100 g.
Yeast - 25-30 g.
Flour - 100 g.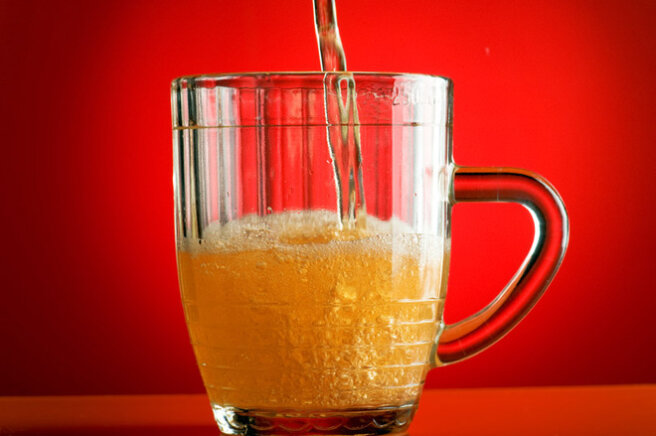 Making homemade kvass from bread:
Before making homemade kvass, you need to prepare crackers from wheat bread.
Put them in a saucepan, pour boiling water and leave to infuse for 3-4 hours.
Now you need to prepare the starter culture for kvass. To do this, knead the dough in warm water from rye crumbs, rye flour and a small amount of yeast. Put in a warm place for 1.5 hours.
Make tortillas from the dough, bake them in a frying pan.
Cut into halves and put in a saucepan with breadcrumbs and water.
Leave in a cool place for 12 hours. Then strain.
Add spices, sugar, and honey as desired.
How to make kvass: recipe with apple juice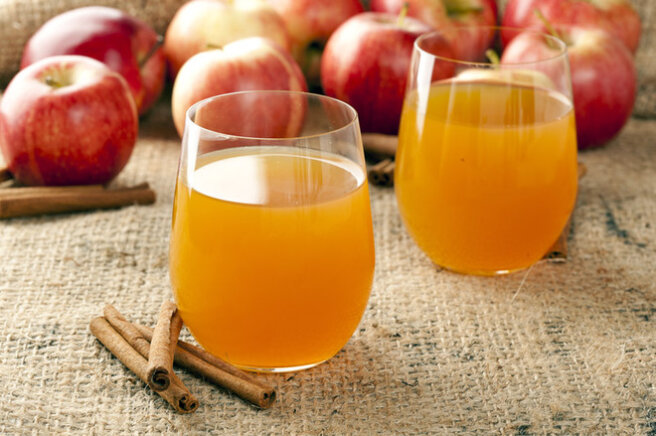 Ingredients:
Water - 2 l.
Yeast - 0.5 tsp.
Sugar - 100 g.
Apple juice - 0.5 l.
Cocoa - 2 tbsp.
Preparation of homemade kvass from apples:
Choose unsweetened homemade juice. If the juice is with sugar, then you do not need to add more sugar to the recipe.
Mix the cocoa powder, yeast and sugar.
Dissolve in warm boiled water. Add the juice.
Stir, cover and leave for 12 hours.
Strain and you can drink.
How to make kvass without yeast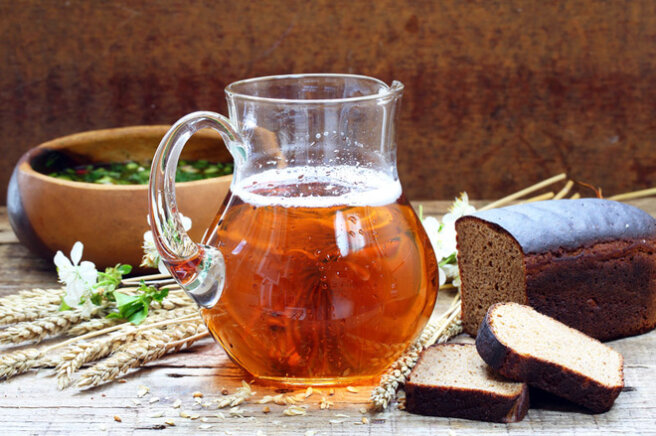 Ingredients for sourdough:
Boiled water at room temperature-2 tbsp.
Rye bread-0.5 slices
Sugar - 1 tsp.
Preparation of sourdough for kvass:
Put the ingredients in a jar with a capacity of 0.5 l.Chop the bread.
Put in a warm place for a day or two.
Next, you will need:
Sugar - 1 tbsp.
Rye bread - 2 slices
Sourdough - 0.5 l.
Boiled cold water-1.5 l.
How to make kvass without yeast:
Pour the sourdough into the jar (2 l.), add the crushed bread, sugar and pour water to the edges of the jar.
Close the lid and leave for a day.
After a day or two, drain 2/3 of the liquid in a separate container.
The sourdough that remains in the jar, pour cold boiled water, add bread, close the lid and let it brew a little more.