Pickled radish recipe: a savory snack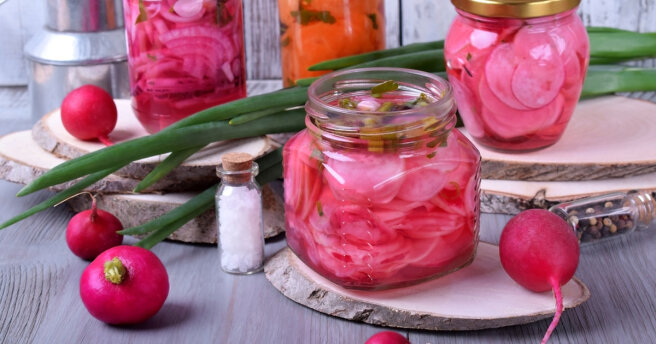 If you haven't tried a newfangled culinary hit yet, MustHub offers you a simple recipe for pickled radishes. The result is an original, moderately spicy cold appetizer, which can be served with shish kebab and other meat dishes, potatoes, pilaf, or as an independent treat, with bread.
Pickled radish has its own trick: the thinner the circles you cut, the faster the root vegetable will marinate. You can adjust the sweetness and sharpness of the marinade to your taste by adding, for example, more sugar and spices or less vinegar.
Ingredients:
500 g radish,
1 onion,
2 tablespoons of 9% vinegar,
2 tablespoons sugar,
1.5 teaspoons salt,
10 peas of black pepper,
5 peas of allspice,
0.5 teaspoons coriander,
2 bay leaves,
0.5 liters of water.
Cooking recipe:
In a small saucepan, put the salt, sugar and all the spices. Pour in the water, bring to a boil and cook for 2 minutes. Then remove from the heat and let the brine cool to a warm state.
Radish thoroughly wash and cut off the tails. Cut the radish into thin slices.
Cut the onion into thin half-rings.
Place the radishes and onions in a glass jar.
Add vinegar to the cooled brine, mix and strain from the spices.
Pour the resulting marinade over the radish, cover the jar and send it to the refrigerator for 5-6 hours or overnight.
Bon Appetit!