Dumplings with strawberries: two recipes to choose from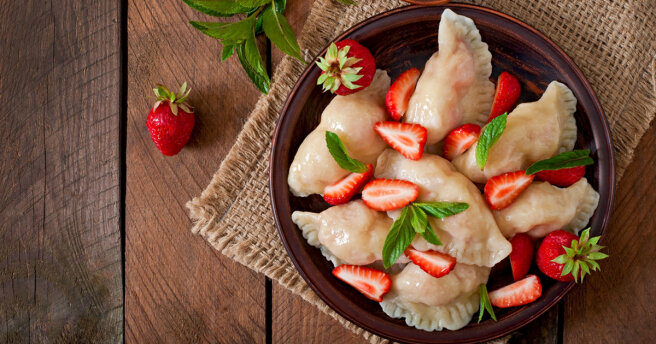 The season of the first spring strawberries begins. You can have time and just eat it, and cook a delicious strawberry dish. How about Ukrainian dumplings with strawberries?
MustHub has picked up for you two recipes for cooking dumplings with different dough: thin in a saucepan and lush steamed. Choose which option you like best.
READ ALSO:
Strawberry cake: an amazing spring dessert
Recipe for dumplings with thin dough
This is the simplest recipe for strawberry dumplings. The dough is thin and delicious, and the strawberries are juicy and do not flow out.
Ingredients:
for the test:
300 g flour,
2 eggs,
pinch of salt,
150 ml of water,
for the filling:
400 g strawberries,
100 g of sugar,
1 teaspoon of starch.
Preparation:
In the sifted flour, make a funnel.
Mix the eggs with water and salt and carefully pour into the funnel.
Rake the flour from all sides to the center and knead the elastic and elastic dough.
Cover it with a napkin and leave it for 20 minutes.
Large strawberries cut into 3-4 parts, small ones can be left whole.
Roll the sausage out of the dough, cut it into small portions and roll each one into thin tortillas.
Put a few pieces of strawberries on each tortilla and sprinkle with a mixture of sugar and starch. The starch will absorb the juice and prevent it from leaking out during the cooking process.
Blind and pinch the edges of the dumplings.
Cook the dumplings in small portions in salted boiling water for 5-7 minutes. In the process of cooking, turn them over with a slotted spoon.
In the finished dumplings with strawberries, add butter so that they do not stick together, and serve with sour cream, cream or yogurt.
Recipe for lush dumplings with strawberries for a couple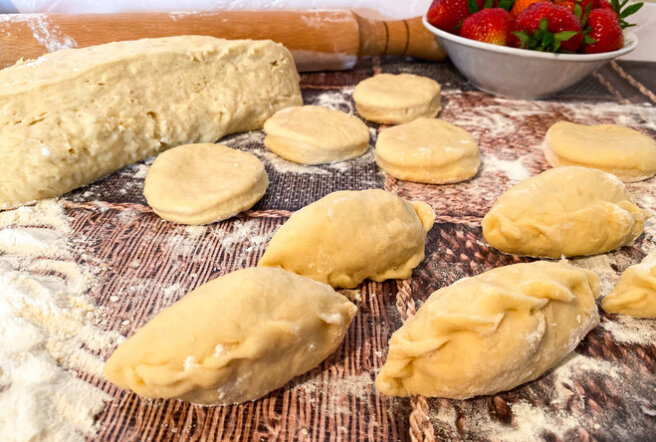 Try lush, tender and airy steamed dumplings – this is a more dietary dish, in which all the strawberry vitamins are better preserved.
Ingredients:
400 g strawberries,
1 cup kefir or whey,
1 egg,
3 cups flour,
2 tablespoons sugar,
1 teaspoon starch,
2 tablespoons vegetable oil,
1 teaspoon baking soda,
a pinch of salt.
Preparation:
Shake the egg with a fork, pour in the kefir and mix.
Add the sifted flour mixed with baking soda and salt, and knead the dough.
In the process of kneading, add vegetable oil – it will remove the lumps in the dough.
Knead the dough until it stops sticking to your hands.
Cover the dough with a napkin, and at this time, do the filling.
Large strawberries cut into small pieces, small ones can be left whole.
Separate small portions from the dough and roll out the tortillas from them.
Put strawberries in each dumpling, sprinkle with sugar mixed with starch, and pinch the dumpling.
To prepare steamed dumplings, you can use a steamer, a mantovarku or a colander inserted into the pan and covered with a lid on top.
In the process of steaming dumplings increase almost twice, and therefore do not place them close to each other, so that they do not stick together.
Dumplings with strawberries are steamed for 5 minutes.
In the finished dumplings, put butter and serve hot with sour cream.
Bon Appetit!
READ ALSO:
Homemade oatmeal cookies: a simple recipe
What to make from rhubarb: TOP 3 spring recipes