Easter snacks: TOP 5 delicious festive dishes for every taste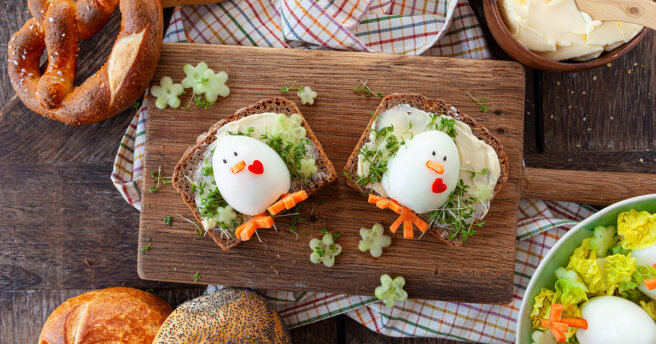 Are you ready to celebrate the bright Sunday of Christ? Earlier, MustHub told you what hot dishes can be prepared for Easter. And now we offer you some delicious recipes that will diversify the festive Easter table.
Easter Snack: sandwiches in Ukrainian
Black bread with egg, garlic and spicy bacon is a classic of Ukrainian national cuisine. Such sandwiches will be appropriate on a festive table, especially if they are decorated beautifully and appetizing.
Ingredients:
10 slices of black bread,
5 boiled eggs,
1 cucumber,
5 pcs radishes,
200 g salted lard,
2 cloves of garlic,
greens (dill, parsley),
spices coriander, paprika, basil, black and red ground pepper to taste,
salt to taste.
Preparation:
Cut the lard, garlic and herbs into small pieces.
To prepare the pate, whisk the lard, garlic, herbs and spices in a blender. Add salt to taste.
Spread the pate on the black bread.
Cut the cucumber and radish into slices and put them on the sandwiches.
Cut the eggs into halves, put them on sandwiches and decorate them in the form of chickens.
Easter snack: eggs stuffed with red fish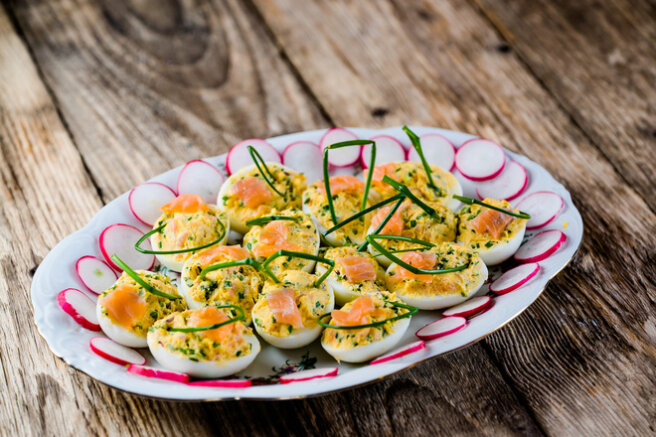 At Easter, so many eggs are traditionally prepared that some of them can easily be used to prepare a delicious and appetizing snack.
Ingredients:
7 eggs,
200 g lightly salted red fish,
50 g butter,
dill greens,
green onions,
ground black pepper to taste,
salt to taste.
Preparation:
Hard-boiled eggs cut into halves and take out the yolk.
Grind the yolks and rub them with butter, salt, black pepper, add finely chopped green onions and dill.
Fill the eggs with the mixture.
Top with slices of red fish, garnish with herbs and serve.
Easter snack: meatloaf with egg filling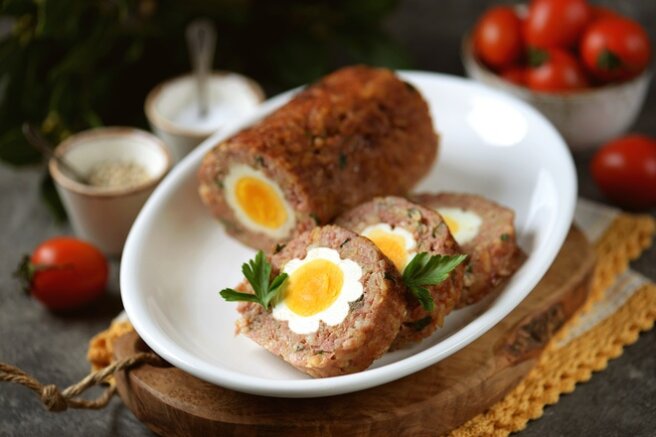 The most ordinary minced meat with a secret inside on the festive table looks very elegant, and most importantly-delicious.
Ingredients:
600 g minced meat (pork, beef),
6 eggs,
200 ml of milk,
3 slices of white bread,
2 cloves of garlic,
hops-suneli to taste,
ground black pepper to taste,
salt to taste.
Preparation:
Boil 5 eggs and fill them with cold water – so they will be easier to clean.
Peel the bread from the crusts, soak it in milk for 10 minutes and then squeeze it out. Don't pour out the milk.
Pass the garlic through the garlic bowl.
Mix minced meat with soaked bread, raw egg, garlic, spices, salt and mix well, gradually adding milk (about half a cup).
Then beat off the minced meat with your hands, tearing off a piece, lifting it slightly over the bowl and throwing it back with force. The beaten minced meat will become smoother and will hold its shape better.
The baking dish is greased with oil and covered with baking paper. Put half of the minced meat in the mold. In the middle of the minced meat, lay the eggs in a row. To make them fit more closely together, slightly cut off their tops on both sides.
From above, fill the form with the remaining minced meat, pressing it more tightly around the edges, so that when baking, the junction of the layers does not disperse.
Send the meatloaf to a preheated 180°C oven and bake for about 1 hour.
Take the finished roll out of the oven and leave it in the form until it cools completely – so it will turn out more juicy and delicious.
Easter snack: pork with prunes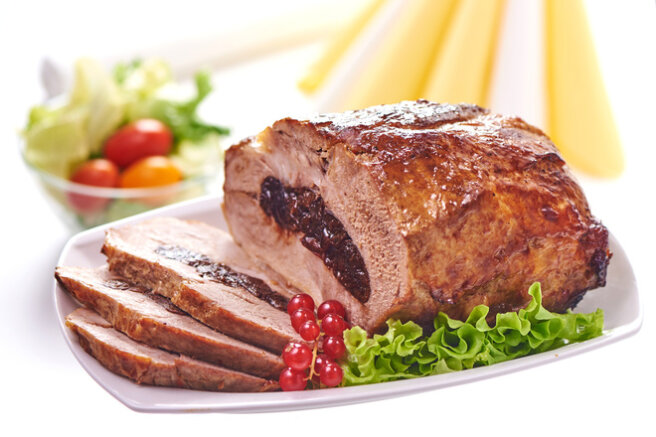 The combination of meat with dried fruits is always original, interesting and incredibly delicious. And pork on the background of prunes feels especially refined.
Ingredients:
1 kg of pork collar,
200 g pitted prunes,
6 garlic cloves,
150 g of mayonnaise,
3 tablespoons mustard,
0.5 tablespoons paprika,
0.5 tsp ground allspice,
ground black pepper to taste,
salt to taste.
Preparation:
Wash the prunes and fill them with warm water for 20 minutes. Leave part of the prunes whole, the other part cut into thin slices.
Pass the garlic through the garlic bowl. Add the black and allspice, salt and mix.
Mix mayonnaise with mustard and paprika separately.
In the pork, make cuts, smear the inside and outside with garlic mass and stuff with prunes.
Put the meat on the foil and cover with the mustard-mayonnaise mixture. Put the prunes on top of the meat, wrap in several layers of foil and leave for 5-6 hours (or overnight), so that the pork with prunes is marinated.
Place the pork and prunes on a baking sheet and bake in a preheated 200°C oven.In the oven for 50-60 minutes. Do not open the oven while baking.
Then take out the meat, open the foil and bake for another 20 minutes until golden brown.
Easter Snack: fish on skewers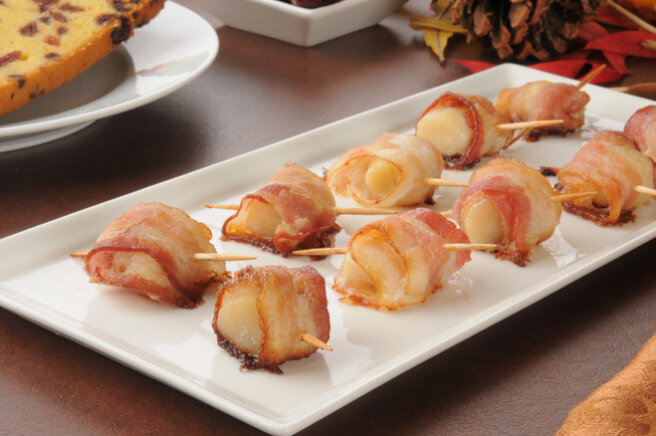 In addition to the traditional cheese and sausage cuts, prepare a spicy fish snack in crispy bacon.
Ingredients:
400 g fillet of sea fish (halibut, cod, pollock),
150 g of bacon,
crackers,
2 cloves of garlic,
herbs (parsley, rosemary),
50 ml olive oil,
ground black pepper to taste,
salt to taste.
Preparation:
Chop the garlic and rub it with salt, ground black pepper, rosemary and olive oil.
Cut the fish fillet into small square portions. Dip each piece in the garlic sauce.
Cut the bacon into thin slices along the width of the fillet.
Wooden skewers should be pre-soaked for 1 hour in water. Wrap each piece of fish in a strip of bacon, put it on a cracker and prick it with a skewer.
Place fish snacks on skewers on a baking sheet covered with baking paper. Bake in a preheated oven to 200°CIn the oven for about 15 minutes.
Decorate fish snacks with green leaves.
Bon Appetit!