Sausage in the dough at home: a recipe for delicious pastries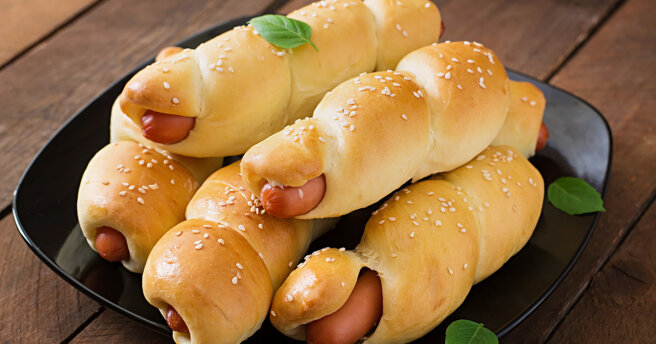 Fast food-a thing, of course, very tasty, but also very harmful. Not only does it have a negative effect on the figure, it also contains harmful substances that you don't even know about when buying it in a fast food store or restaurant.
MustHub offers safe fast food, which you will prepare yourself from natural products, and therefore you will be confident in its quality. Find out the recipe for sausages in the dough at home, please yourself and your loved ones with delicious pastries.
Sausage in the dough at home
Ingredients:
Flour – 3 cups
Sugar – 3 tablespoons
Butter – 75 g.
Eggs – 2 pcs.
Yeast – 12 g.
Salt-0.5 teaspoons
Milk – 1 cup (can be diluted or replaced with water)
Sausages – 15 pieces
Preparation:
In the milk, pour 1 tablespoon of sugar and yeast, mix. Add 3 tablespoons of sifted flour, stir again. Set aside for 15 minutes to allow the yeast to start working.
Beat the eggs with a mixer until light, add sugar and salt, and beat again.
Combine the sourdough, eggs and flour, start kneading the dough with your hands. It should turn into one lump.
After that, add the melted butter to it. Continue to stir the dough until it stops sticking to your hands. If necessary, add a little more flour.
Cover the dough bowl with a towel. Put it in a warm place for 1 hour, so that it fits properly.
Put the dough on the table, mash and cut into 2 parts.
Roll out each piece of dough into a square. Cut them into even strips 2-3 cm wide.
Wrap each sausage with a strip of dough: step back a little from the edge, wrap the dough around the sausage along the entire length, cut off the excess. Leave it out for 10 minutes, the dough should spread out a little.
Bake the sausages for 30 minutes in a preheated 180 degree oven. A few minutes before cooking, you can lubricate them with a mixture of milk and yolk and sprinkle with sesame seeds.
Bon Appetit!