Lean protein dinners: dishes with beans for every taste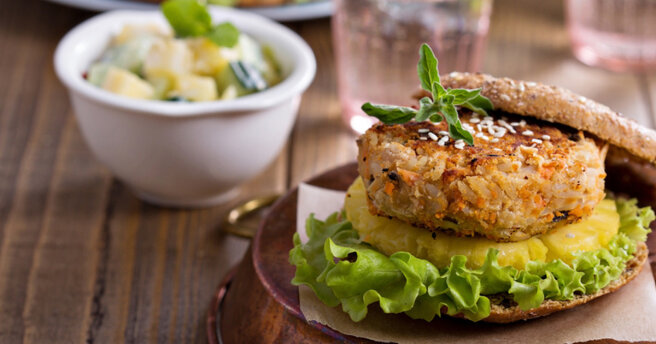 To survive Lent, it is not necessary to infringe on your desires and eat healthy, but not quite delicious food. You can not eat animal food, and at the same time eat fully and tasty. Beans are one of those products that can replace meat. It is delicious, healthy and satisfying.
And to make it even tastier to eat, MustHub has made two recipes for you that you will definitely like. One of them you can prepare when you, for example, need to urgently receive guests, and the second-if you have the time and desire to experiment and cook something unusual.
A long recipe for lean bean patties
Ingredients:
400 g of beans
1 potato,
1 carrot,
1 onion,
2 garlic cloves,
2 tablespoons vegetable oil,
breadcrumbs,
ground paprika to taste,
ground black pepper to taste,
salt to taste.
Preparation:
Soak the beans overnight in cold water. Then thoroughly wash, fill with water and broth until cooked in salted water for 1-2 hours, depending on the type of beans. The beans should become soft. Drain the water and cool the beans.
Boil the potatoes and carrots in their uniforms until tender, cool and peel them.
Finely chop the onion. Chop the garlic. Fry the onion and garlic in the preheated vegetable oil until golden brown.
Pass the cooled vegetables and beans through the meat grinder twice to get a more uniform consistency of minced meat. Add the fried onion, spices, salt to the minced meat and mix well.
Form small flat cutlets from the minced meat, roll them in breadcrumbs.
Prepare lean cutlets, frying them in a frying pan in vegetable oil on both sides until golden brown for about 3 minutes.
Serve lean cutlets of beans and vegetables with a potato or rice side dish or simply with bread.
Quick Bean Salad Recipe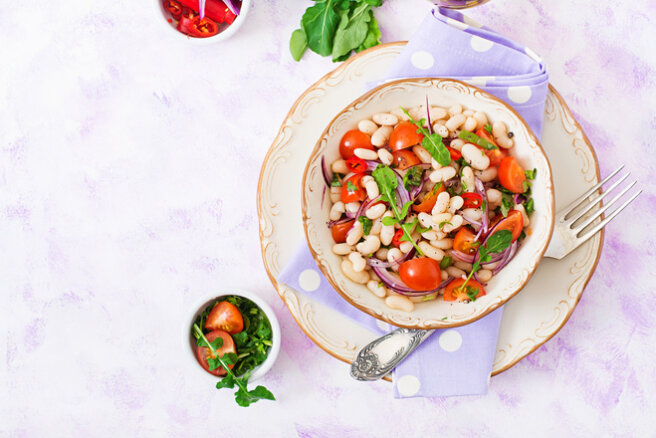 Ingredients:
cherry tomatoes 15 pcs.
canned white beans 1 can
parsley greens
olive oil 3-4 tablespoons
garlic - 3 cloves
rosemary sprig
lemon juice - 2 tablespoons
salt
freshly ground pepper
Preparation:
Heat the olive oil in a deep dish, add the coarsely chopped garlic and rosemary. Warm up for 1-2 minutes and leave the oil for 30 minutes, so that it is saturated with the aroma of garlic and rosemary.
Remove the garlic and rosemary from the oil. Throw away the rosemary, and rub the garlic in a mortar and return it back to the oil. Add salt, pepper, lemon juice and a pinch of sugar, mix everything well.
Wash, dry the tomatoes and cut them in half. Chop the parsley finely. Mix the beans, tomatoes, herbs and dressing in a bowl, mix everything well and let it brew for 10-15 minutes.
Bon Appetit!