What to cook from raspberries for dessert?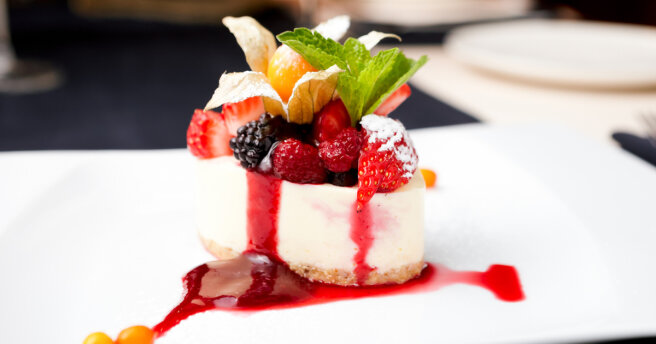 In summer, there is a full abundance of fruits, berries and other goodies, so if you like to cook, this is a real paradise. Cheesecakes are loved by many, because they have a delicate texture and are nutritious. But this cheese dessert with raspberries will be even tastier.
Today we will tell you what to cook from raspberries. After all, jams, jams, jellies and compotes today will not surprise anyone. Therefore, we will prepare a cheesecake: the fragrant berry only emphasizes the delicate taste of rustic cottage cheese, and its bright color sets off the virgin whiteness of the fermented milk product.
What to cook from raspberries: list of products
Shortbread crumbs – two glasses;
Ground walnuts – half a cup;
Butter in the amount of 150 grams;
Eggs – 4 pieces;
Sugar – one and a half cups;
Rustic cottage cheese – 600 grams;
Cream of 20% fat content-250 milliliters;
Sour cream 10% or natural yogurt-200 milliliters;
Corn starch – three tablespoons;
Syrup (red);
Light-colored jelly (lemon, peach, pineapple);
Raspberries – 100 grams;
Mint leaves for decoration.
What to cook from raspberries: the process
First, prepare the base, for which mix half a cup of sugar, crumbs, melted butter and nuts well in a blender. Cover the baking dish with parchment and put the mixture on it, align it. To solidify, put it in the refrigerator for half an hour.
For the filling, first beat the egg whites with a glass of sugar to a stable foam. The sweet crystals should dissolve completely. Separately, knock down the cottage cheese with yolks, cream and sour cream (yogurt). Now pour in the starch and protein foam. Carefully put the curd mass on the base of the cookies.
Cook the cheesecake for an hour at a temperature of 180 degrees in a preheated oven. It is important not to open the door during baking. Turn off the oven and leave the cottage cheese dessert inside for about another hour. In the meantime, prepare the jelly using half a portion of water, let it cool, but do not tighten. Now put the raspberries on top of the hardened curd mass, pour the syrup in a chaotic order and pour the jelly. Send the masterpiece to the refrigerator. Before serving, garnish with a sprig of mint.
Now you know what to cook from raspberries. Be sure that this dessert will appeal to all your guests without exception. And you are unlikely to remain indifferent to it. Bon Appetit!