Pancake cake: a recipe from TikTok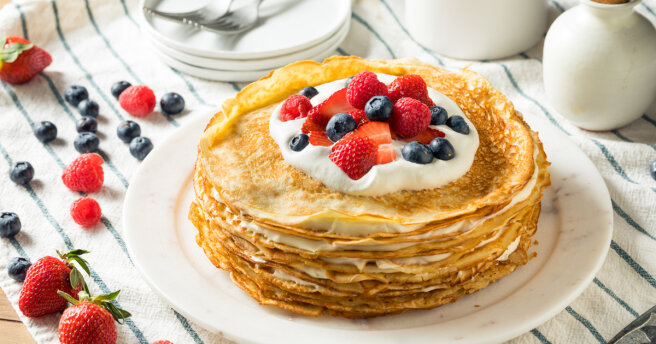 Prepare a fashionable dessert from the most popular social network today. Pancake cake from TIKTOK will be mastered even by a novice hostess, and for experienced people, its preparation will be a pleasant rest. The dessert turns out to be tender, moderately sweet and very tasty. It will not stay in the refrigerator for a long time, and maybe it will not even have time to soak in the cream, because they eat it immediately. In addition, by changing the cream and filling a little, you can easily create many variants of this recipe.
MustHub has prepared for you a recipe for a popular pancake cake with cottage cheese cream and strawberries. It is ideal for breakfast, goes well with tea, and it is also hearty and healthy. It can be eaten even by children, because it contains only natural products and it is prepared with love.
Ingredients:
for pancakes:
0.5 liters of milk,
2 tbsp vegetable oil,
2 eggs,
1.5 cups flour,
1 tbsp sugar,
a pinch of salt.
for the cream:
0.5 kg of cottage cheese,
150 g of strawberries,
150 g of sour cream,
2 tablespoons of sugar.
Preparation:
Beat the eggs with salt and sugar. Add vegetable oil and warm milk. Mix it up.
Gradually adding the sifted flour, beat the dough until you get a smooth consistency, without lumps.
Bake the pancakes in a well-heated frying pan, slightly greased with vegetable oil.
Prepare the cottage cheese filling for the pancake cake. Combine the cottage cheese with sugar and sour cream, add strawberries.
Beat the cream with a blender until smooth.
Spread the pancakes on a platter or a wide plate, smearing each layer of the cake with cottage cheese cream.
On top, also smear the pancake cake with a thin layer of cottage cheese cream. Put it in the refrigerator for an hour for impregnation.
Decorate the pancake cake with strawberries, chocolate, powdered sugar or mint.
Bon Appetit!