Cute retro: Duke's apricot cookies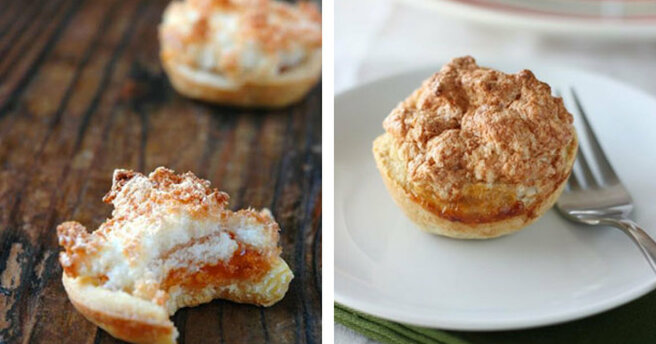 If you are already ready for the apricot season and you will be closing jams and jams with them, then this old recipe for South African tartlets will come in handy.
The dessert is actually legendary and named after the South African politician J. B. M. Herzog. They say that he simply adored these tartlets — his supporters constantly treated friends to show their support.
There is an interesting story connected with this cookie. It is said that in the 1920s, the Duke promised to give women the right to vote and equal rights to the "colored" society. By 1930, he had fulfilled the first promise, but failed to keep the second. As a result, the Malay community, to show their displeasure, began baking Duke cookies with a brown-and-pink glaze called twee gevreetjie (Afrikaans: "hypocrite").
But let's move on to the recipe of the famous basket filled with apricot jam and covered with meringue with coconut shavings!
Ingredients for the dough:
250 g soft butter
150 g of sugar
2 large eggs
5 ml of vanilla (or 1 teaspoon of vanilla sugar)
420 g flour
2 teaspoons baking powder
1 teaspoon salt
Ingredients for filling:
820g apricot jam
300 g of sugar
70 g butter
3 eggs (whites and yolks separately)
5 ml vanilla (or 1 teaspoon vanilla sugar)
160 g dried coconut
pinch of salt
Preparation:
Preheat the oven to 180 degrees. And prepare small cupcake molds by first sprinkling them with non-stick spray or greasing them with oil.
Whisk together the butter and sugar. Add the eggs one at a time, gradually beating. Add the vanilla and stir.
Sift the flour and add it to the butter-egg mixture. Mix until a soft dough forms. Cover with a lid and leave in the refrigerator for 15 minutes.
Roll out a 3 mm thick dough on a floured surface.
Form the circles with a round glass and put them in the cupcake molds. Pierce the bottom of the dough with a fork.
Put the apricot jam in each mold.
Now do the stuffing. Whisk together the sugar and butter until they are light and airy. Add the egg yolks one at a time while whipping.
Add vanilla, salt and coconut. Mix it up.
Beat the egg whites until they are thick, add the coconut mixture. Put it on top of the apricot jam.
Bake for 12 minutes until golden brown.
Bon Appetit!
Recently, we wrote about how to make pesto from garlic arrows: a recipe for hot sauce.