Jam from fir cones: a recipe for a therapeutic dessert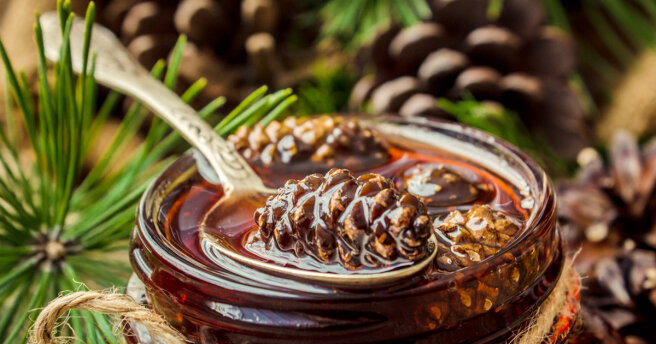 Jam made from spruce or pine cones is not only insanely delicious and flavorful dessert, but also very useful. 
The cones of coniferous trees contain phytoncides that destroy harmful bacteria and fungi in the human body. Jam from them can be an excellent tool for the treatment and prevention of many diseases.
The editors of MustHub will tell you what the benefits and harms of spruce cones are, how and when to collect them, and how to make jam from them. 
The use of jam from spruce cones:
cold, flu;
throat diseases: sore throat, laryngitis, tonsilitis, pharyngitis;
pneumonia, asthma, tuberculosis, and other lung diseases;
gum disease;
gastrointestinal diseases;
to strengthen the immune system. 
However, it should be borne in mind that, unlike berry sweets, jam from cones has contraindications and restrictions in use.
For the prevention of respiratory and other diseases, it is enough to take 2-3 teaspoons of jam daily, and for medicinal purposes — 3-4 spoons, but no more than 5 tablespoons.  In case of overdose, side effects are possible: headache, nausea, heartburn.
Contraindications:
in diabetes mellitus,
people over 60 years of age,
it is undesirable for children under 10-12 years old, up to 3 years old in general, it is categorically contraindicated,
for individual intolerance, allergies,
pregnant women, while breastfeeding,
in acute diseases of the digestive system and kidneys.
You need to collect cones away from the roads. industrial enterprises and other environmentally polluted places. For jam, you need young cones with a size of 2.5-4.5 cm. Cones need to be collected only from trees. The cone should be resinous, of the correct shape, without damage.
Recipe for jam from fir cones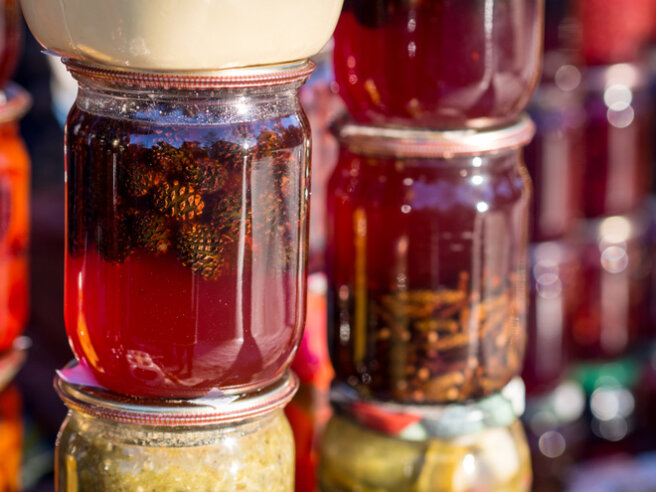 Ingredients:
Cones — 1 kg
Sugar — 1 kg
Water — 1 l.
 Cooking method
Go through the cones, clean them, and wash them in running water. It is advisable to sort out the cones in protective gloves. And it is better to use aluminum or stainless steel dishes for preparing and cooking jam, since it will be easier to wash it from the resin. 
Fill the cones with cold water and leave them for a day, so that the bitterness goes away and the insects come out. 
Drain the water and wash the cones again.
Fill the cones with sugar and fill them with water.
Put it on the stove, let the cones boil, then turn down the heat and cook for 5-10 minutes.
Remove the jam from the heat and let it cool completely. Then put it back on the fire and cool it again. So cook in 3-4 stages. The jam should acquire a rich amber hue.
Sterilize the bucknies and tin lids. Pour the finished jam into the jars and roll it up with a key for canning. If desired, you can strain the jam from the cones and pour it in the form of syrup. However, with cones, this syrup will eventually become more saturated.