Best Rhubarb recipes: TOP 5 delicious dishes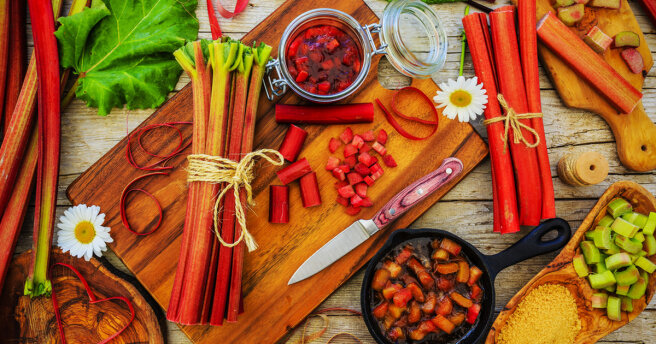 Rhubarb, which is already very much in the kitchen gardens at the end of spring, is quite a popular product in cooking. A wide variety of dishes are prepared from the large juicy stems of rhubarb. If you have not cooked before or do not know what you can make from rhubarb, MustHub offers several simple and delicious recipes that you can easily repeat at home. We advise you to try to bake a rhubarb pie or casserole, and treat the children with rhubarb jelly and marmalade.
Note that only rhubarb stalks are used in cooking. They should be tight and break easily when pressed. Before cooking from rhubarb, peel its thin skin and cut into pieces 4-5 cm long.
Rhubarb Pie
Ingredients:
500 g of yeast dough,
1 kg of rhubarb,
1 cup candied orange juice,
2 tablespoons breadcrumbs,
5 tablespoons walnut kernels,
a little cinnamon.
Preparation:
The stems of the rhubarb are cleaned, washed and cut into small pieces, covered with sugar, add a little water to cover the rhubarb. We allow everything to soften.
We throw the rhubarb in a colander, strain the syrup.
Cool the rhubarb, mix with candied fruits, add cinnamon and mix everything.
We roll out the yeast dough, distribute it in the form and make the sides.
Spread the filling, sprinkle it with crushed nuts.
From above, either cover the dough, or make a grid of dough.
The surface of the pie is pricked with a fork, smeared with strong tea and put in the oven at a temperature of 180 degrees for 20-25 minutes.
Check the readiness with a wooden stick.
Rhubarb casserole
Ingredients:
300 g rhubarb,
4 tablespoons sugar,
½ teaspoon cinnamon,
100 g of oil,
2 eggs,
50 g ground almonds,
1/2 teaspoon salt,
2 tablespoons flour.
Preparation:
Heat the oven to 175 degrees.
Clean the rhubarb and cut it into small pieces. Fill with hot water and let stand for a while.
Grease the baking dish with oil, spread the rhubarb and sprinkle with a mixture of 2 tablespoons of sugar and cinnamon.
Butter is slightly softened, mixed with 2 tablespoons of sugar, add eggs, almonds, salt and flour.
Pour the mixture into the mold and bake for 20 minutes
Serve the casserole hot or cold with a scoop of vanilla ice cream.
Rhubarb with egg gravy
Ingredients:
500 g rhubarb,
75 g of raisins,
1.4 liters of water,
100 g of sugar,
2-3 eggs,
1.4 liters of milk,                      
50 g powdered sugar,
some almonds,
cognac and rum to taste.
Preparation
Clean the rhubarb and cut it into pieces, pour boiling water, add the raisins and cook lightly.
Remove the rhubarb from the heat and cover with sugar.
Rub the yolks, powdered sugar and crushed almonds.
Gradually add the milk and rhubarb.
Add the cognac, add the whipped whites and cool.
Rhubarb marmalade
Ingredients:
1kg rhubarb,
1 kg of sugar,
zest of 1 orange.
Preparation:
We clean the rhubarb and cut it into pieces.
We put it in a wide bowl, cover it with sugar and put it in the refrigerator for two days.
Add the orange zest, put it on the fire and cook with constant stirring for 30 minutes.
We put the marmalade in glass jars and store it in the refrigerator.
Rhubarb jelly with strawberries
Ingredients
500 g rhubarb,
1 lemon,
¾ cup sugar,
1.5 cups starch
1 cup strawberries.
Preparation
Clean and wash the rhubarb, cut into pieces of 3 cm, pour a glass of water, add the zest and sugar. Cook for about a minute.
Starch is diluted in a small amount of cold boiled water, add to the rhubarb and cook for another 1 minute.
I wash the strawberries, remove the stalks, cut each berry into 4 parts and add it to the rhubarb.
Serve the jelly with whipped cream.
Read how to cook okroshka on kvass and kefir.