Strawberry pie: a step-by-step recipe for a bright dessert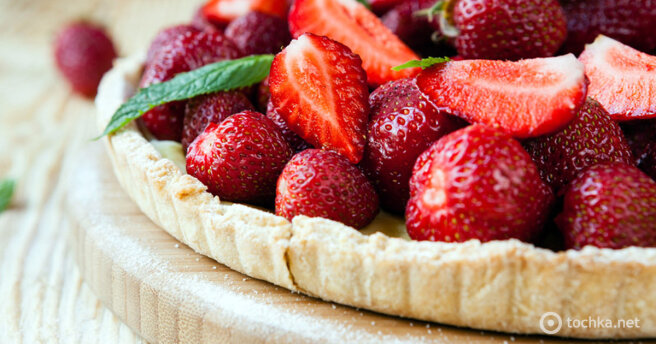 The first berries have already appeared on the shelves. Try to make a strawberry pie, the recipe of which is recommended by MustHub, and please your family with a delicious dessert. The recipe is quite clear and simple, and the result is a fragrant and vitamin-rich strawberry pie.
Strawberry pie-ingredients:
400 g strawberries,
50 g almonds,
200 g flour,
2 eggs,
5 egg yolks,
300 ml of milk,
150 g butter,
150 g of sugar,
10 g vanilla sugar,
1 tablespoon powdered sugar,
a pinch of salt.
Strawberry pie-cooking:
Dry the almonds and grind them with a blender.
rub 1 egg with 1 tablespoon of sugar.
Mix the almonds, sifted flour, salt, 100 g of soft butter and combine with the egg mixture.
Knead the dough and put it in the refrigerator for 30 minutes.
Rub the yolks together with the remaining egg, 5 tablespoons of sugar and vanilla sugar. Add warm milk.
Put the cream on a water bath and, stirring, bring to a thick consistency. Then cool the mass slightly and add 50 g of butter.
In a greased form, put the dough in the form of a basket. Put parchment paper on top of the dough, pour beans or peas on it, so that the basket does not deform during the baking process. Bake the cake in a preheated oven to 200°In the oven for about 15 minutes.
Take out the form, remove the paper and beans (peas) from the basket, put the cream on the dough and smear the edge of the basket with yolk.
Put the cake back in the oven and bake for 40-50 minutes at 140°C.
Put strawberries on top of the finished cake and sprinkle with powdered sugar.
READ ALSO:
Young vegetable salads for Easter: TOP 4 recipes
Cheese snack recipe from Oksana Chernova