What to cook for Easter 2021: Italian Pasca colomba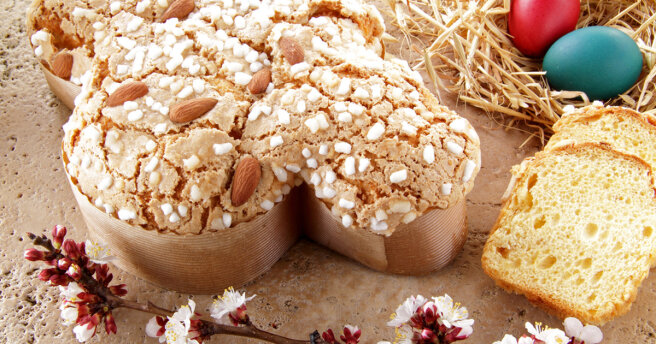 Columba is an Italian Easter cake. It is usually prepared in the form of a pigeon with outstretched wings, so it has a second name – "dove". This form was followed earlier, and now it is baked in any convenient form. After all, the main thing in this Easter pastry is the most delicate taste, soft airy structure and amazing aroma.
And although the columba is quite difficult to prepare, you will not regret it at all. Thanks to its unusual shape, it will become a decoration for the Easter table, and its taste will certainly be liked and remembered by everyone you treat with it. Therefore, the recipes that MustHub offers will be asked more than once by your familiar housewives.
Classic Italian columba
Ingredients:
500 g flour
150 ml of milk
5 g fresh yeast
300 g of sugar
6 egg yolks and 4-5 whites
140 g butter
2 tbsp orange syrup
1 natural vanilla pod or vanilla powder
125 g candied orange
100 g of hazelnuts
50 g almonds (+ whole almonds for decoration)
25 g of starch
sugar balls for decoration
pinch of salt
Preparation:
Put the yeast in a bowl, pour 125 ml of milk and add 125 g of flour, mix well. Cover, put in a cold oven for 8 hours.
After 8 hours, the dough should increase about three times, many large bubbles will appear on the surface.
In the dough, add 95 ml of water slightly warmer than room temperature, 65 g of sugar and 2 yolks. Knead the dough well in a food processor. Then add 250 g of flour, continue to knead the dough.
Add 1 egg yolk, 70 g of softened butter and continue to knead the dough. At first, the dough will be runny. Do not add flour and continue to knead. As the dough is kneaded, it will become thicker and thicker.
After 25 minutes of kneading, you will get a smooth elastic dough.
Transfer the dough to a deep bowl, cover with a towel and place in a cold oven for 11-12 hours.
After the specified time, add 80 g of sugar, 2 tablespoons of orange syrup or 1 tablespoon of orange essence, 25 ml of milk and 2 yolks to the dough. Continue to knead the dough in the combine.
Add 125 g of flour, continue to knead.
Add 1 egg yolk, 4 g of salt, the contents of a vanilla pod or 1 tsp of natural vanilla powder, 70 g of softened butter, knead well. Then add 125 g of diced candied fruit.
Make a ball of dough, cover with a towel, put in a cold oven for 1 hour.
Then spread the dough on the molds (the dough should reach half the height of the mold). Cover with a towel, leave for 2 hours.
Make the glaze: 100 g of hazelnuts, 50 g of almonds, 25 g of starch, 150 g of sugar in a mixer to grind into powder. Add 4-5 whites, whipped into a strong foam, mix gently and put on the dough.
Top the cake with whole unpeeled almonds. Cover with a towel, leave for 2 hours in a cold oven. Then preheat the oven to 180°C, put the cake in the preheated oven.
When the Easter cake is 2 cm below the level of the mold wall, sprinkle it thickly with sugar balls and continue to bake. The total baking time is 50-60 minutes.
Chocolate columba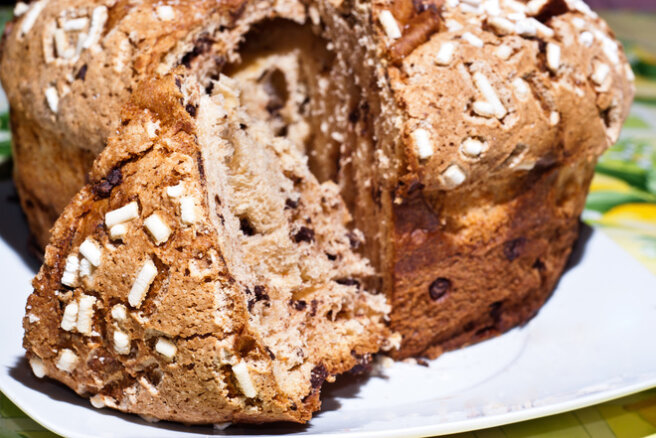 Ingredients:
Fresh yeast 42 g
Milk 200 ml
Premium wheat flour 500 g
Candied orange 100 g
Cocoa powder 50 g
Butter 130 g
Sugar 180 g
Barley malt 15 g
Salt 1 tsp.
Chicken eggs 6 pcs.
Chocolate 200 g
Almond petals 2 tbsp.
Powdered sugar 1 tbsp.
Preparation:
In 100 ml of warm milk (about 40°C) put the broken yeast on the pieces. Dissolve, stirring with a fork.
Make a small notch in the flour and pour in the yeast mixture. Add 40 g of sugar and sprinkle with flour on top. Leave it on for 20 minutes.
Add salt, 4 yolks, 2 whole eggs and warm milk to the flour. Cut the butter into pieces, mix with the sugar and also add to the flour. Add candied fruits, malt and cocoa.
Knead the dough. You can do this with your hands or with a mixer. The dough should remain sticky and viscous. Load the dough into the molds.
Take the pieces of chocolate and sprinkle them with a little flour. Stick them in the dough until the very end, so that they do not come out.
Cover the dough and leave to rise for 12 hours at room temperature.
Bake the columba for 40 minutes in a preheated oven to 190°From the oven. The finished pasca can be decorated with powdered sugar, almonds and cocoa powder.
Bon Appetit!