Pancakes on yogurt with sauce for a festive breakfast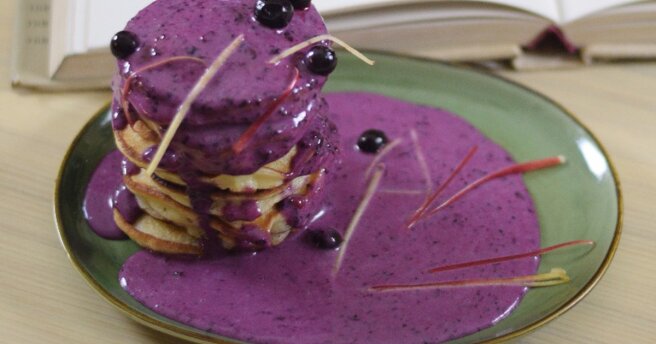 Pancakes on yogurt with a sauce made from
Cook, host of the programs "Svekrukha chi nevistka" and "Ranok z Ukrainoyu " on the channel" Ukraine " Grigory German shares a recipe for pancakes on yogurt with an unusual berry sauce.
Prepare a delicious and light breakfast for your mother on March 8!
Ingredients:
200 ml of natural yogurt,
1 chicken egg,
100 g of sugar,
1/3 teaspoon baking soda,
250 g flour,
1 apple,
vegetable oil,
250 g frozen blackcurrant,
0.5 l condensed milk
Preparation:
Peel the apples and cut them into small pieces.
With a mixer, carefully grind the sugar with the egg.
Mix a quarter cup of warm water with baking soda.
Lightly heat the yogurt.
The Council: It is necessary to heat the yogurt to body temperature, but in no case do not boil it. Boiling will change the structure of the yogurt, it will curdle it.
Pour the warm yogurt into the egg-sugar mixture. Constantly whipping with a mixer, gradually add the flour, bring to the consistency of thick sour cream. Without stopping to mix, pour in water with soda.
The Council: Never " put out the soda with vinegar for pomp." The reaction of the release of carbon dioxide, which makes the pancakes lush, should not occur in a spoon, but in the dough, when heated!
Add the apples to the dough.
Pour vegetable oil into a preheated frying pan. Spoon out the pancakes and fry until golden brown.
Pour the berries into a deep container and pour the condensed milk on top. Using an immersion blender, bring the sauce to a homogeneous state and pour it liberally over the pancakes.