Homemade Italian ice cream from the MasterChef-11 judge Vladimir Yaroslavsky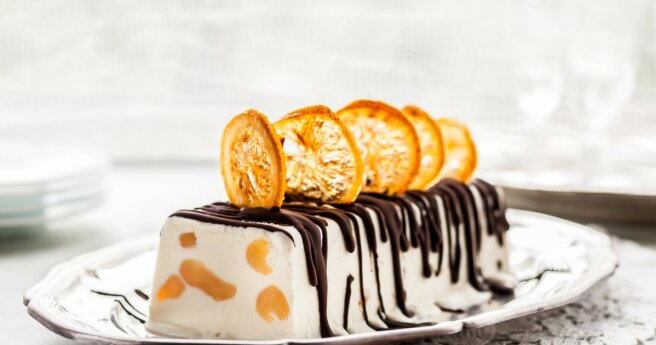 Filming of the famous culinary project "MasterChef-11" on STB is in full swing. The judge of the new season, Vladimir Yaroslavsky, shared a recipe that must be prepared in the summer. He revealed the secrets of homemade Italian ice cream, or semifredo.
This is a fairly easy recipe! Semifredo is a delicious natural ice cream that keeps the texture in the freezer for a long time. You will definitely like it!
Ingredients:(for a glass mold of 1.5 liters)
7 egg yolks
100 g of sugar
20-25 g of cognac
300 g cream 30-35% fat content
80 g of milk chocolate
80 g pistachios for decoration
additionally, you can use fresh berries inside-about 200 g.
Cooking method: 
In a glass or metal bowl, add sugar, egg yolks, brandy. Stir with a whisk and put in a water bath over medium heat and stir intensively.
If you use a thermometer, we heat it up to 72 ℃. But very carefully, so that the yolks do not curdle. A lower temperature is also possible — it's okay. If there is no thermometer, bring the mixture to a hot state so that it becomes dense and the sugar completely dissolves. Do not forget to constantly stir intensively!
Set the finished mixture aside to cool slightly, covering it with cling film.
Separately, whisk the cooled cream at medium speed so that a not very dense foam turns out. By the way, for the best result, you need them to stand in the refrigerator for 24 hours. So they will be stable when whipping.
Next, gently mix the whipped yolks with cold cream at room temperature with a whisk or a pastry spatula. Try it for a taste. Here is the time to add berries if desired.
Cover the ice cream mold with a disposable film. Pour the mixture and send it to the freezer for 6-8 hours or overnight.
After freezing, remove from the mold, pour over the melted chocolate and sprinkle with chopped pistachios. It is better to fry the nuts in advance. By the way, they can be added to the middle of the dessert, as well as chocolate.