How to freeze apricots, peaches, plums for the winter: detailed instructions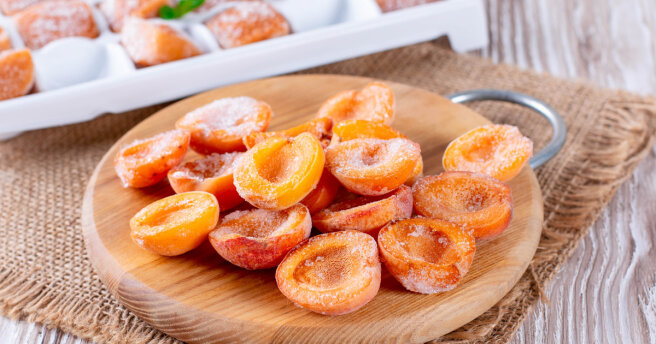 In summer, it is good not only to enjoy vegetables, fruits and berries, but also to have time to make preparations for the winter. If there are different opinions about its benefits and harms regarding conservation, then freezing will not harm anything for sure. Having saved apricots, peaches, plums in the freezer, in winter you can return a little taste of summer and get a vitamin charge.
Today MustHub will tell you how to freeze apricots for long storage until the winter. In the same way, you can prepare peaches, nectarines, plums, pears and other fruits.
It will be useful for every housewife to know how to freeze apricots and peaches for the winter, because this is one of the best ways to save useful substances in them. When frozen, vitamins and minerals in fruits remain much more (up to 90%) than, for example, in canned food or pickles. And even more so, homemade frozen fruits are many times more useful than fresh imported ones bought in the supermarket in winter.
How to freeze apricots, peaches, plums: step-by-step instructions
Before freezing apricots, peaches and other fruits for the winter, they should be properly selected and prepared. Select strong, not spoiled, moderately ripe, but not overripe fruits for freezing, otherwise they will turn into porridge when thawed.
Wash the fruit. Everything is fine with plums – they have a smooth skin that is easy to clean. But before you freeze apricots and especially peaches, you need to thoroughly wash their shaggy sides. It is more convenient to do this with a special soft kitchen brush, wiping the fruit in water from all sides with it, and then rinse it again.
Dry the fruit, cut it into halves or quarters and take out the bones. If peaches or apricots are large, then you can cut them smaller, so that they then freeze better.
Spread the fruits in one layer on a board or paper and send them to the freezer for pre-freezing at -20°C for 3 hours.
When the fruit hardens, pour them in small portions into plastic bags or plastic containers and close them tightly. You can freeze apricots separately, peaches separately, or you can pack a fruit assortment in one package – and the portion for compote is ready.
Store frozen apricots, peaches, plums at a temperature of -18°C.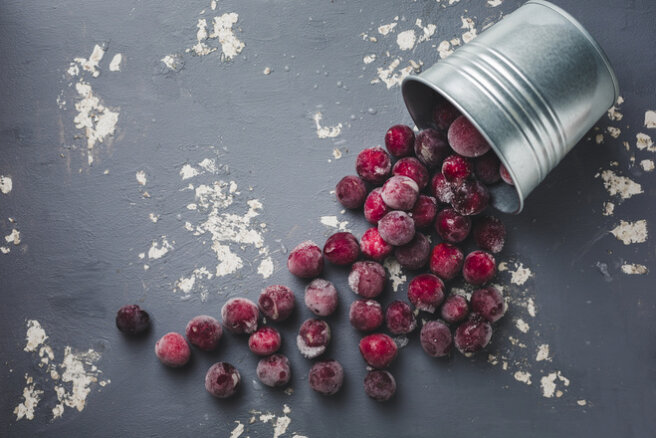 How to properly cook and defrost apricots, plums, peaches?
It is important to know not only how to freeze apricots, peaches and plums for the winter, but also how to defrost them correctly.
Thawed fruits need to be eaten quickly, because they not only soon turn into porridge and drain with juice, but also quickly deteriorate.
You can not repeatedly defrost and freeze apricots, peaches and plums, as well as other fruits and vegetables – so they lose their useful properties, taste and structure. For this reason, it is necessary to freeze fruits in portions.
Defrosting of fruits for direct food or preparation of desserts should be gradual. To do this, apricots, peaches or plums must first be taken out of the freezer and transferred to the refrigerator for several hours at a temperature of 4-6°C, and only then, when the fruit is almost thawed, bring it to room temperature.
If you plan to use frozen fruits as a filling, then you can not defrost them, but immediately pack them into the dough and cook, fry, bake. By the way, frozen apricots, peaches or plums are prepared much faster than fresh ones.
Frozen Apricot puree recipe
Also, apricots, plums and peaches can be frozen in their own juice, in sweet syrup and in the form of puree. We offer you to try one of the most delicious recipes of apricot puree, which will be an excellent addition to porridge. It is no more difficult to freeze it than whole pieces.
Ingredients:
1 kg of fresh apricots
300 g of sugar
1 teaspoon lemon juice
Preparation:
Wash and slice the apricots. You can grate them on a fine grater or grind them with a blender.
Immediately fill the resulting mass with sugar and lemon juice.
Mix thoroughly and distribute it into containers (plastic vessels, cups, milk cartons).
Bon Appetit!
You may also need an article about harvesting berries. Learn how to properly freeze strawberries for the winter.