How to make cucumbers crispy: secrets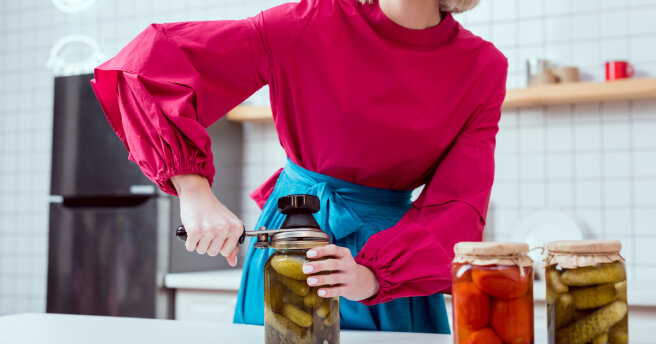 In order for snacks to be as delicious in winter as in summer, you need to prepare them on time and correctly. Now is the time not only for holidays, vacations, but also for conservation. Cucumbers, tomatoes, eggplants and other vegetables retain their special taste and benefit until the cold weather, but you can make them even better if you know the secrets of the preparations.
What, if not the crunch of cucumbers, can please at any time of the year, and in the cold, and in the slush, and in the heat? Preserving cucumbers is a delicate and serious matter. After all, you need to make them crunch! MustHubtells you how to make cucumbers crispy.
How did pickles appear?
It may seem to you that pickles appeared in the Garden of Eden and Eve herself salted the first batch with her own hands. Perhaps it was so, but archaeological excavations tell us that everything happened a little later. But not as late as it may seem at first glance.
In the third millennium BC, cucumbers were first grown in India and Mesopotamia. At the same time, they began to try to pickle cucumbers. Such attempts were made by the ancient Romans. It was the Romans who began to add vinegar for preservation and created a recipe for pickled cucumbers. He migrated to Western Europe. It is believed that the lovers of crispy cucumbers were Emperor Julius Caesar, British Queen Elizabeth I, George Washington and Napoleon Bonaparte.
The Byzantines brought cucumbers to Kievan Rus. It is also believed that cucumber comes from the Greek word "ogyros" — "immature".
And if you believe Wikipedia, back in the early twentieth century, pickles were stored for the winter in wooden barrels-tubs that contained several pounds each. At the same time, cucumbers are preserved in glass jars with a volume of 1 to 5 liters.
But first, let's figure out the recipe for cucumbers. We have compiled a step-by-step guide for you that will help you preserve cucumbers and not screw up. By the way, it is believed that the best time for pickling cucumbers is from July 20 to August 6.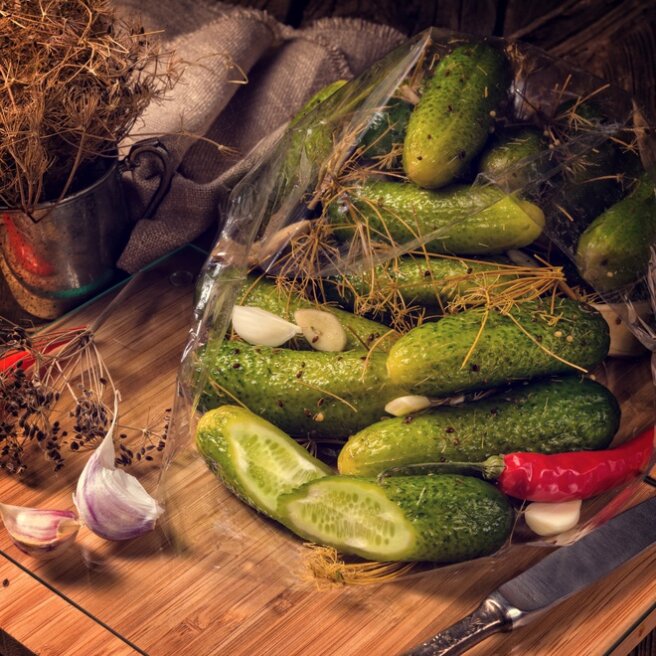 Recipe for canned cucumbers
Ingredients:
cucumbers,
horseradish, dill,
leaves of grapes, cherries or currants,
garlic — three cloves,
vinegar 9% - 1 tablespoon,
mustard seeds — half a teaspoon.
Ingredients for brine (calculated for 1 liter):
water — 1 spoon,
salt — 1 tablespoon,
sugar — 2 tablespoons,
black pepper in peas — 10 pieces,
bay leaf — 2 pieces.
Preparation:
Choose small young cucumbers. The main thing is that they are elastic.
Thoroughly wash the jars and lids, sterilize with boiling water.
Fill the cucumbers with cold water and wash them. The water needs to be changed several times.
Put the clean cucumbers in a container and let the water drain.
Wash and dry the greens. Dill, grape leaves or cherries will add crunch to cucumbers.
Put herbs and garlic on the bottom of sterile jars. You can put a piece of bitter pepper or a half of red salad pepper, they will give an interesting taste to the preservation.
Tightly put the cucumbers in jars to the level of the"hangers".
Pour an incomplete spoonful of 9% vinegar into the jars.
Go to the second stage — brine. Put a tablespoon of salt on each liter of marinade. Add two tablespoons of sugar each.
Put the pepper, bay leaf and mustard seeds.
Bring the marinade to a boil and cook for five minutes.
Pour boiling brine into jars with herbs, spices, vinegar and cucumbers. Pay attention — it should completely cover the cucumbers.
Cover the jars with lids and put them in a large saucepan with boiling water. Sterilize for about 20 minutes.
Carefully twisted jars put the lids down and cool.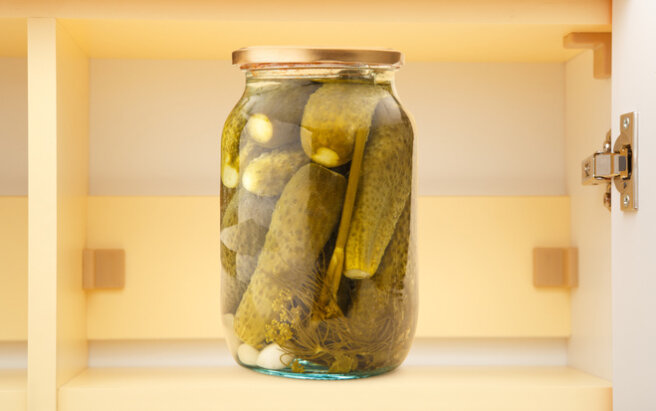 How to make cucumbers crispy?
We have collected for you a few secrets that will definitely help you achieve the necessary and such a pleasant crunch of pickles. We share ourTOP 7 secrets with you:
Open a jar of cucumbers, add a few crushed garlic cloves to the brine and put it in the refrigerator for a couple of hours.
Choose rock salt for salting. It is she who gives cucumbers a bright and rich taste. By the way, rock salt will insure you against an unexpected explosion of the jar.
Before salting, soak the cans in a soda solution, and then thoroughly wash them with warm water and soap solution.
Use spring or filtered water for salting. Well water is also suitable for this case.
Use only cucumbers of salted varieties. That salad cucumbers and varieties for preservation are not called so for nothing.
Carefully select spices and herbs. The unique aroma of cucumbers is given by horseradish, dill, garlic, black currant and cherry leaves, oak leaves and bark. You can also use a mixture of mint, basil, tarragon.
Try to be in a good mood when salting! Then the work will be a joy for you, and everything will turn out in the best way!
By the way, we shared with you a simple recipe for lazy zucchini caviar.