TOP 3 dishes with raspberries: delicious recipes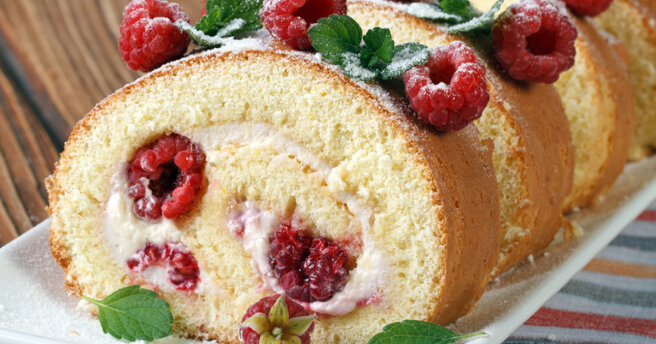 Raspberry recipes have been prepared for you by dot today. Please your loved ones with delicious desserts. Try simple desserts made from raspberries and other berries.
You can add raspberries to any ingredients, and the dish will sparkle with new colors. Try to do it yourself and you will find out that raspberries are the best way to decorate a dish.
Sponge roll with raspberries and butter cream
Ingredients:
for sponge cake:
3 eggs,
100 g of sugar,
1 tablespoon of honey,
1 cup flour,
a pinch of soda,
for filling and decoration:
300 g of raspberries,
a few mint leaves,
250 g of thick cream,
5 tablespoons powdered sugar,
1 tablespoon of sugar,
100 ml of water.
Preparation:
Before you bake a sponge roll, you need to prepare the dough. To do this, combine the eggs, sugar, honey and beat on a low speed mixer until fluffy. Add the sifted flour and soda to the dough, mix gently and pour on a baking sheet covered with baking paper, greased with oil.
Send the biscuit to the oven preheated to 220°C and bake until golden brown for 5-7 minutes. Readiness can be checked with a wooden stick, if it is dry – the biscuit is ready. Do not over-dry the dough, otherwise it will not curl up well into a roll. Let the cake cool down a little.
Rub half a cup of raspberries with sugar and dilute with boiled water. Soak the sponge cake with the resulting syrup.
Whisk the cream with powdered sugar and evenly smear the cooled cake with cream. Sprinkle raspberries on top.
Carefully separating the cake from the paper, roll up the sponge roll. Top with raspberries and mint leaves, sprinkle with powdered sugar.
Put the sponge roll in the refrigerator for 20 minutes, then cut it into portions and serve it chilled.
Dumplings with raspberries: a recipe for a summer dessert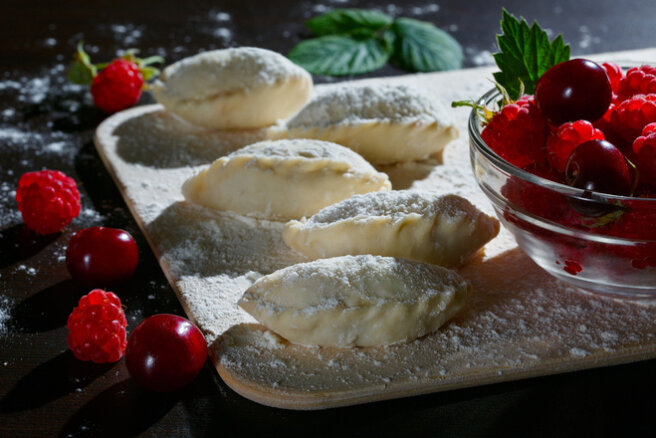 Ingredients:
2 cups flour, 1 egg,
0.5 cup of milk,
3 tablespoons of water,
1 teaspoon vegetable oil,
500 g of raspberries,
0.5 cup sugar,
1 teaspoon of starch,
a pinch of salt.
Preparation:
Dough for dumplings
Sift the flour into a bowl, make a recess in it and drive an egg into it.
Mix the milk with water and pour it into the egg. Add vegetable oil and salt to the same place.
Knead the dough. The dough should be elastic. If it sticks to your hands, add a little more flour. Knead the dough well, then cover it with a napkin and leave it for about half an hour.
Knead the finished dough again and roll it out on a floured table. Cut out circles (for example, with a glass) with a diameter of about 8 cm.
Filling for dumplings
Wash, peel and drain the raspberries.
Mix sugar with starch. Starch will absorb excess juice and will not allow it to leak out during the cooking of dumplings.
In the middle of each circle of dough for dumplings, put a small portion of raspberries and sprinkle half a teaspoon of starch-sugar mixture.
Tightly seal the edges of the dumplings so that the juice does not flow out.
How much to cook dumplings with raspberries
Put the dumplings with raspberries in salted boiling water and after they pop up, cook for 5-7 minutes. In the process of cooking, turn the dumplings over with a slotted spoon.
Serve with sour cream, and you can also serve with yogurt or condensed milk.
Lean dessert: raspberry marmalade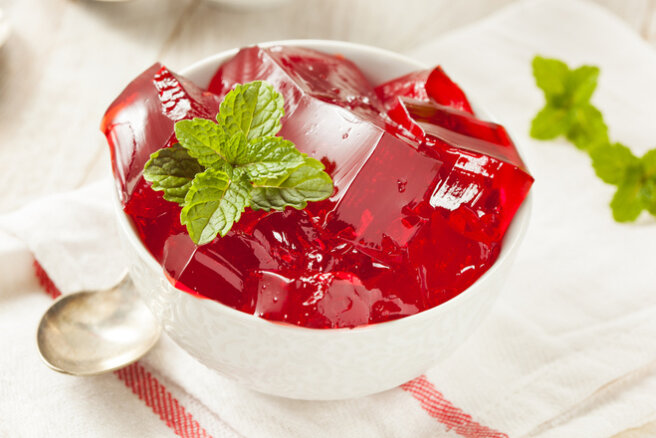 Ingredients:
500 g of black currant
500 g of raspberries
900 g of sugar
citric acid in powder-on the tip of a knife
How to cook:
Pick the raspberries and currants, wash them, put them in a saucepan and pour water so that it only covers the berries. If the berries are frozen, then you first need to defrost them. Put it on the fire and cook until softened.
Put it on a fine sieve and wipe it. Put the resulting thick juice on a slow fire and boil half.
Add sugar, citric acid and cook, continuously removing the foam, for 35-40 minutes. Pour into flat molds and leave overnight at room temperature.
Cut into identical cubes, roll each one in sugar if desired.