ARTWINERY has released a limited wedding collection of sparkling wines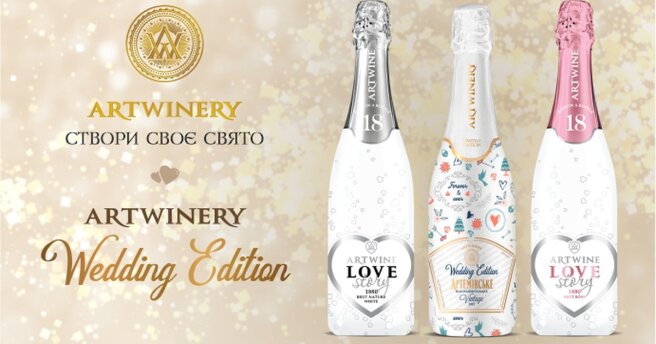 For the wedding season of 2021, the ARTWINERY company presented a limited collection of sparkling wines. The start of sales begins with the sparkling No. 1 in Ukraine-Artemovsky semi-sweet, which can be personalized for yourself.
ARTEMIVSKE Wedding Edition and ARTWINE LOVE STORY will be released in limited quantities and are available for sale only in the manufacturer's online store.
Despite the picture restrictions, the wedding season is in full swing this year. Well, what's a wedding without sparkling wine? Therefore, we have supplemented our traditional portfolio with a limited thematic collection. It includes the most popular sparkling wines for every taste and purse. In addition to the unique design, we also added a highlight — the possibility of personalization of the bottle, so that the newlyweds could create their own unique wedding sparkling wine
According to the company, ARTEMOVSKY semi-sweet is the best-selling in Ukraine. And its wedding analog "ARTEMIVSKE Wedding Edition" is unique both in taste characteristics, because it is longer aging, and in its appearance. In addition to the festive design, the bottle can easily turn into your personal sparkling wine thanks to stylized stickers. Funny expressions about modern love and even initials are easily glued to the bottle itself or other surfaces.
The consumer is becoming more demanding day by day. Undoubtedly, the quality of the product remains at the top, but the appearance is also important. Personalized products are one of the trends of our time. So, the idea was born to give the consumer the opportunity to add something from himself to a bottle of sparkling wine. Our new collection will give you the opportunity to add your uniqueness to a wedding or a bachelorette party. Also, such sparkling wine can be a great gift