Dumplings with cherries and cherries: an interesting recipe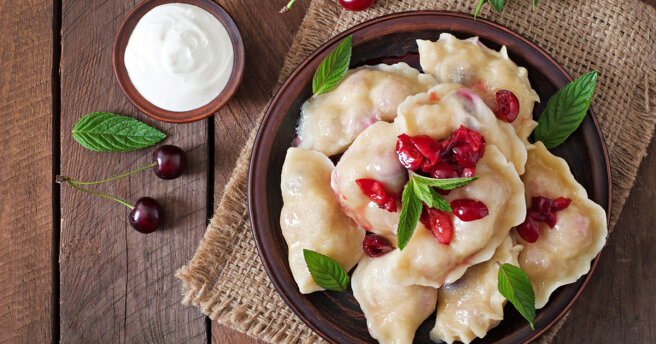 If you want to deviate from the standards and cook not just dumplings with cherries, but somehow diversify the already familiar taste, MustHub offers you to add other berries to the filling that are similar in structure, for example, cherries.
Such a berry cocktail in dumplings with cherries will noticeably revive their taste, make it brighter and richer. And you won't have to invent it for a long time. Moreover, both of these berries coincide in the ripening season, in taste and in their structure, i.e. they will be prepared in dumplings in the same way. But the cherry aroma will be noticeably enriched with new notes. Try!
Dumplings with cherries and cherries-ingredients:
for the test:
1 cup of kefir,
1 egg,
2.5-3 cups flour,
1 tablespoon of vegetable oil,
1 tablespoon of sugar,
10 g vanilla sugar,
0.5 teaspoons of soda,
a pinch of salt,
for the filling:
300 g of cherries,
200 g of cherries,
3-4 tablespoons of sugar,
1 tablespoon of starch,
for submission:
50 g of butter,
100 ml of sour cream.
Dumplings with cherries and cherries-preparation:
Rub the eggs with sugar and vanilla sugar. Add the kefir and mix. Then gradually pour in the sifted flour mixed with soda and salt. At the end, pour in vegetable oil and knead an elastic homogeneous dough.
Transfer the dough to the table and continue kneading with your hands, gradually adding flour until it stops sticking to your hands. Roll the dough into a ball, wrap it in plastic wrap and place it in a warm place for half an hour.
At this time, do the filling for dumplings with cherries and cherries. Pick the berries, wash them, dry them, cut them into halves and peel them from the seeds.
In a bowl, mix the starch with sugar. Adjust the amount of sugar depending on the sweetness of the berries.
Separate half of the dough from the dough and roll out the cake with a thickness of about 2-3 mm. Use a glass or a cup with a sharp edge to cut out circles for dumplings from the dough.
Put a few berries in each circle, sprinkle them with a mixture of sugar and starch and pinch the edges, forming dumplings. Starch will not allow the berry juice to flow out during the cooking process.
Put the molded dumplings with cherries and cherries on a cutting board sprinkled with flour. It is not necessary to mold all the dumplings at once, because the berries will quickly release the juice, and the dumplings may come apart.
Cook dumplings with cherries and cherries in a large amount of boiling salted water. After throwing a portion of dumplings, gently mix them until they rise from the bottom and begin to boil. After that, turn down the heat and cook them for 5-7 minutes.
Then take the ready-made dumplings out of boiling water with a slotted spoon, transfer them to a bowl, throw a piece of butter and mix so that they do not stick together.
Serve dumplings with cherries and cherries hot with sour cream, condensed milk, jam or just butter.
Bon Appetit!
Watch the video recipe for steamed dumplings with cherries:
All the brightest and most interesting news can be found on the main page of the women's online resource MustHub