Lightly salted cucumbers: a recipe for simple and quick pickling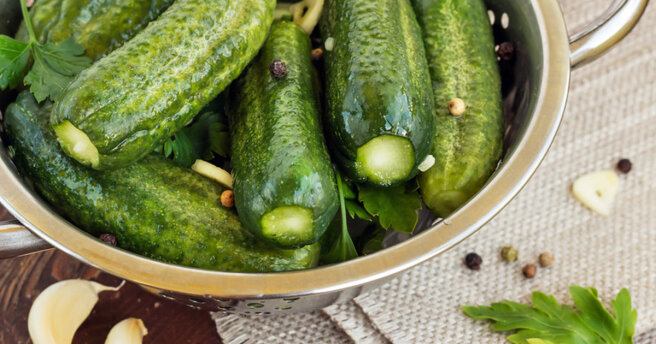 In the summer, we suddenly show the highest degree of capriciousness in food, and instead of a salad with fresh vegetables, we suddenly want canned food. Low-salted cucumbers, the recipe of which MustHub offers you, is one of the favorite summer dishes of many gourmets. Preparing low-salted cucumbers according to the recipe is extremely simple, and I always fly away with a bang, both at the festive table and during a lunch snack.
In addition, lightly salted cucumbers are wonderfully used in recipes for light summer salads, bringing an original taste note to them.
To make low-salted cucumbers according to a quick cooking recipe, you will need:
1 kg of small ground cucumbers,
3 garlic cloves,
1 horseradish leaf,
2-3 umbrellas of dill,
2 tablespoons of salt (without the slide),
1 tablespoon sugar,
about 1 liter of water.
Lightly salted cucumbers-cooking:
Wash the cucumbers and leave them in cold water for 1 hour.
In 1 liter of cold water, dissolve the salt and sugar, keeping the proportion.
Wash and coarsely chop the horseradish leaf, peel the garlic and cut it into slices.
If you want the lightly salted cucumbers to be ready the next day, then cut off the tips before salting.
In a container (glass jar or bottle), put the garlic, part of the dill and horseradish, then put the cucumbers, and on top-the remaining greens and pour the brine, so that it covers everything. Tie the jar with a gauze napkin.
Leave the cucumbers for a day. The brine should become cloudy, and the cucumbers will change color a little.
If the lightly salted cucumbers are already ready, then put them in the refrigerator for storage, so that they do not turn sour.
Bon Appetit!