What to cook from cherries: TOP 3 recipes for every taste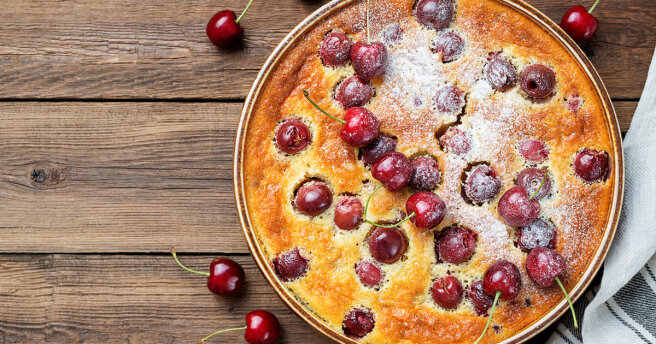 You probably think that since cherries are berries, then dishes with them must be dessert and sweet. Jellies, jams and compotes – this is what we are all used to. And how else delicious and unusual can you use cherries in cooking?
In the season of this berry, MustHub has selected for you interesting recipes from cherries – both ordinary and not quite. Choose what you like best.
Pie with cherries and cottage cheese filling
Prepare a tender curd pie with cherries. This berry goes well with cottage cheese, and you will get a delicious and healthy dessert.
Ingredients:
for the test:
2 cups flour,
150 g cottage cheese,
2 eggs,
3 tablespoons of milk,
2 tablespoons sugar,
10 g vanilla sugar,
2 teaspoons baking powder,
2 tablespoons vegetable oil,
salt to taste,
for the filling:
400 g of cherries,
200 g of cottage cheese,
3 eggs,
2 tablespoons of milk,
1 tablespoon semolina,
3 tablespoons sugar,
1 teaspoon cinnamon,
1 tablespoon powdered sugar.
Preparation:
In the cottage cheese, beat the eggs, add milk, sugar, vanilla sugar, vegetable oil and mix.
Mix the sifted flour with baking powder and salt, add the cottage cheese and knead the soft dough.
Place the dough between two layers of film and roll out into a layer about 5 mm thick.
Place the dough in a greased baking dish, form the sides and send it to the preheated 180°C oven for about 10 minutes.
For the filling, combine cottage cheese, eggs, semolina, milk, sugar and whisk with a blender.
Remove the seeds from the cherries and lightly sprinkle with starch so that the juice does not flow out.
Put the berries in a mold with the finished cake, sprinkle with cinnamon, pour the filling and send it back to the hot oven for about 40 minutes.
Cool the finished cake and decorate with powdered sugar.
Salad with cherries and vegetables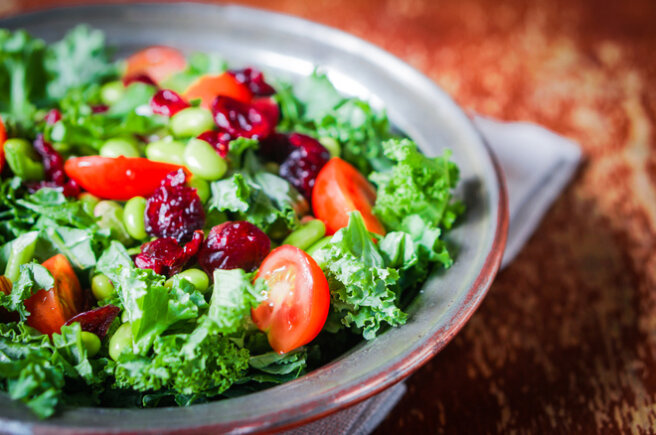 Cherries can be not only a dessert. Try the original salad with this berry.
Ingredients:
300 g of cherries,
300g peking cabbage,
5 cherry tomatoes,
half a sweet onion,
1 tablespoon chopped nuts.
1 tablespoon olive oil,
vinegar to taste,
sugar to taste,
pepper to taste,
salt to taste.
Preparation:
Coarsely chop the cabbage.
Cut the onion into thin half-rings, sprinkle with sugar and sprinkle with vinegar.
Cut the tomatoes into quarters.
From the cherries, take out the seeds, cut a large one in half.
Chop the nuts and lightly dry them in a frying pan.
Combine all the ingredients, season with salt and pepper, season with olive oil and serve.
Pickled sweet cherries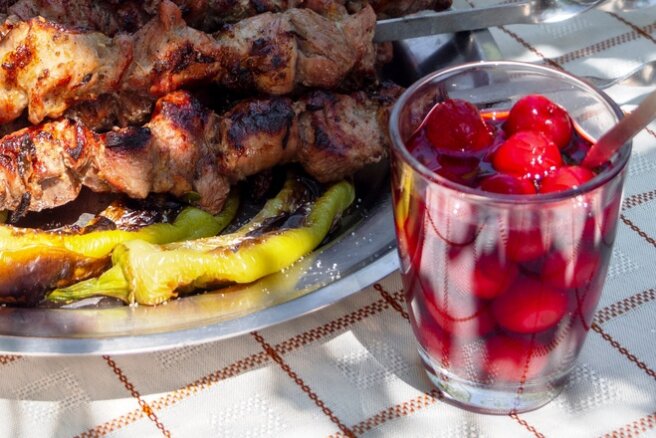 Another unusual recipe for cooking cherries. Again, not dessert. Spicy cherries are perfect for meat dishes and as a snack.
Ingredients:
1 kg of sweet cherries,
0.5 l of water,
100 ml apple cider vinegar,
1 cinnamon stick,
1 clove,
2 bay leaves,
3 peas of allspice,
0.5 tsp mustard seeds,
0.5 teaspoons coriander,
2 tablespoons sugar,
a pinch of salt.
Preparation:
In the boiling water, add all the spices, salt, sugar and bring to a boil again. At the end, pour in the vinegar and remove from the heat.
Let the marinade infuse and cool slightly. Then strain it.
Peel the cherries from the seeds.
Pour the berries into sterilized jars, fill with warm marinade and cover with lids.
Leave the cherries at room temperature for 10 hours, and then you can move them to the cold for longer storage.
Spicy pickled cherries will be ready in 2-3 days.
Bon Appetit!