Favorite healthy recipes from the singer GARZA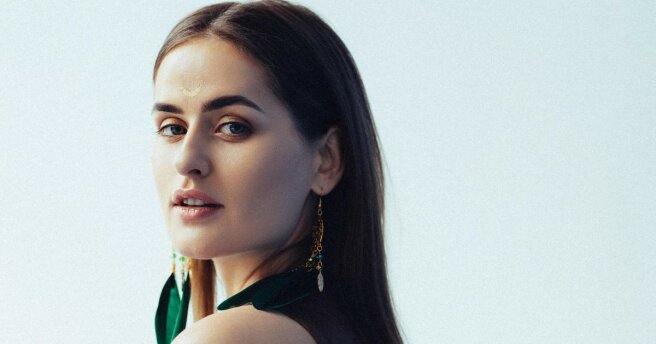 Healthy and delicious food today is not a race for new-fangled trends for organic products and lactose-free refinements, but rather an adequate desire to preserve the youth and lightness of the body. The main rule is not to overdo it in food-asceticism and approach the diet wisely. Meals should not be black or white: violent prohibitions or an overabundance of certain ingredients. Here it is important to listen to the "wishlist" of your own body and be wise-to exclude or minimize fat and flour, remove sugar and enjoy the taste of fruits, vegetables, and steamed dishes. Flavorful, appetizing and healthy — just what you need!
Ukrainian singer GARZA, who recently shared her experience of standing on nails, is a life-loving girl and a defender of nature. The artist rarely eats fish, refused meat, loves vitamin salads and fiber-rich porridges. In addition, she masterfully conducts tea ceremonies and drinks fresh fruit. 
My morning starts with a handful of nuts and a fruit salad: strawberry, banana, pear, apple. I love the beautiful serving of the dish — the aesthetic setting of the table and dishes gives the meal a special magic. My food is simple in composition and cooking, while saturated with important vital components. Pescetarianism is a great opportunity to nourish your body with proteins and trace elements, having a great pleasure from eating,
GARZA also shared her favorite healthy recipes with MustHub. And we, having found only dry white from the list of necessary products, went to buy the rest of the ingredients.
Cuttlefish Ink Risotto
Ingredients:
200 g cuttlefish
200 g octopus
200 g baby squid
200 g shrimp
200 g scallops
4-5 cloves of garlic
basil
black pepper (to taste)
risotto mix (rice)
olive oil
250 ml dry white wine
Preparation:
Put a saucepan on the stove and pour 4 tablespoons of olive oil, pour out the risotto mixture (I choose with truffle) — and fry it over low heat.
After 5 minutes, pour 250 ml of white wine and evaporate it, stirring.
Add 500 ml of boiling water and cook the mixture until fully cooked. 
Preparation of the filling for risotto:
Fry 4-5 cloves of garlic in a frying pan, add sea "reptiles", basil and black pepper to it.
Cook for 5-7 minutes and add the ready-made mixture for risotto + 2 small bags of cuttlefish ink (I buy in Le Silpo in the fish department, and I buy sea reptiles in Chernomorka, there are very good seafood) - mix it all and cook for another 7-10 minutes.
Bon Appetit!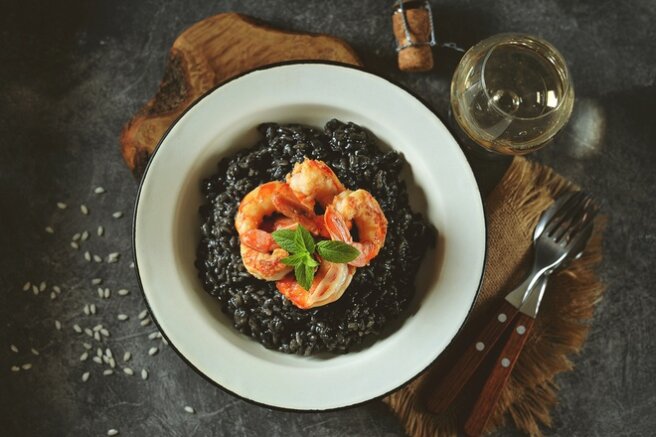 Baked salmon with basil and olive oil
Ingredients:
salmon fillet
basil
olive oil
lemon
Preparation:
Mix the olive oil with the basil.
Rub the resulting mixture over the salmon and add a couple of lemon slices inside.
As a side dish, I serve asparagus in olive oil, which I also bake in the oven.
Bon Appetit!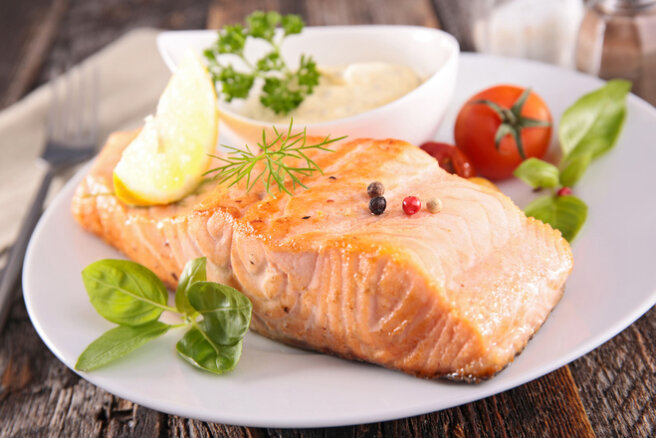 Previously a presenter Grigory Herman shared an original recipe for baked stuffed potatoes.