Solyanka combined meat - detailed video recipe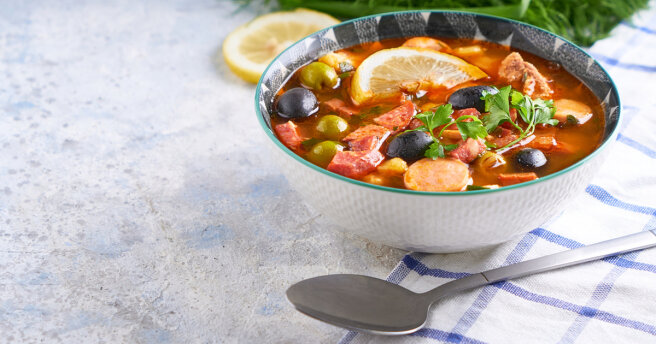 If suddenly you are tired of cooking borscht or buckwheat soup and want a variety, then you can prepare a combined hodgepodge at home. MustHub will tell you how to prepare solyanka and reveal the secret of cooking this delicious and flavorful dish. Note that this hodgepodge includes a large number of different types of meat – that's why it is a team.
Traditionally, meat solyanka is prepared on beef broth with the addition of various smoked products.
At first glance, the combined solyanka may seem expensive, because it requires a lot of expensive products. But in fact, the hodgepodge requires only 100 or 200 g of various meat products, and its taste is rich and saturated from this. Therefore, solyanka even for a large family will not be so expensive.
Meat solyanka-ingredients:
400 g beef on the bone,
400 g of various smoked meats (ribs, ham, brisket, sausage, sausages),
2 onions,
2 pieces of pickled cucumbers,
50 g olives,
50 g capers,
a bunch of greens,
0.5 lemon,
1 tablespoon tomato paste,
1 tablespoon vegetable oil,
2 tablespoons sour cream,
1 tablespoon butter,
2 bay leaves,
ground black pepper to taste,
salt to taste,
2.5 liters of water.
Meat solyanka-cooking at home:
Cook beef broth with 1 onion and bay leaf. If there are ribs, also add them to the broth.
Remove the meat from the broth, and strain the broth itself. Separate the boiled meat from the bones and cut into strips. All smoked meat is also cut into strips.
Add the meat ingredients to the broth and cook for 10 minutes.
Peel the cucumbers from the skin and cut them into strips. Cut the onion into quarters of rings.
Prepare the dressing for the national meat solyanka. To do this, heat the vegetable oil and butter in a frying pan.
Put the onion in the oil and fry over medium heat until soft for 10 minutes. Then add the cucumbers and fry for 10 minutes. At the end, add the tomato paste, stir and fry for another 3 minutes.
Send the dressing to the hodgepodge and cook for 10 minutes.
Add the olives to the hodgepodge along with the brine, chopped herbs, capers, salt, pepper, turn off the heat and let it brew for 10-15 minutes. Be careful with the salt, because many of the ingredients are initially salty.
When serving the meat pickle, put a slice of lemon in each plate and add a spoonful of sour cream.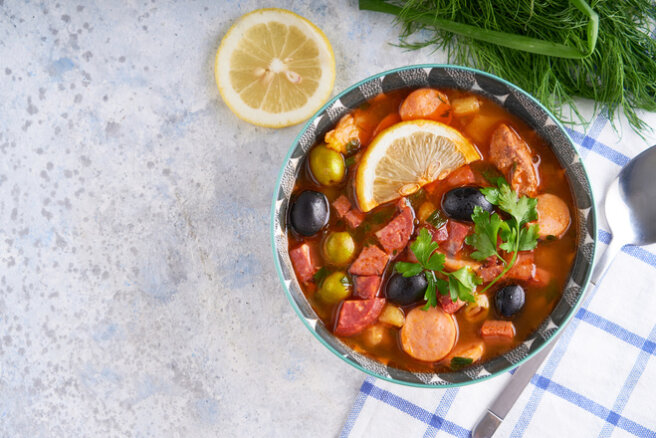 Watch a video recipe on how to cook a meat solyanka: