Homemade oatmeal cookies: a simple recipe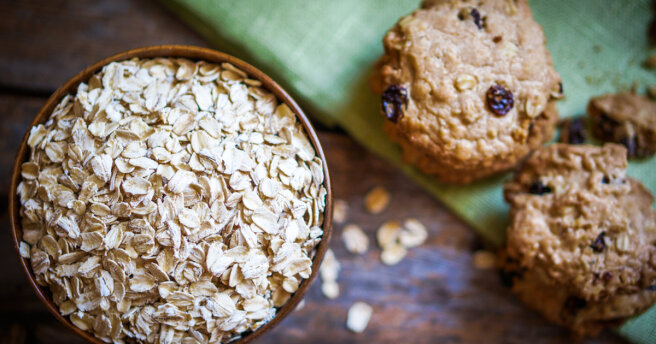 From ordinary oatmeal, you can cook not only porridge, but also delicious homemade cakes, which, moreover, are very useful.
MustHub invites you to try homemade oatmeal cookies with a twist. If you want, you can add other dried fruits to it.
READ ALSO:
Energy bars: TOP 3 delicious recipes
This diet pastry is prepared very simply, it is delicious to eat with tea, and it is also convenient to take with you in the form of snacks.
Ingredients:
130g oatmeal,
50 g of raisins,
2 eggs,
100 g butter,
2 cups flour,
1 cup sugar,
2 teaspoons baking powder,
a pinch of salt.
Preparation:
Rub the butter with sugar.
Beat the eggs with a pinch of salt.
Combine the eggs with the butter and mix.
Add the oat flakes, raisins and mix again.
Mix the sifted flour with baking powder, add to a bowl and knead the dough.
Cover the bowl with plastic wrap and refrigerate for 1 hour.
Brush the baking sheet with oil and cover with parchment.
Form small tortillas and place them on a baking sheet at a distance from each other.
Bake the oatmeal cookies in the oven for about 20 minutes at 180°C.
Bon Appetit!
READ ALSO:
Secrets of gluten-free baking: TOP 3 interesting recipes
What to make from rhubarb: TOP 3 spring recipes