Young potatoes in the oven with mushrooms-step-by-step recipe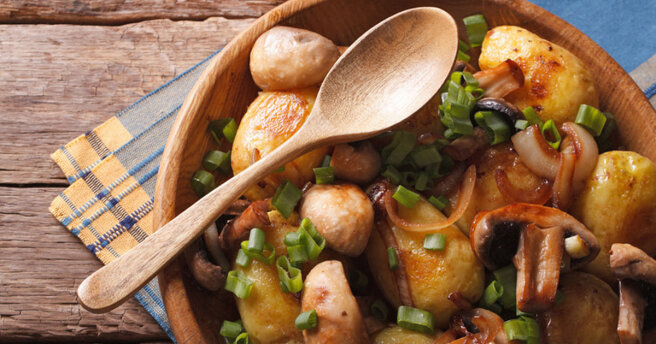 The cost of new potatoes in early May is not affordable for everyone, and the quality of the imported product is not always up to par. Nevertheless, if you want young vegetables, MustHub offers you an interesting recipe for young potatoesbaked in the oven with mushrooms and lard. Simple and tasteful!
Even the most banal and familiar dish can be made much more interesting if you show a little imagination.
Potatoes with mushrooms-how much easier? But if you slightly improve the recipe and send the new potatoes with mushrooms for half an hour in the oven, you will get an amazing, delicious and flavorful dinner for the whole family.
Young potatoes in the oven with mushrooms-ingredients:
700 g of new potatoes,
400 g of champignons,
200 g of pork fat,
1 onion,
1 bunch of green onions,
1 tablespoon vegetable oil,
ground black pepper to taste,
salt to taste.
Recipe for new potatoes in the oven
New potatoes are well washed and cleaned in a convenient way for you: you can scrape it with a knife or wash it with a metal washcloth. Large cut into 2-4 parts, small leave the whole.
Wash the mushrooms, dry them and cut them into 2-4 pieces.
Pork fat cut into small pieces. Cut the onion into half rings. Finely chop the green onions.
In a preheated frying pan in vegetable oil, spasseruy onion, add mushrooms and lightly fry them for 3-5 minutes. Transfer the mushrooms and onions to a saucepan.
In a preheated frying pan, fry the fat so that the fat begins to melt out of it, throw in the new potatoes and lightly fry on all sides for 3 minutes.
Potatoes with lard also transfer to a saucepan with mushrooms, salt, pepper, mix and send to a preheated to 200°Place in the oven for 20-30 minutes.
Remove the finished new potatoes from the oven, sprinkle with green onions and serve hot.
Bon Appetit!