Cottage cheese cheesecakes: a quick recipe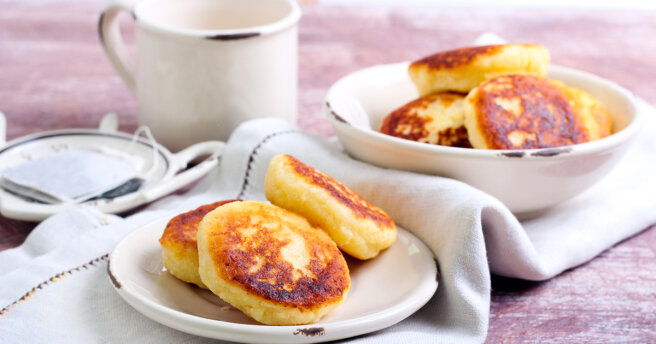 Cottage cheese cakes are not only delicious, but also a healthy breakfast that your whole family probably loves. And even those who do not really like raw cottage cheese, are not averse to treat themselves to fresh pastries.
MustHub will tell you how to prepare cheesecakes, which are made very quickly, simply and will turn out even for novice housewives.
Recipe for cottage cheese cheesecakes
Ingredients:
300 g of soft and not dry cottage cheese,
3 tablespoons semolina,
1-2 tablespoons of sugar,
2 tablespoons vegetable oil,
pinch of salt,
flour for crumbling,
berries or dried fruits as desired.
Preparation:
Grind the cottage cheese through a sieve, add sugar, semolina, salt and mix. If the cottage cheese is dry and hard, it is better to add a little liquid to the dough (literally 1 tablespoon of milk, kefir or water).
Knead the dough. To do this, you can use a blender or fork. If you want, add dried fruits.
The dough should be soft and slightly sticky. To prevent the dough from sticking to your hands, dip them in flour and roll small balls of dough, and then flatten them and form cheesecakes.
Put the cheesecakes in a frying pan in the preheated vegetable oil and turn down the heat a little. Fry the cheesecakes under the lid on medium heat on both sides for 7-8 minutes
Ready-made cheesecakes serve with sour cream, jam, condensed milk-whatever your heart desires.
Bon Appetit!