Light soup after the holidays: spinach with cream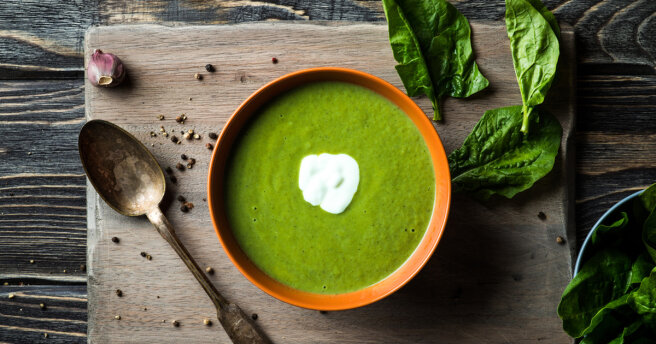 Easy-to-prepare spinach soup will be enjoyed by all family members. Spinach is famous for its useful properties and the presence of a large amount of iron in the composition, so it is recommended for the nutrition of children and pregnant women. It has a delicate and rich creamy taste, and the ingredients for this dish are available in stores all year round. By the way, despite the lack of meat, the soup with cream and spinach is very nutritious, it is a great option for lunch or dinner. 
Simple and delicious recipe for spinach soup with cream
Ingredients:
potatoes — 4 pieces
carrots — 2 pcs
spinach — 200 g
cream — 150 ml
butter — 50 g
salt, pepper, spices — to taste.
Preparation:
We put a pot of water on the fire. After boiling, add salt, pepper and spices.
Wash and peel the carrots and potatoes and cut into cubes.
We also wash and cut spinach.
Put the potatoes and carrots in a saucepan. Cook for 20-25 minutes over medium heat.
Add the spinach and cook for another 2 minutes.
Pour in the cream and add the butter. Cook for another 3 minutes.
As you can see, everything is simple. You can add to the soup any products that you like-zucchini, pepper, broccoli will do. A good addition to the spinach soup with cream will be salads of young vegetables.
We also offer you to prepare dishes from young zucchini: TOP-3 spring recipes.