Easter cake: a festive recipe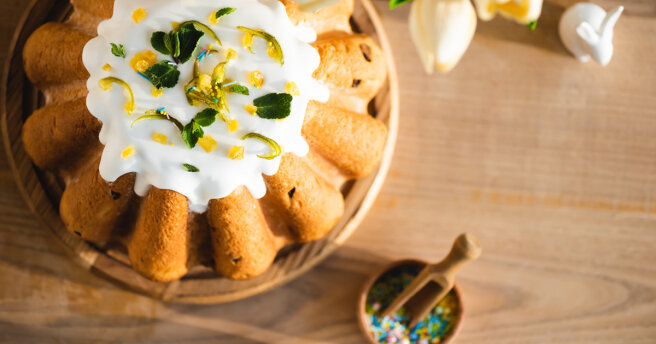 Very soon a bright holidayEaster, and we offer you to prepare a cake along with traditional cakes, various dishes. Happy Easter 2020!
Easter Cake
You'll need:
For the sponge cake:
eggs - 8 pieces,
sugar - 2 cups,
flour-1.5 cups,
starch - 2-3 tablespoons
For butter cream with boiled condensed milk:
butter - 150 g,
boiled condensed milk-6-7 tablespoons
For cognac syrup:
cognac - 2 tablespoons,
sugar-150 g (6 tablespoons),
water-160 ml (9 tablespoons)
marmalade,
marshmallow,
almonds-0.5 cups
For white butter cream with condensed milk:
butter - 70 g,
condensed milk (not boiled) - 3 tablespoons
 For decorating the cake base:
candied fruits,
marmalade,
whole almonds
How to cook:
Prepare the sponge dough, put it in a greased and sprinkled with breadcrumbs baking sheet and bake. It is better to keep the finished cake for at least 8-12 hours, so that after soaking the sponge cake does not get wet. Now grate the sponge cake. 
Pour boiling water over the almonds and leave for 2 minutes, then drain the water, remove the skin from the almonds and grind them in a blender. Cut the marmalade and marshmallows into cubes. 
Now prepare the brandy syrup. In a saucepan, pour water, pour sugar, stir, bring to a boil over high heat and remove the foam. Remove the syrup from the heat and cool. Pour the brandy into the cooled syrup and mix.
Prepare the cream with boiled condensed milk. Beat the softened butter until fluffy. Then add a tablespoon of boiled condensed milk to the butter and whisk until smooth.
Pour brandy syrup into the sponge crumbs, add ground almonds, marmalade, marshmallows and mix everything. Introduce the right amount of butter cream with boiled condensed milk into the sponge crumbs, so that you can mold the sponge mass (the mass should not be too crumbly and you do not need to make it too viscous). Form a base from the sponge mass in the form of a truncated pyramid.
Prepare the cream with condensed milk. Beat the butter and add a tablespoon of liquid condensed milk. Whisk the cream until smooth. Using a knife, apply the cream to the pyramid and gently smooth it out.
Decorate the resulting Easter with candied fruits, marmalade and almonds.
What should be on the Easter table in 2020? Read on MustHub.