Made with love: 3 delicious dishes to enjoy on Valentine's Day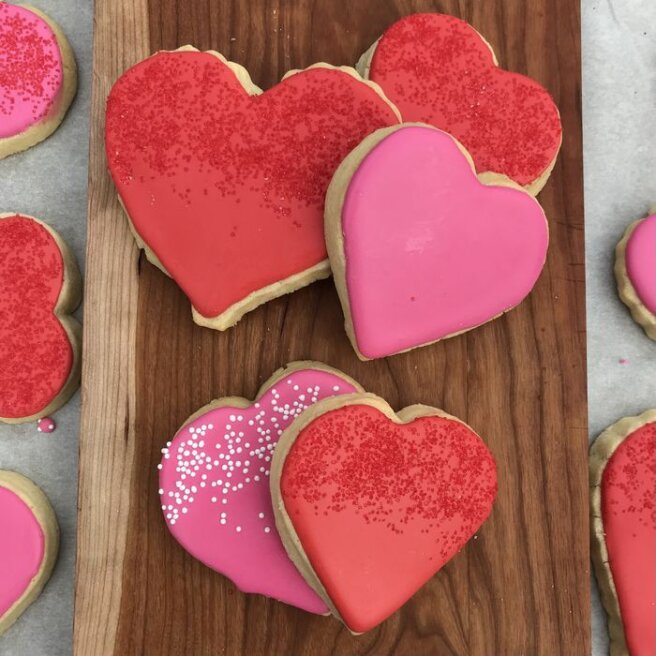 Food is love. Or at least a delicious dish can inspire a sense of gratitude that can be very close to the real thing.
Keep this in mind, and as a nod to Valentine's Day, we asked a few Vancouver chefs and restaurant teams to hand out some delicious recipes that will surely delight.
From salty bites to sweet slices - and a few sips - here are eight recipes to enjoy this weekend. And, it does without the fact that these eat better serve "I love you".
Valentine's Day sugar cookies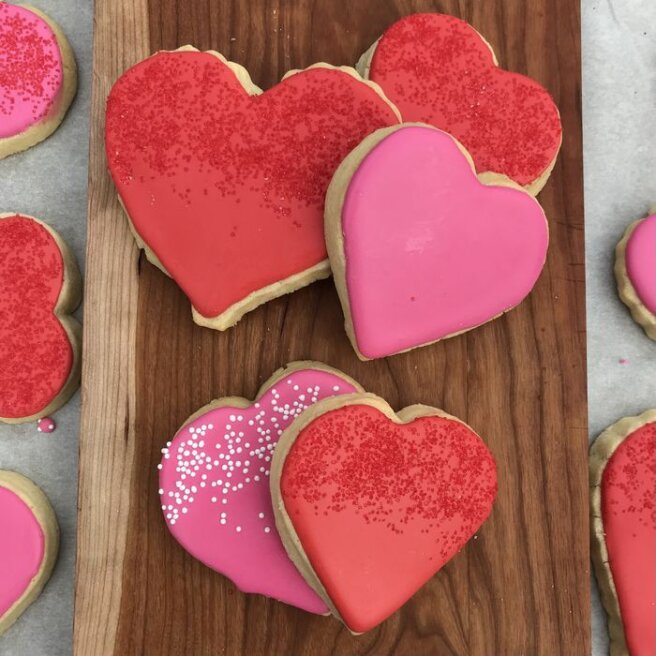 10 ounces (248g) whole flour
1/2 teaspoon (2.5 ml) baking powder
1/4 teaspoon (1 ml) salt
6 ounces (170 g) unsalted butter, room temperature
5.3 oz (150 g) sugar
1 egg
2 tsp vanilla
1/4 teaspoon (1 ml) almond extract
Royal icing
3 pasteurized egg whites
21 ounces (595 g) powdered sugar, sifted
Gelding food dyes of your choice
Water
Heat to more than 350 F, prepare a sheet of cookies made of parchment paper.
In a bowl of electric mixer use paddle fasteners, butter and sugar for 2-3 minutes. Peel the bowl and add the flavoring of the egg, vanilla and almonds, stir for another minute until combined. Peel the sides and bottom of the bowl.
In a medium bowl, whisk together the flour, baking powder and salt to combine. Add the dry ingredients to the oil mixture and stir low until combined. The dough should be soft, but should not stick to the fingers.
Roll out directly between two pieces of parchment paper about 1/4 inch thick.
Cool for at least two hours. Cut out the desired molds and put back in the refrigerator for 30 minutes.
Bake at 350F for 9-10 minutes. Cookies should remain light in color with minimal tossing on the sides.
Royal icing
Place the egg whites in a bowl of the electric mixer from the whisk attachment. Whisk the proteins at medium speed for a few minutes until frotchery.
Add the icing sugar and whisk at low speed for 5 minutes until combined. Add water/powdered sugar - depending on the required consistency. Garnish with royal icing if desired.
Makes 12 medium-sized cookies.
Malt milk truffles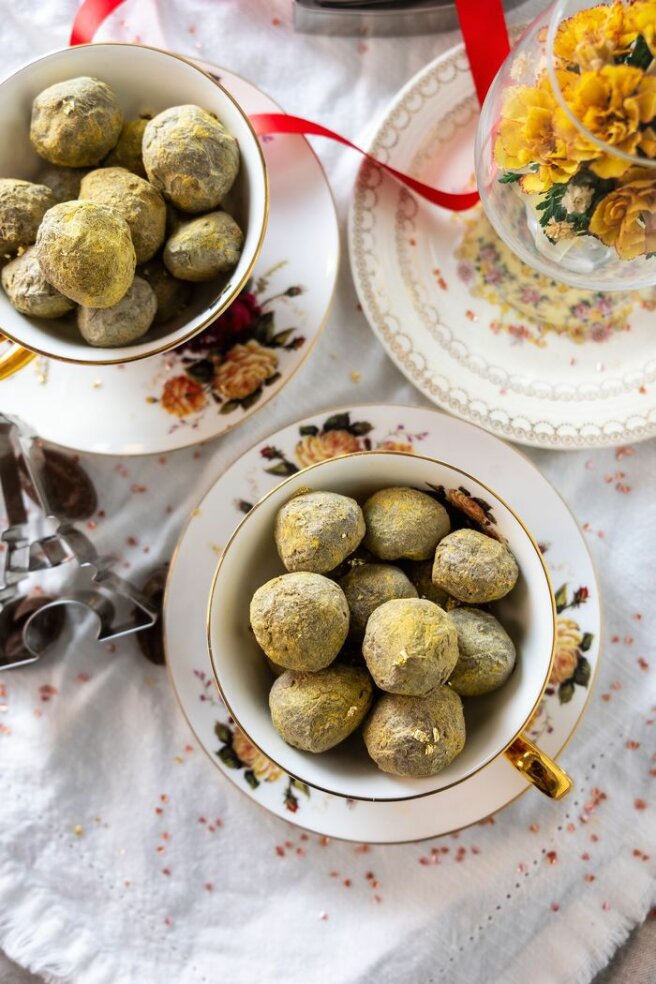 1/3 cup 1 tablespoon (95ml) whipped cream
1 tsp light honey
3 tsp malt milk, e.g. gorillax or oval
A piece of salt
1/3 cup (80ml) dark chocolate couvertura, preferably Valrhona Alpaco 66%
2/3 cup (160ml) milk chocolate, preferably Valrhona Jivara 40%
1 tbsp (15 ml) unleveled butter, softened
1 cup (250 ml) melted cup of dark chocolate, seasoned to 30C to cover
1 cup (250 ml) finely ground corn flour to cover
Decorate golden flakes if desired
Roughly chop the dark and milk sticks and place them in a small bowl.
Put the whipped cream, honey, malt powdered milk and salt in a small saucepan and heat until it boils. Whisk the cream to get rid of any lumps in the dry milk of malt.
Pour the hot cream into the chopped chocolate and let it sit for a minute. Use a rubber spatula for mixing, starting from the center, making small circles and slowly expanding. Stir until the ganash is cohesive, stir in the softened butter.
Cover the bowl with plastic foil and let it sit at room temperature or refrigerator until the ganash is set.
With the help of a spoon or melon ballerina, scop the small balls (2-3 cm) and place them on the tray. If necessary, form them into round balls with your hands. Place them in the fridge to set.
Layer the ganash balls with temperamental dark chocolate and roll them into ground corn hairy. Place them on a clean tray, chocolate should be installed for 2-3 minutes. If desired, garnish with golden flakes before serving. Enjoy.
Makes 20-25 truffles.
Melted lava cake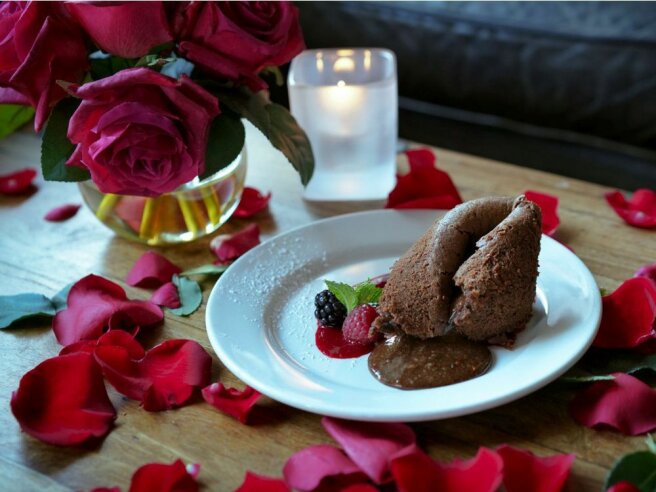 1/2 cup (125 ml) Dark chocolate
1 1/2 tablespoons (22.5 ml) Cocoa powder 1.5 tablespoons
1/3 cup (80ml) butter
4 eggs (2 whole and 2 yolks)
1/2 cup (125 ml) flour
1/4 cup (60ml) sugar
1/2 teaspoon (2.5 ml) vanilla extract
Salt (pinch)
Raspberry Backstage
1 scoop of vanilla ice cream
fresh raspberies
Dust with powdered sugar
Preheat oven to 425 F. Lubricate 4 custard ramekin with soft oil or spike cooking.
Whisk together the egg yolks, eggs and sugar until light and froth (2-3 minutes).
Melt the chocolate and butter over a double cauldron or microwave for 1-3 minutes, stir every 30 seconds. Stir the chocolate mixture into the egg-sugar mixture until combined.
Sift the cocoa powder until combined. Sift the flour and salt into the mixture until combined. Stir in the vanilla extract.
Latham mix evenly into the oiled ramekins and press gently to release any air bubbles. Refrigerate for 30 minutes.
Place the ramekins in a saucepan of 9x9 squares, heat the water in a kettle and pour enough hot water to reach half the side of the ramekins. Bake for 13-15 minutes, let the cakes cool for 30 minutes before removing.